This land of soaring mountains, snow-capped peaks, lush green valleys, sparkling rivers and streams, rich and proud local traditions and delicious local cuisine offers something for everyone. In Sikkim you can have a foodie holiday, an adventure trip, a spiritual exploration or just relax amidst beautiful nature—the choice is yours.
This state, said to be India's first fully organic state, is also a leader in sustainable and eco-friendly tourism. Sikkim has many protected regions and communities and tribes. Additionally, many of the locals here have been involved in grassroots movements, especially in the area of river protection. This has translated into people starting homestay-focused and sustainable tourism ventures that ensure locals earn money while but without adversely impacting the local ecology.
These homestays and small hotels offer outsiders an immersive experience where they see the culture and traditions of Sikkim not as stage performances but as part of normal life:
1. Eshab Homestay, Sribadam village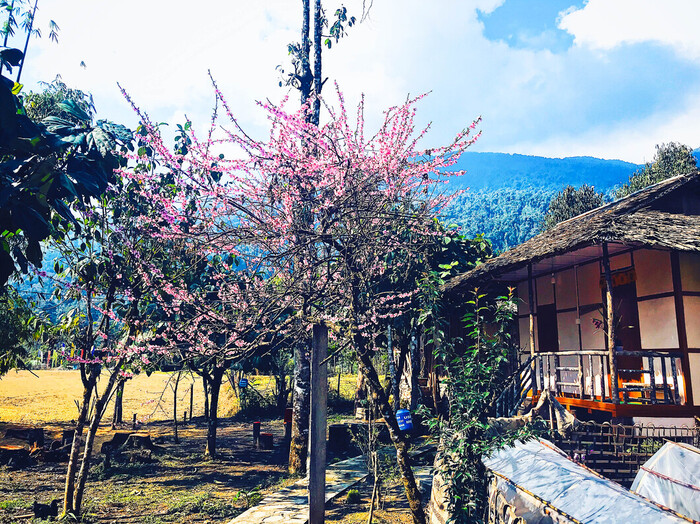 Eshab is a Bhutia family run homestay in Sribadam, a tribal village blessed with a very picturesque setting with green, rolling mountain valleys, pine forests, gushing rivers and waterfalls and organic farms and fruit orchards. The accommodation is in traditional Bhutia, Lepcha and Subba tribal huts. The farms, orchards and forests provide great opportunity for hikes and treks. There are also monasteries, lakes and waterfalls nearby to visit. Two experiences stand out here. One is the traditional spa or Menchu experience—a hot stone bath that is made with herbs cultivated in the homestay's garden or collected from nearby forests and is said to soothe the nerves and help relieve body ache and joint pain. The other is the food here. Guests enjoy communal meals that comprise of traditional Sikkimese dishes like kauri (a warming winter soup with wheat shells), momos (dumplings) and gyathuk (meat or vegetable soup).
Read more: https://www.responsibletourismindia.com/stay/eshab-homestay/220
2. Munlom Nature Resort, Dzongu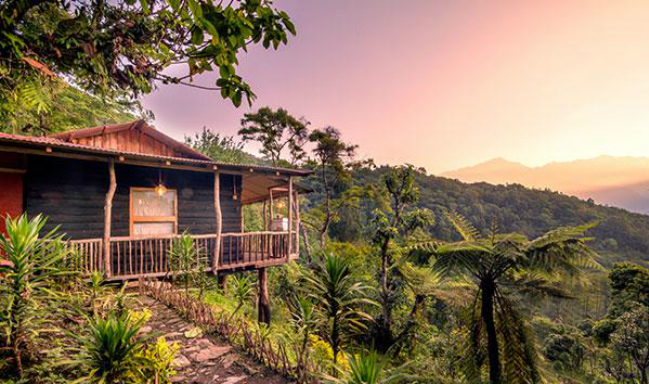 Munlom is located in Dzongu, a special Lepcha Reserve located in the midst of deep Himalayan valleys in North Sikkim where forests and water bodies, from glacial streams and waterfalls to hot springs, dominate. This 'resort' offers just four rooms in four wooden cottages. Kalzang Dorjee Lepcha, one of the two partners running this small hotel, is a native of Dzongu and hosts all guest activities at the resort. Kalzang is an environmental activist and a leading spokesperson for the 'Save Dzongu' organisation working on preventing major hydel power projects in Sikkim. He ensures guests get to be a part of local community life. There are five guided village walks that start from the property. The resort also organises riverside picnics, where meals are freshly cooked at the site with produce foraged from the surrounding woods.
Read more: https://www.responsibletourismindia.com/stay/munlom-nature-resort/305
3. Bon Farmhouse, Kewzing village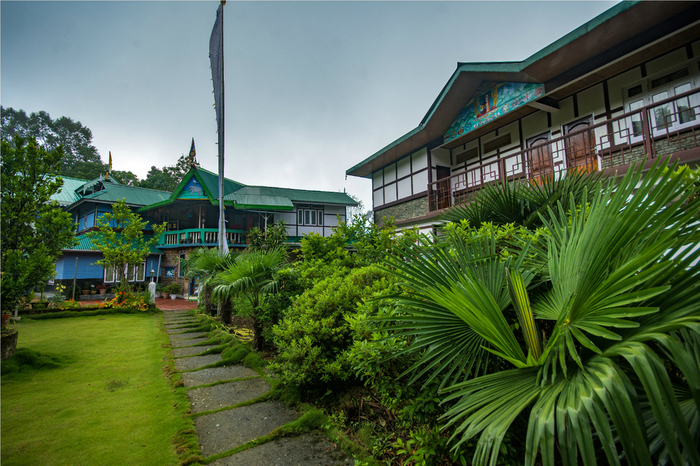 Here you can enjoy rural farming-focused Sikkim at its best. Kewzing village in South Sikkim is a land of cardamom and tea plantations, surrounded by lush forests that are home to hundreds of species of birds and is dotted with beautiful Buddhist monasteries. Here, set among acres of vegetable fields and tea plantations and cardamom forests is a rustic farmhouse with rooms made of bamboo, woven reed and wood. Operated by a local Bhutia family, Bon Farmhouse offers an immersive Sikkimese village experience with guests getting to participate in farming activities. The farm here grows grains, millets, fruits, vegetables and spices and also rears cows, goats, chickens and pigs. Village and nature walks, birding hikes, treks, camping and cooking classes are just some of the experiences guests can indulge in at Bon.
Read more: https://www.responsibletourismindia.com/stay/bon-farmhouse/148
4. Netuk House, Gangtok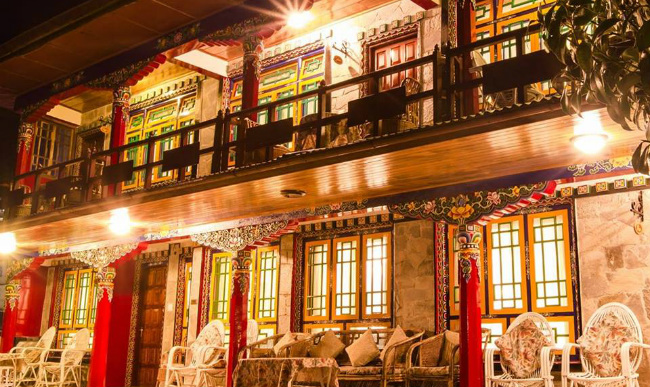 Netuk House, a heritage property in the state capital, offers heritage and contemporary rooms. Some come with access to large balconies and sit outs offering excellent views of the Kanchendzonga range. Even the newer additions are built using traditional building techniques and local materials. The property also offers common gathering spaces like the Cowgher lounge, a partly open space where guests can enjoy Temi tea (Sikkimese tea) or Chaang (local millet beer), and a terrace garden offering views of the Kanchendzonga. One of the specialities of Netuk House is the authentic Sikkim food on offer at the in-house restaurant. The dishes have such unique ingredients like Fiddle Head Fern and Stinging Nettle and all of them are sourced from Netuk House's organic garden and nearby farms.
Read more: https://www.responsibletourismindia.com/stay/netuk-house/323
5. Mayal Lyang Homestay, Dzongu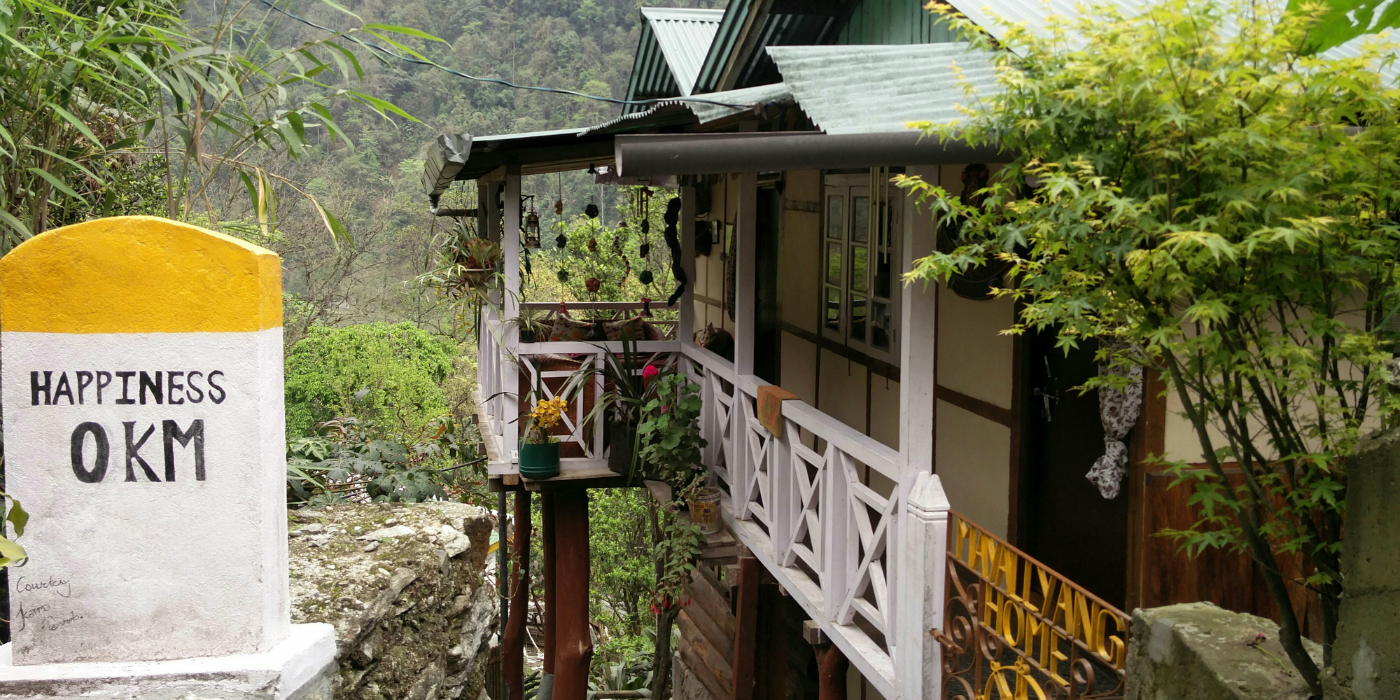 Located in Passingdang Village in beautiful Dzongu, Mayal Lyang is s Gyatsho Tongden Lepcha's family home built by his parents over four decades ago. Known in his community as the River Man for his activism to protect the region's rivers from being dammed, Gyatso is a pioneer of low-imprint eco-friendly/responsible tourism in the region. Hikes among the fields and forests to nearby villages, birding and angling are all available with local youth acting as guides. Overnight camping on the riverside is among the highlights of a stay here. Guests at the homestay eat in the warm kitchen, where the food is cooked on wood stoves. All the ingredients, from grains to vegetables, are from Dzongu and much of it from the farm at Mayal Lyang and the dishes are all local.
Read more: https://www.responsibletourismindia.com/stay/mayal-lyang-homestay/192
6. Biksthang Heritage Farm, Tsochen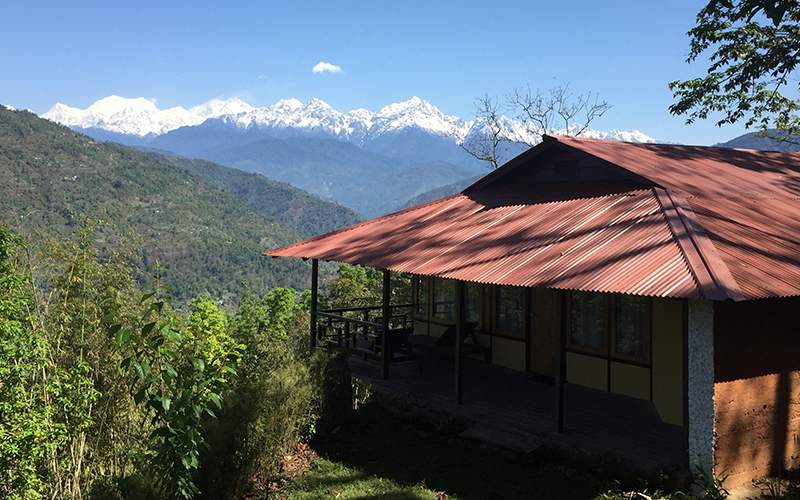 Biksthang is an ancestral 18th-century house, which has been developed by the family into a 'destination', bringing tourists to the relatively remote and undeveloped village of Tsochen in West Sikkim. It offers eight cottages in a working farm spread across 50 acres of land. The cottages are all spread out, ensuring complete privacy. Each room offers great views of the mountains, including the Kanchendzonga, hills and farms. Exploring the farm, enjoying the traditional 'Menchu' hot stone spa, village walks, hikes in the surrounding hills, taking a slow cooking class or helping out in the farm are all experiences you can savour here.
Read more: https://www.responsibletourismindia.com/stay/biksthang-heritage-farm/62
7. Daragaon Village Retreat, Darap village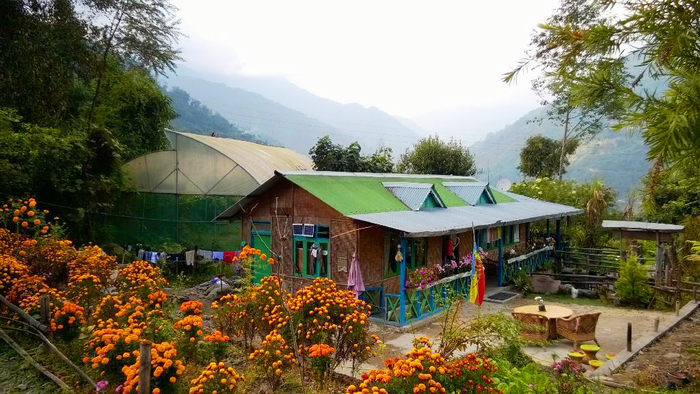 Nestled among the mountains, Daragaon Village Retreat is an eco-homestay located in Darap, a tiny village in West Sikkim where the Gurung, Limbo, Tamang and Chhetri communities co-exist harmoniously. The homestay offers eight cosy rooms. Birding, village walks and participating in farm activities are just some of the things guests get to do here.
Read more: https://www.responsibletourismindia.com/stay/daragaon-village-retreat/33