Just 70 km from Sikkim's capital Gangtok lies Dzongu—a land of majestic mountains, lush forests and pretty villages. Here in Passingdang Village, hidden among trees, is Gyatsho Tongden Lepcha's family home built by his parents 45 years ago. Gyatso and his family have opened up the home, Mayal Lyang, to visitors who want to experience authentic Lepcha village life.
Known in his community as the River Man for his activism to protect the region's rivers from being dammed, Gyatso is a pioneer of low-imprint eco-friendly/ responsible tourism in the region. Mayal Lyang is one of the first homestays in the region. Around 10 other homestays have started in the village, inspired by Mayal Lyang's success.
Mayal Lyang translates to 'hidden land' or 'land blessed by God' in Lepcha language and is quite an appropriate name for this homestay. Built in traditional style with wooden floors, Mayal Lyang offers five rooms to guests. While the stay is very comfortable, guests should note that attached toilets are not available as in Lepcha tradition toilets are not part of the house.
Hikes among the fields and forests to nearby villages, birding and angling are all available with local youth acting as guides. Overnight camping on the riverside is among the highlights of a stay here.
Equally interesting is the dining experience. Guests eat in the warm kitchen, where the food is cooked on wood stoves. All the ingredients, from grains to vegetables, are from Dzongu and much of it from the farm at Mayal Lyang. Considering the importance of foraging in Lepcha culture and cuisine, guests can be sure that dishes will include 'exotic' foraged produce. The focus is on local Lepcha cuisine and guests can expect to eat dishes like khoori, a pancake like dish made of buckwheat and stuffed with spinach and cheese, and partake of the local millet-based alcoholic beverage, chee. Watching the hosts cook a meal is an experience in itself! In the evenings there are documentaries on the struggle to protect local rivers, ecology and culture to be watched and guests are sure to be drawn into a lively discussion on the need for protecting the environment with 'River Man' Gyatso.
Price: Rs 2,000 per person per night; includes all meals
Read More: http://www.mayallyang.com/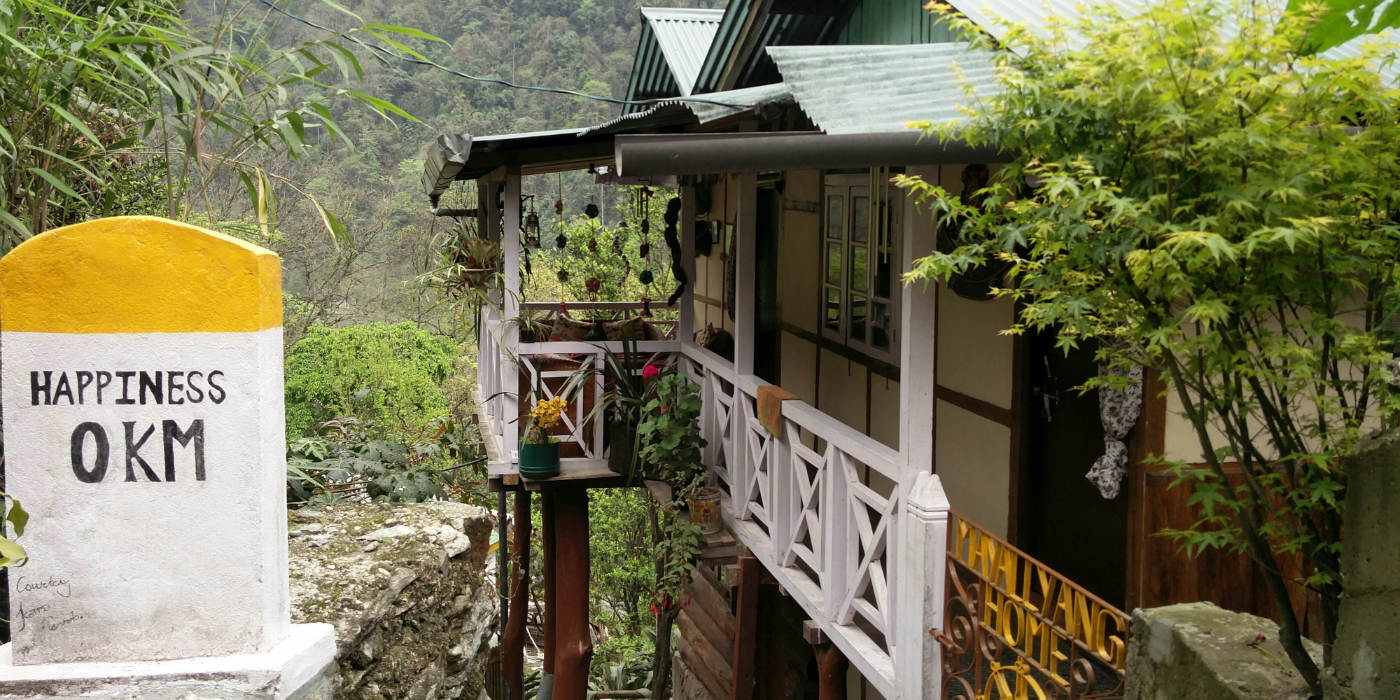 Slow Travel
Mayal Lyang offers guests a chance to immerse themselves in Lepcha culture, which celebrates nature. The homestay follows responsible tourism practices like not providing bottled water and composting wet waste. The homestay has installed motion-sensor enabled outdoor solar lights. No geysers are installed in the bathrooms, but bucket hot water is available. Most of the vegetables come directly from the homestay's fields. Also, considering the fact that the Lepchas use foraged ingredients, a lot of the food is made from ingredients sourced from the wild.
---