In North Sikkim amidst deep Himalayan valleys and forests lies the special Lepcha Reserve of Dzongu. The intimate Munlom Nature Resort is located in this land where forests and water bodies, from glacial streams and waterfalls to hot springs, dominate.
Munlom, which means 'blessing', comprises of just four wood cottages and is located in Gyathang, a village in lower Dzongu at an altitude of 5100 ft. The 'resort' was started by Pintso Gyatso and Kalzang Dorjee Lepcha as a means to transform the region into a model destination for sustainable and low impact tourism.
The property is constructed of locally sourced materials with a minimal environmental footprint. Careful measures were taken to ensure utilisation of local human resource and traditional building techniques, many of which are now largely forgotten.
The cottage rooms, four in all, are large and come with common sitting areas and comfortable bathrooms.The double cottage is perched on a machan with great views of the surrounding mountains and a monastery.
Guests here experience a a resort with a home-like atmosphere that offers insights into the culture and traditions of the region. The kitchens in the resort use traditional firewood to cook all the meals. The meals are mostly authentic Sikkimese dishes like the khuri, which is a buckwheat flour-based crepe roll filled with vegetables or meat. The local wines made from fruits like plum and rasberries are also must haves.
Guests are welcome to to join in the activities of the property, be it cooking, tending to the gardens or helping out in community events like festivals and weddings. The management has also curated over five different guided village walks that start from the property. These are of varying degrees of difficulty so that mostly anyone can engage in this activity. The resort also organises riverside picnics, where meals are freshly cooked at the site with produce foraged from the surrounding woods. They also organise day trips to a natural sulphur hot spring complete with meals at site provided by the village community there. Other hikes, treks, sightseeing tours and even homestay experiences are also organised depending on guest preferences.
Price: Rs 4,484 (bed and breakfast)
Read more: http://www.munlomresort.com/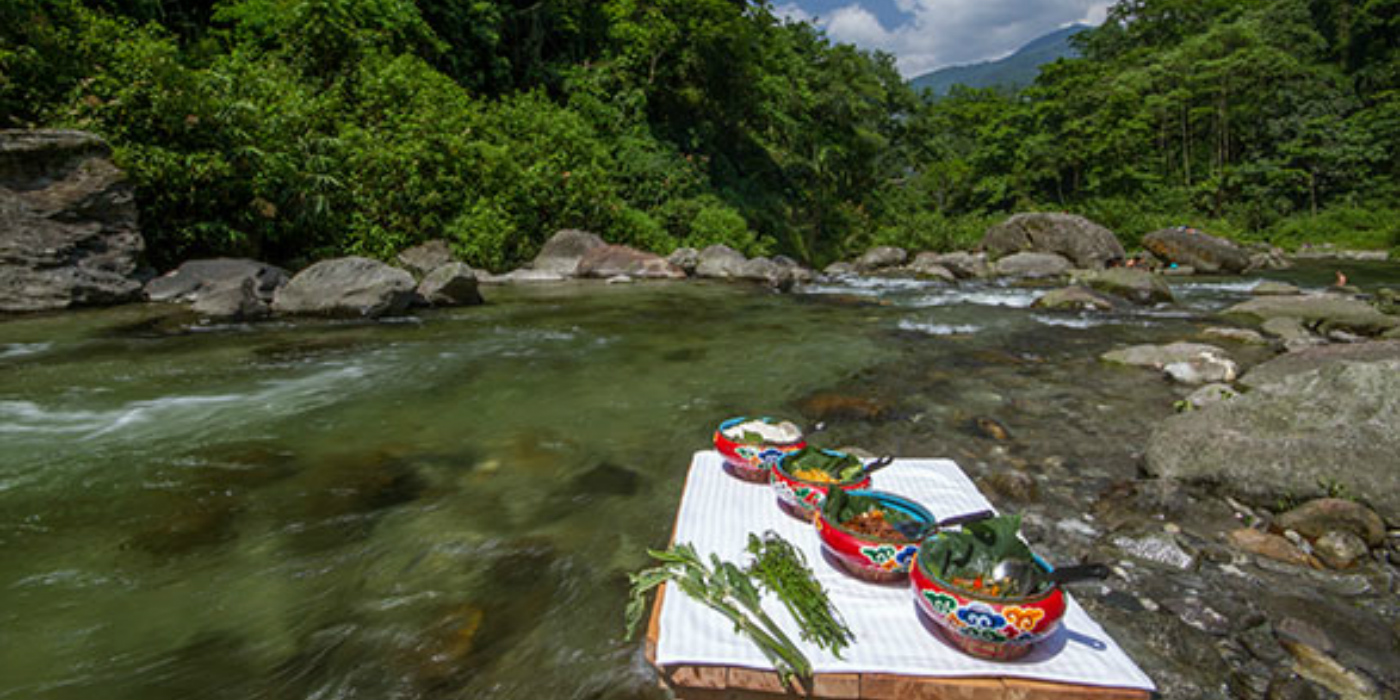 Slow Travel
Munlom Nature Resort currently offers four cottages or four rooms. The plan is to expand the property to just eight rooms overall for better profitability and sustainability without becoming a sore thumb in the beautiful and pristine ecology of Dzongu. All the produce from farm fresh vegetables to poultry and dairy are supplied by the village communities. Power backup for important operational areas like the kitchen are solar and 90% of all construction material of the property were locally sourced.
---