How many of us have planned that Great Family Vacation and on the trip realised that the car journeys are just too long for the little ones or just "so boring" (accompanied by eye rolls) for them. Other times, parents may have their hands full and are unable to plan the nitty-gritties that are part and parcel of organising a family holiday. But for all the "are we there yet" and the "why do we have to go there" questions, the motion sickness and food issues and the many other problems that can arise when travelling with 'little emperors', there is something magical about travelling with kids in tow. The wonder in their eyes when they see something spectacular, their laughter when they are splashing about in a stream, the thrill they get out of a picnic in the woods, their wide-eyed looks when listening to ghost stories by a camp fire—these small moments make such trips worth it. So getting the help of experts to plan child-friendly trips may just be the solution to ensuring fewer problems and more 'Aha' moments.
1. Curtain Call Adventures (Northeast India)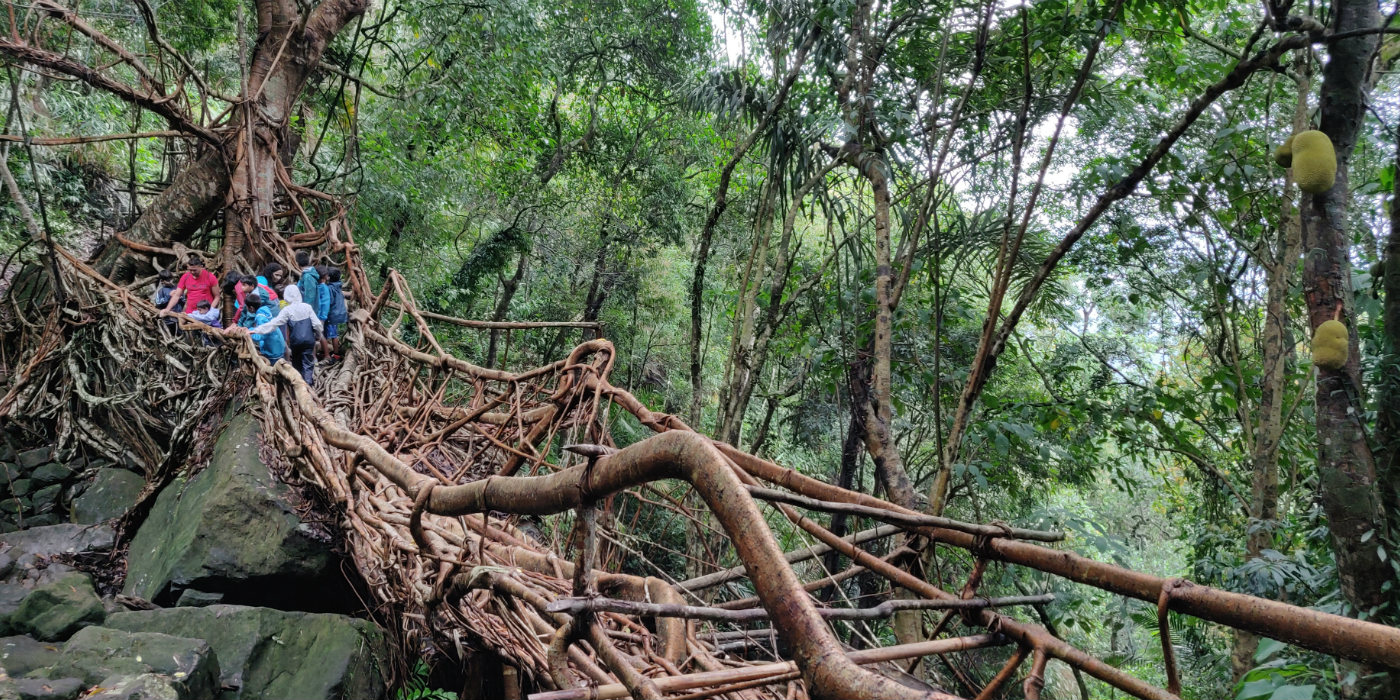 Textile designer and Northeast native Julie Kagti started Curtain Call Adventures to offer curated and customisable tours for small groups in the Northeastern states of India. A speciality of the travel outfit is its kid-friendly tours. Named Little Roots, these family tours are organised keeping in mind the needs of the littlest travellers in the group. So the guided family excursions have kid-friendly food, activities to keep the children occupied so the adults get an afternoon off and outings that kids too enjoy. Like in its Sikkim and Kalimpong tour, kids will have supervised playtime at the hotel in Dzongu and Kalimpong on days when the adults have a slightly strenuous walk planned. There are also picnics planned by the riverside and a hot spring where the meal is cooked right there with ingredients sourced from nearby farms or foraged from the woods—an activity that children are sure to enjoy.
Read more: https://www.responsibletourismindia.com/operators/curtain-call-adventures/338
2. Outdoers Adventure Travels (primarily Uttarakhand)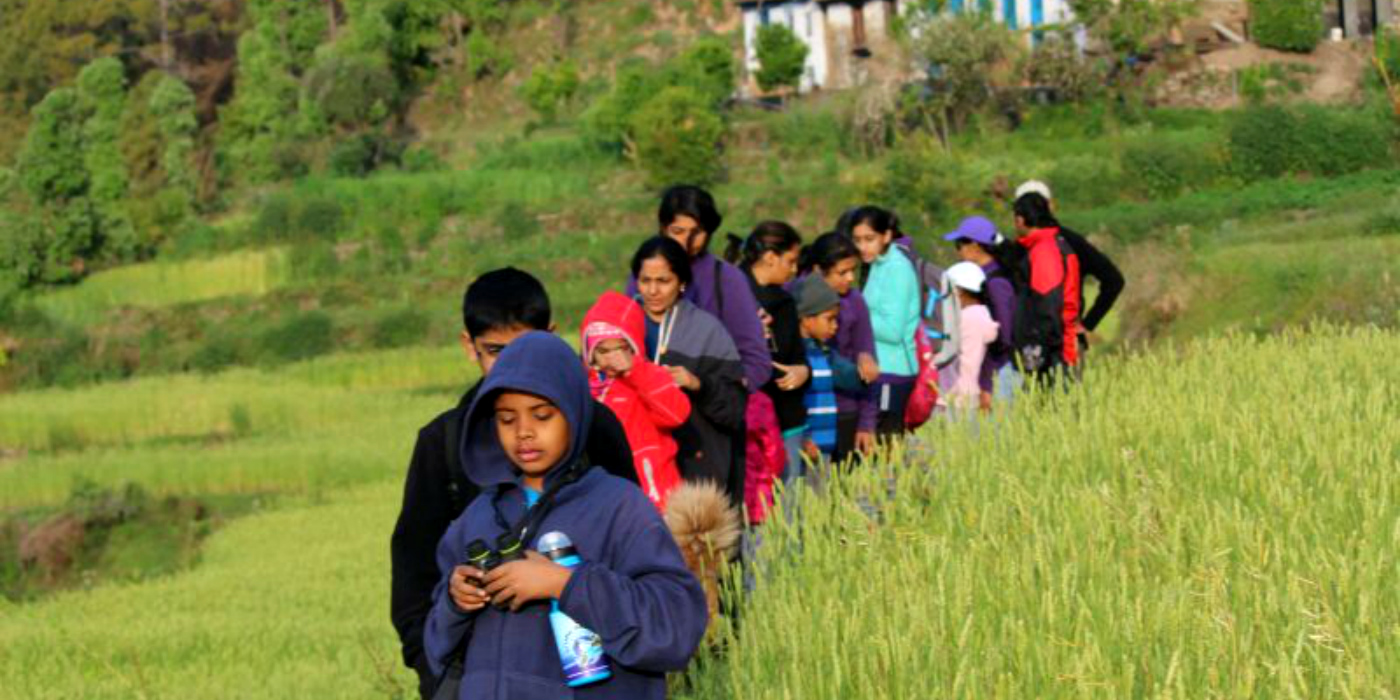 Few travel outfits offer outdoor activity-based trips focused on children. Binsar-based travel outfit Outdoers is an exception. Outdoers offers treks and walking holidays aimed at beginners and families with children. The curated treks and hikes are designed for children aged upwards of eight years and reasonably fit adults. The trips include a little bit of structured learning as well, with children (and adults!) getting an opportunity to participate in activities such as bird watching, stargazing, jumaaring and river-crossing. It is best known for its Binsar Sanctuary Walk that is organised right in its 'backyard'. The five-day trek begins at Binsar TRH and the trekkers will make their way through to Jageshwar, making stops at Gaunap, Dhaulchhina and Shaukyathal villages en route. Participants will stay in idyllic homestays at Gaunap and Shaukyathal, ensuring guests have an opportunity to get a taste of the local culture.
Read more: https://www.responsibletourismindia.com/operators/outdoers-adventure-travels/256
3. GoHash Travel/TheTrippers.In (South India)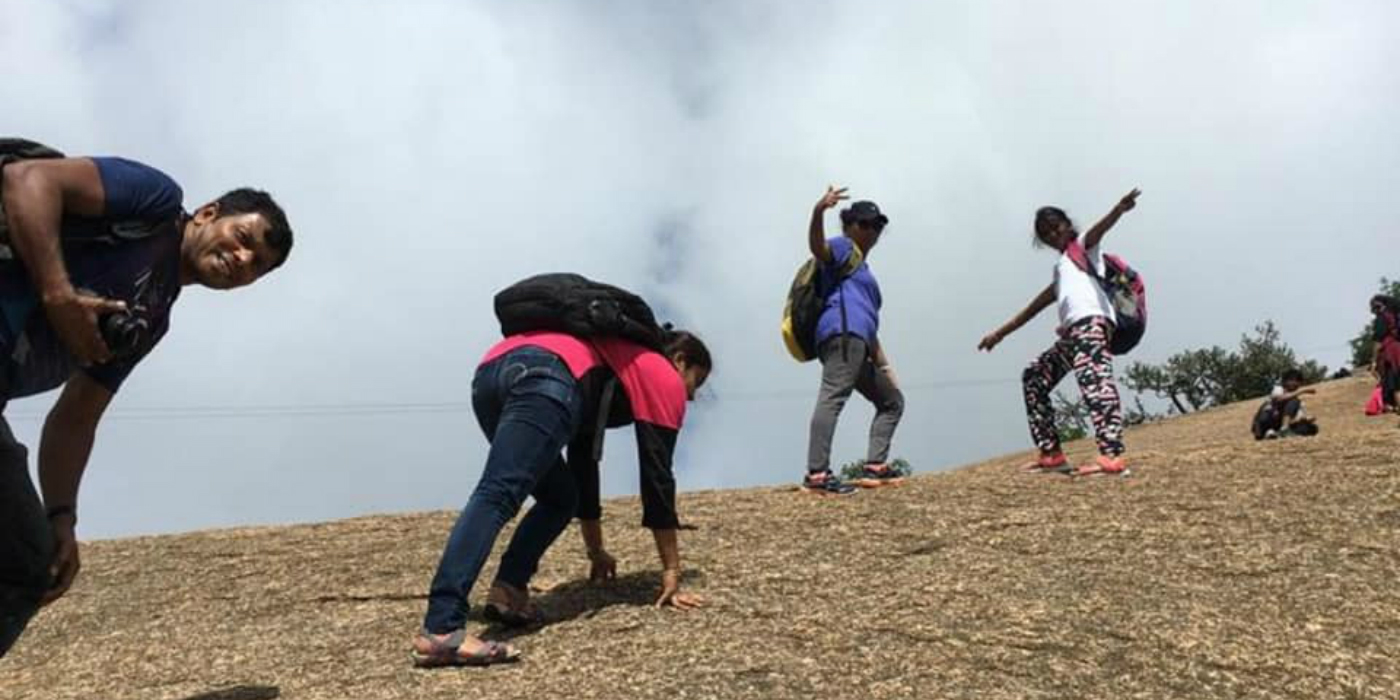 GoHash's road trip brand TheTrippers.In offers curated and themed tours in South India for now, all starting from Bengaluru. The trips, which are typically active holidays and include a fair amount of hiking or trekking, are mostly to offbeat, less explored parts with the travel company taking care of the trip and route planning, transport in many cases, tents and accommodation, equipment, meals and beverages and group activities. While they do not specifically advertise their child-friendliness many of their self-drive trips are favoured by families with small children, as the families can travel in their own vehicles ensuring space and privacy, while GoHash takes care of all the organising and booking. Also, many of their trips involve camping in the outdoors, a fun experience for children.
Read more: https://www.responsibletourismindia.com/operators/gohash-travel-thetrippersin/261
5. Do The Different, India & International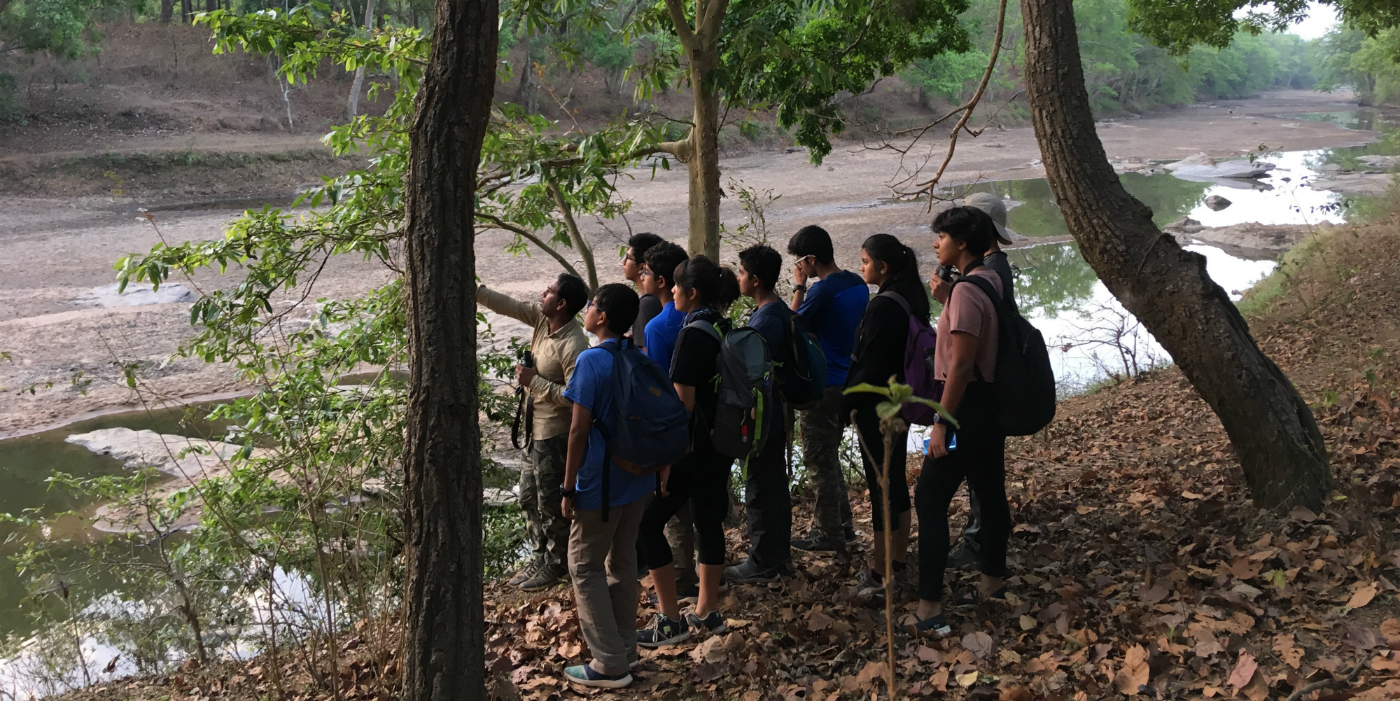 The people behind Active Holiday Company offer conservation and knowledge gaining expeditions and trips aimed at young adults under their Do The Different brand. Groups of young adults in the age group of 13 to 19 are taken on multi-day trips to places as wide ranging as Andamans and Ladakh to South Africa and Iceland. The trips are grouped according to interests, like marine conservation, leadership building, special interests like theatre, culinary arts and photography and adventure based on topics that the kids learn in school or read about like a trip to Greece for fans of the Percy Jackson book and movie series. Each tour has a Trip Leader who will be with the kids throughout. Depending on the trip, participants get first hand experience in conservation, get to work with research teams and take part in training sessions in their interest area (like photography or culinary arts).
Read more: https://www.responsibletourismindia.com/operators/do-the-different/154
5. Backyard Camp, near Bengaluru, Karnataka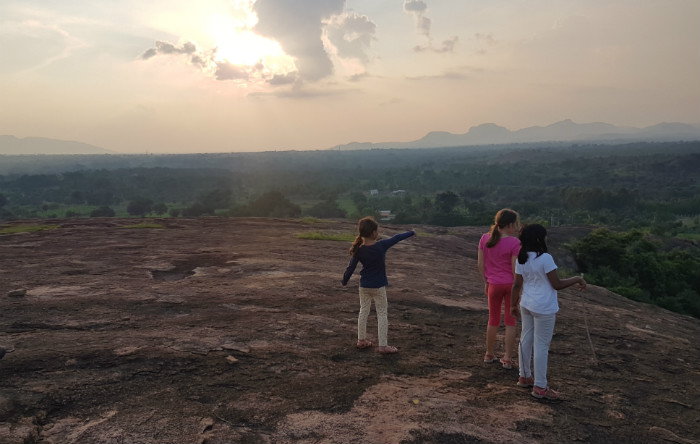 The Backyard Camp is a campsite set amidst an organic farmland in the town of Sathanur, an 1.5 hour drive from Bengalury city center. This is a great spot to take children camping. While many campsites are just a piece of land with no facilities, The Backyard Camp offers tents pre-pitched on decks and also tents on the ground (you can bring your own tent too), simple vegetarian meals and a bouquet of guided acitivities like cycling day trips. Here the children can roam free, stargaze, play music (without speakers), write, read, farm, hike and trek, birdwatch or cycle.
Read more: https://www.responsibletourismindia.com/stay/backyard-camp/329
6. Eco Harrymans Homestay, Pawalgarh, Uttarakhand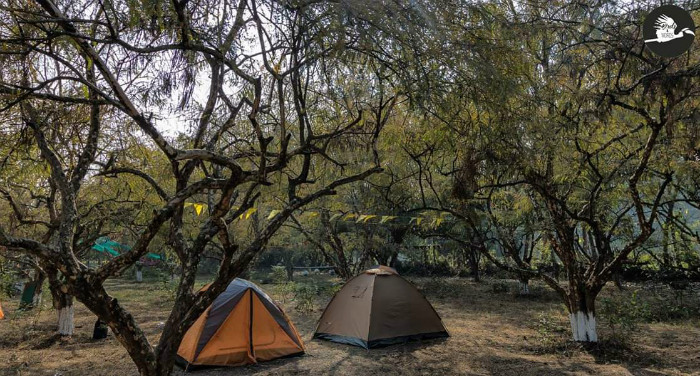 Spread over six acres of land, Eco Harrymans Homestay offers a lot of space for children. Located in Pawalgarh, a small village not too far from the Corbett National Park's main gate at Ramnagar, the homestay offers rooms, dorms and tents that can be pitched in the property's grounds. It is the interesting mix of farm and village focused activities that the homestay offers that makes this stay an interesting one for children. Village walks, farming experiences like ploughing, harvesting, milking of cows and feeding of cattle, collection and cooking of wild edibles, hikes and birding walks are just some of the many experiences on offer. With all the activities and running around children are sure to get hungry and the earthy, home-cooked Kumaoni meals made with fresh and local organic ingredients will make them ask for seconds.
Read more: https://www.responsibletourismindia.com/stay/eco-harrymans-homestay/315
7. Camping Co (Northeast India)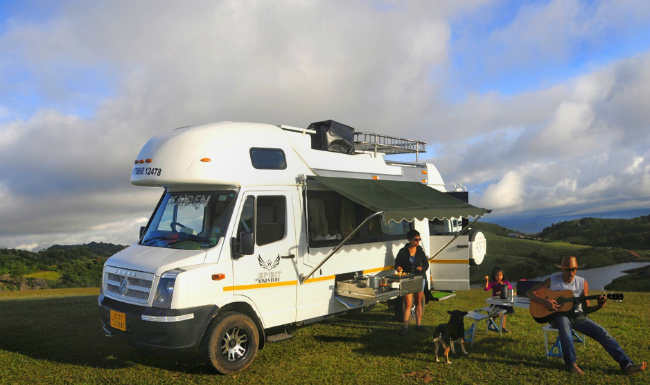 Most children love camping and the idea of travelling in their own camper van or sleeping in a beautiful location in tents set in the camper van is sure to excite them. But organising such trips is anything but easy. This is where Camping Co has you covered. A young venture, Camping Co offers recreational vehicles on short term rent from Guwahati for travellers looking to tour the Northeast by road. They also partner with camp sites so the travellers have a readymade list of places to park for the night and so can plan their routes accordingly. The company offers vehicles that are kitted out for camping. The overlanders come equipped with camping gear and rooftop and ground tents. They also offer a proper caravan that accommodates up to six travellers and comes with bathroom, fridge, microwave, cabinets and the services of a driver! You can also rent out a camping kit, which includes camping essentials like folding chairs, barbeque, metal kettle and mugs. Their partner camping sites, run by locals, ensure travellers have access to kitchens, restaurants, toilets and charging points.
Read more: https://www.responsibletourismindia.com/stay/camping-co/309