Let the tu-whoo of owls and the lapping waters of the Ken River lull you to sleep at this eco-lodge close to the Panna National Park and the temples of Khajuraho. Stay in cottages (the lodge offers eight rooms) made of packed mud and bamboo, enjoy local Malwa dishes in the baithak open on all four sides and feast your eyes on the stars and Milky Way that light up the skies here on cloud-free nights. Safaris at Panna and trips to Khajuraho are easily done from the lodge and the Sarai will arrange knowledgable local guides and naturalists. Travellers can also choose from a wide range of nature-based and cultural experiences from bird watching, village walks and cycle rides to yoga, cooking demos and visits to nearby markets.
But, the best experience at the Sarai is the boat ride on the Ken. From the boat you get to see birds of all sizes and hues, from cormorants to eagle owls. Do watch out for the crocodiles that might come up to get a good look at the guests to their abode.
Price: Rs 19,500 + GST (for double room, includes all meals and some activities)
Read More: https://www.saraiattoria.com/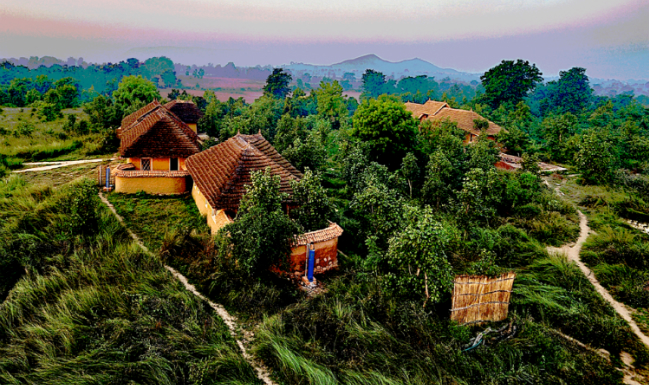 Slow Travel
The almost-decade old property is built on the principles of environmentally responsible tourism. Not surprising considering the Sarai is run by Raghu Chundawat, a conservation biologist, and Joanna Van Gruisen, a conservation writer and filmmaker. Materials sourced locally, like mud and bamboo, have been used for the buildings. This also ensures that the cottages do not need artificial cooling or heating for comfort. Steps like use of solar energy and low wattage bulbs and appliances and eschewing unnecessary creature comforts like air conditioning and televisions help ensure a low carbon footprint. The Sarai also hires locally and 95% of the staff coming from nearby villages.
---