Kaadumane means house in the forest and the property lives up to its name. Not surprising since it is located in Karnataka's Joida Taluk, where 93% of the land is forested. The tree cover on this three-acre property is impressively wild, so much so that the owners have not been able to shift completely to solar energy, as that would mean cutting some of the trees. Solar energy is used as power back up, though.
Located just 12 km from Dandeli in North Karnataka, Kaadumane is a labour of love for owner Narasimha Bhat and his family. Narasimha says, "I wanted to run an outfit, which stayed within the limits that nature sets rather than trying to dominate nature…I wanted my property to set an example for local people who thought there is little to be earned form the forest. I wanted them to reimagine the forest as something that needn't be cut down in order for them to earn money. It is perfectly possible to earn revenues from a flourishing forest."
He planted over 109 varieties of fruit trees and 46 varieties of bamboo on the land and that has ensured a rapid increase in the bird population. Just five cottages, made of laterite, Mangalore tiles and other local materials, share the land with birds and animals like the Hornbill, the Malabar Pied Hornbill, the Malabar Giant Squirrel and even deer. Narasimha has established a bee park on the grounds and has 65 boxes of honey bees, cared for by local village women trained by him.
Guests enjoy a back-to-nature experience where comfort is balanced with respect for nature. It's lights out after 10pm and loud music and alcohol are not allowed on the premises. Also, there are no showers or geysers in the bathrooms, but bucket hot water is provided. In fact, enjoying the herbal bath, where the water is heated with a mix of medicinal herbs and leaves, is one of the highlights of a stay here. So is the herbal tea specially concocted by Narasimha.
The one area where there is no compromise is food—the meals, snacks and beverages are unlimited, the cuisine is authentically local and the ingredients fresh and sourced from the property or from the village.
Birders and nature lovers will figure out quickly that their days are full with opportunities for bird walks right on the property, safaris into the jungle and hikes, nature walks and treks in the surrounding areas. Those interested in understanding more about bee keeping or about living in an environmentally friendly manner will find discussions with Narasimha very fruitful.
A stay here is not for everyone—Narasimha admits as much—but for those wishing to truly enjoy nature in all her glory Kaadumane is an ideal retreat.
Price: Rs 1,400 per person per day for tents and from Rs 2,000 per person per day for cottage rooms; includes all meals and some activities.
Read More: https://dandelikaadumane.com/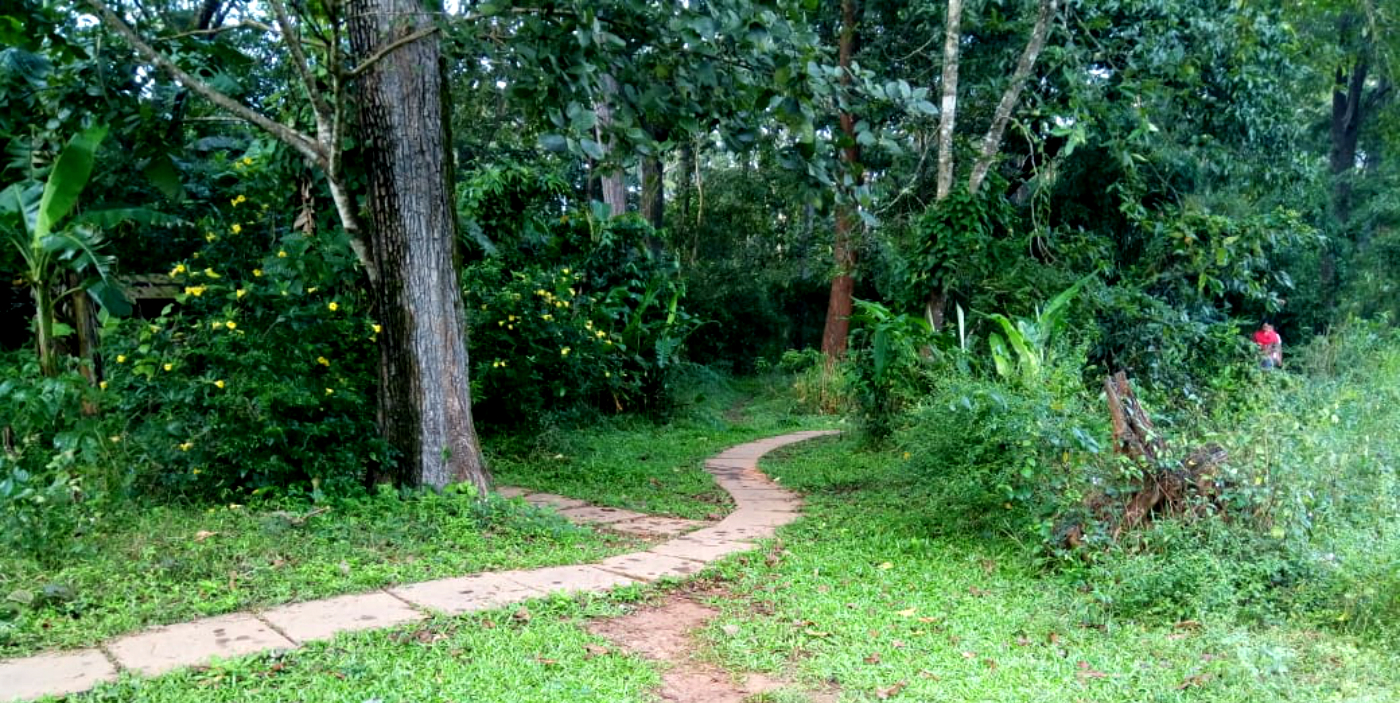 Slow Travel
Kaadumane is a great example of a property built and operated keeping environment and community at its core. The land is left wild and there are no water-intensive manicured gardens or lawns on the property. The three rain water harvesting pits on the property have ensured that ground water levels have improved over the years, with wells not running dry even in summer. No chemical fertilisers are used. Amenities like bottled water, showers and geysers have been done away with but without compromising on guest comforts. Solar energy is used for power backup. Local staff, including people from tribal communities and disadvantaged groups, are employed at the homestay. The birding guide is a woman from the nearby village who has been trained by them to conduct the tours. Five women from the nearby village handle the bee keeping and making of honey-based products. An eco-shop on the property sells natural products of the region like different kinds of papads, pickles, jams, honey and jackfruit chips.
---