One of the true luxuries we can experience during our travels is staying in heritage hotels that hark back to a bygone era. While 'heritage hotel' brings to mind grand palace-hotels, that's really not the case. As you can see below the 11 heritage stays we have compiled cover the entire gamut, from quaint old bungalows to restored forts and grand havelis to elegant palaces.
1. Bhuj House, Gujarat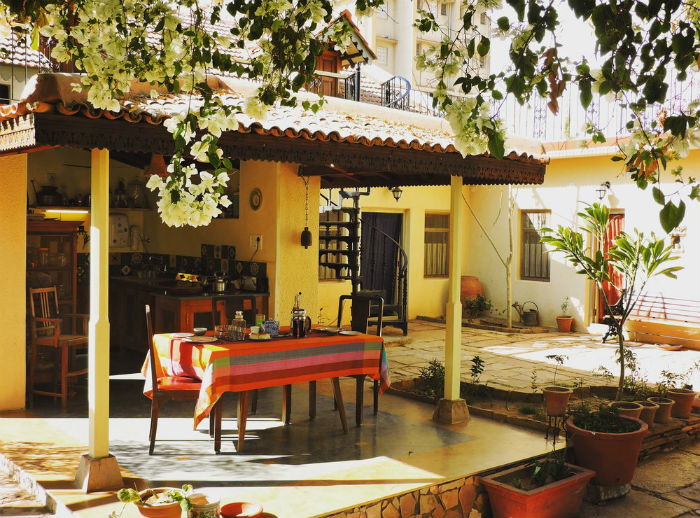 In 2013, the Bhujwala family decided to restore The Bhuj House, their traditional Parsi home into a heritage homestay in the historic town of Bhuj in Kutch, Gujarat. It is one of the only two Parsi homes that have survived in Bhuj. The house dates back to the 1800s and is today a cosy four-room homestay. An open pantry and leafy courtyard ensure a communal atmosphere.
Read more: https://www.responsibletourismindia.com/stay/bhuj-house/67
2. Chittor Kottaram, near Cochin, Kerala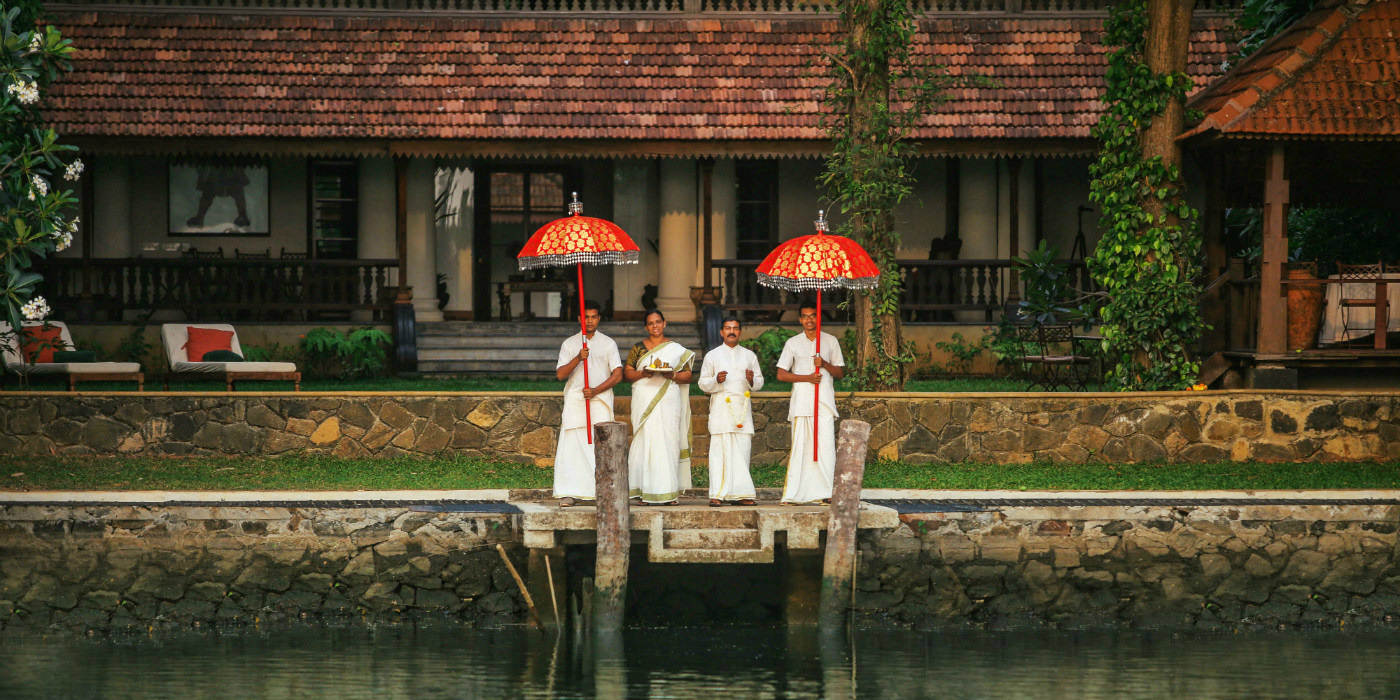 Kerala palaces are quite simple and this is the case with CGH Earth's Chitoor Kottaram as well. The three-bedroom erstwhile Palace of the Cochin Kings is a typical traditional Kerala two-storey structure, with loads of wood, sloping tiled roof and deep-pillared verandahs. The elegance of the structure stands out, as does the attentive hospitality. This is a single-key property, which means only one group of guests are hosted here at a time. So you are truly the lord and master of all you survey for the short time that you stay here! The small entourage of staff will make you feel like royalty from the time you disembark on the palace's pier.
Read more: https://www.responsibletourismindia.com/stay/chitoor-kottaram/316
3. Arco Iris, Curtorim, Goa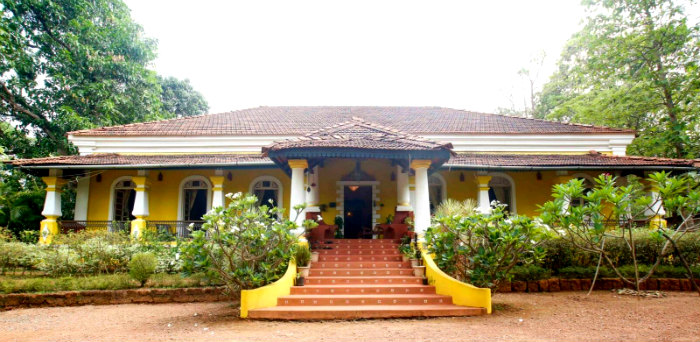 This homestay is an over 200-year-old grand Portuguese mansion, with such traditional features like imposing columns, high ceilings, the 'balcao' or balcony and a courtyard. Offering just five heritage rooms, Arco Iris is a great base to enjoy rural, agrarian Goa.
Read more: https://www.responsibletourismindia.com/stay/arco-iris/61
4. Visalam, Chettinad, Tamil Nadu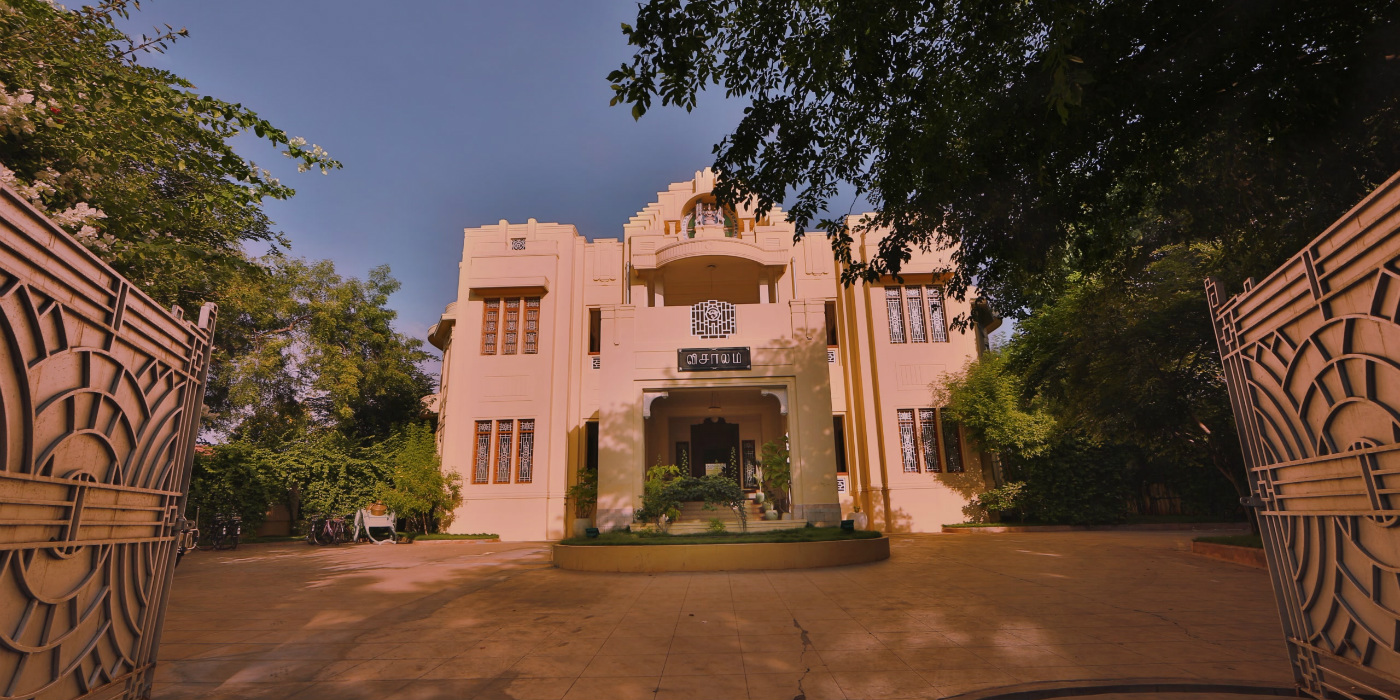 Tamil Nadu's Chettinad is known for its grand mansions that date back to the 19th century. The mercantile Chettiars crossed the far seas when other wouldn't and to advertise their great wealth built grand many layered mansions filled with Burmese teak furniture, hand painted Aathangudi tiles and other materials like marble, stained glass and chandeliers imported from Europe or South East Asia. One such mansion has been converted into CGH Earth's Visalam. Guests can look forward to tasting delicious Chettinad cuisine and exploring the rural surroundings o cycle, by foot or bullock cart!
Read more: https://www.responsibletourismindia.com/stay/visalam/352
5. The Chateau Garli, Himachal Pradesh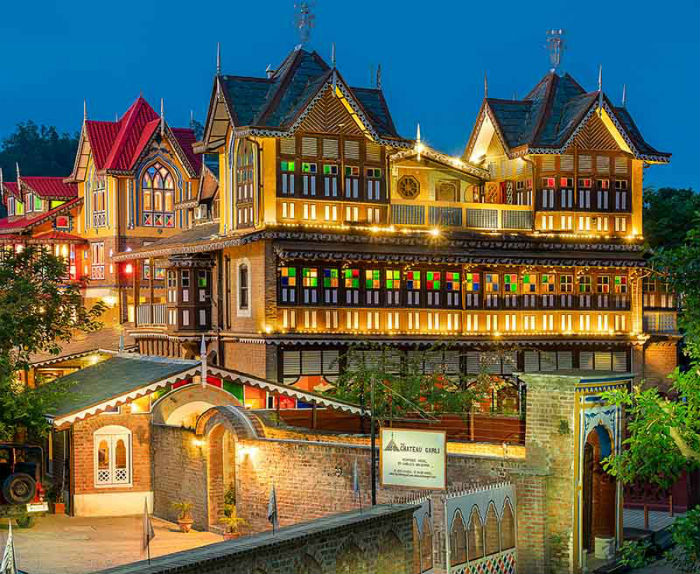 Like the Chettiars of Chettinad, merchants from the small hill town of Garli traded and travelled extensively in Europe during the days of the British Raj and much like their Tamil counterparts, these powerful merchants came back and built grand mansions to showcase their wealth. Most fell into disrepair when the owners shifted base to larger Indian cities after India gained independence. The Chateau Garli, built in 1921, too had stayed shuttered for many long decades until 2012 when the current generation of the family that built and still owns the property decided to restore it and open it up for visitors. Now it is a stunning small hotel with its with its sloping roofs and brilliant stained glass windows. Do spend time in the common rooms during the day hours when the coloured windows create beautiful patterns indoors.
Read more: https://www.responsibletourismindia.com/stay/chateau-garli/150
6. Calcutta Bungalow, Kolkata, West Bengal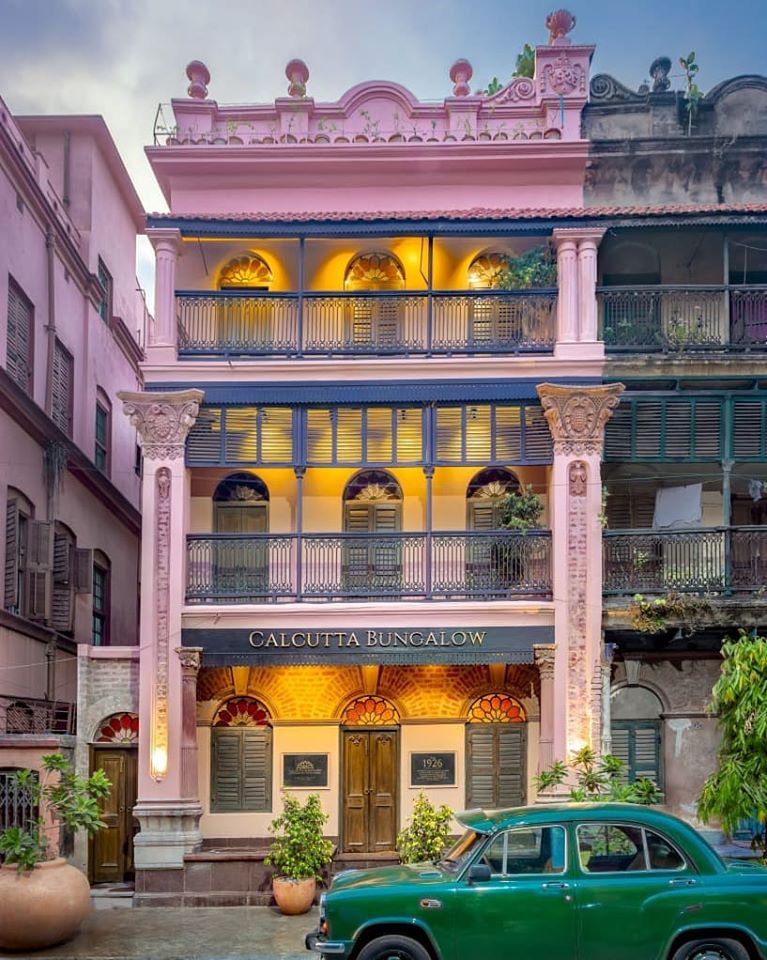 The Calcutta Bungalow is a heritage B&B housed in the restored half of a grand old Kolkata mansion. The rooms and common areas, all built around a central courtyard, are filled with old-world charm. The courtyard, terrace seating nooks and the dining room are made for intimate 'adda' sessions. Do explore the lively neighbourhood on bicycles thoughtfully provided by the B&B.
Read more: https://www.responsibletourismindia.com/stay/calcutta-bungalow/382
7. Haveli Dharampura, Old Delhi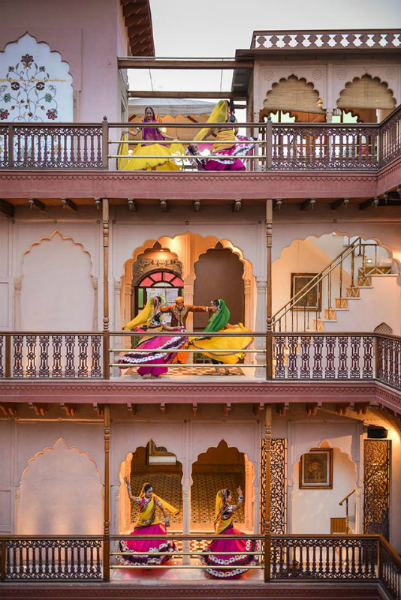 Hidden behind an ornately carved wall and heavy fortress style door on one of the bustling bylanes of Chandni Chowk in Old Delhi lies a beautifully restored haveli-turned-hotel, Haveli Dharampura. Built across three floors, the 200-year-old haveli is a traditional courtyard structure with the rooms spread around the central courtyard. The haveli offers 14 rooms that mix Mughal elements like scalloped archways with ultra modern ameneties. The terrace that offers glorious views of the Jama Masjid's domes and minarets, the Gurudwara Sis Ganj, Lal Mandir and the Red Fort is sure to be your favourite evening hangout spot during a stay here.

Read more: https://www.responsibletourismindia.com/stay/haveli-dharampura/284
8. Dune Barr House, Matheran, Maharashtra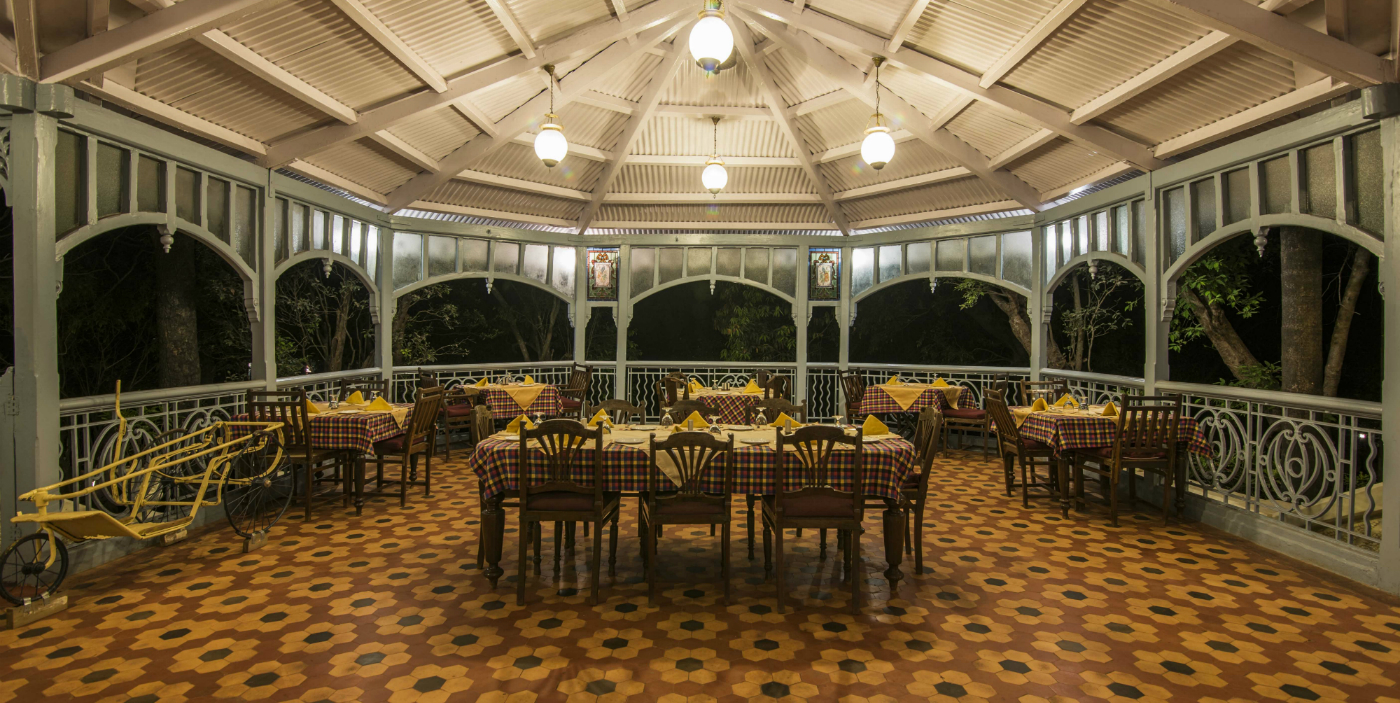 In quaint vehicle-free Matheran is this secluded 170-year-old British mansion set amidst trees where you will share space with birds and monkeys.The Dune Barr House, part of the Dune Wellness Group, is filled with period furniture and British-era photos. Do try to stay in the Elphinstone Heritage Suite located on the right side of the main house.
It is a large suite with a separate children's room and a big lounge-drawing room at the entrance. Named after the British Governor of Bombay, this heritage suite is built into a turret and opens out onto a private garden. Also ask for a Parsi lunch of curries and ras and eeda (egg) dishes.
Read more: https://www.responsibletourismindia.com/stay/dune-barr-house/241
9. Savista Retreat, near Jaipur, Rajasthan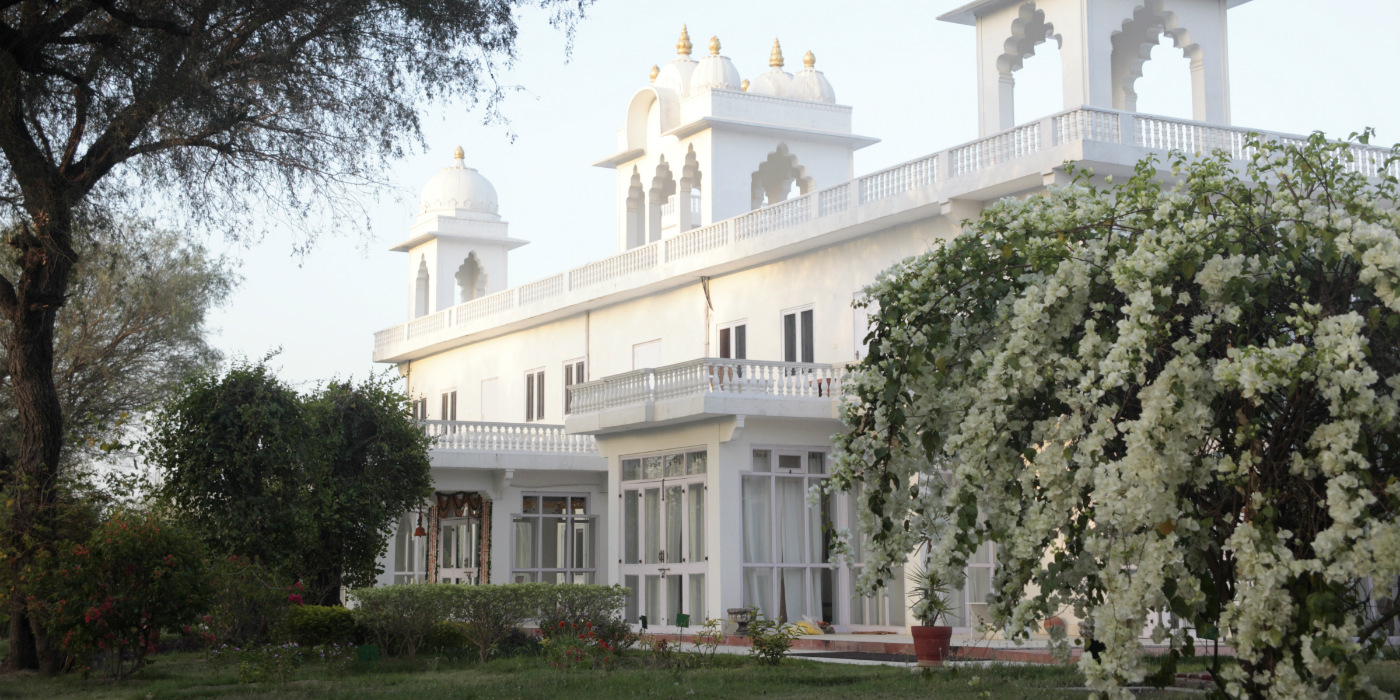 The gleaming white haveli that is Savista Retreat is a stark contrast to the much more colourful and ostentatious palaces that dot Rajasthan. There is, however, a grandness in its simplicity. The restored Rajput haveli set in a 12-acre estate ticks most of the boxes that travellers expect in a heritage stay with its chhattris or canopies on its roof and mehraabs or scalloped arches on its balconies, the central courtyard with its fresh water pool, airy and bright rooms decorated with Rajasthani textiles and crafts, the tranquil bird-filled grounds, organic food grown on the grounds and attentive hospitality.
Read more: https://www.responsibletourismindia.com/stay/savista-retreat/272
10. Stok Palace Heritage Hotel, Ladakh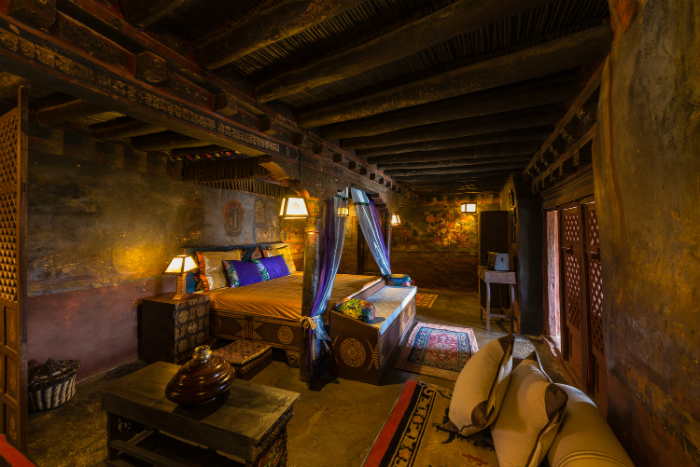 This four-storeyed palace of the Namgyal Dynasty is a fine specimen of classical Ladakhi fortified residence architecture and was built in 1820. The Palace is a labyrinth of shaded corridors and courtayrds that lead to many colourful common spaces. The Palace also houses a museum and a Temple. Befitting a fortress palace, the Stok Palace hotel is perched atop a ridge ensuring guests can enjoy views of the Indus valley from many of the rooms. The palace-hotel offers heritage rooms and villas in its apricot, willow and walnut orchard. While the orchard villas offer great privacy, comfort and easy access to the grounds, but opt to stay in the Queen's Room. This is one of the grandest rooms here with walls covered with ancient fresco murals and a living area opensing up into a wooden balcony that offers splendid views of the Indus Valley below.
Read more: https://www.responsibletourismindia.com/stay/stok-palace-heritage-hotel/299
11. Fort Rampura, Bundelkhand, Uttar Pradesh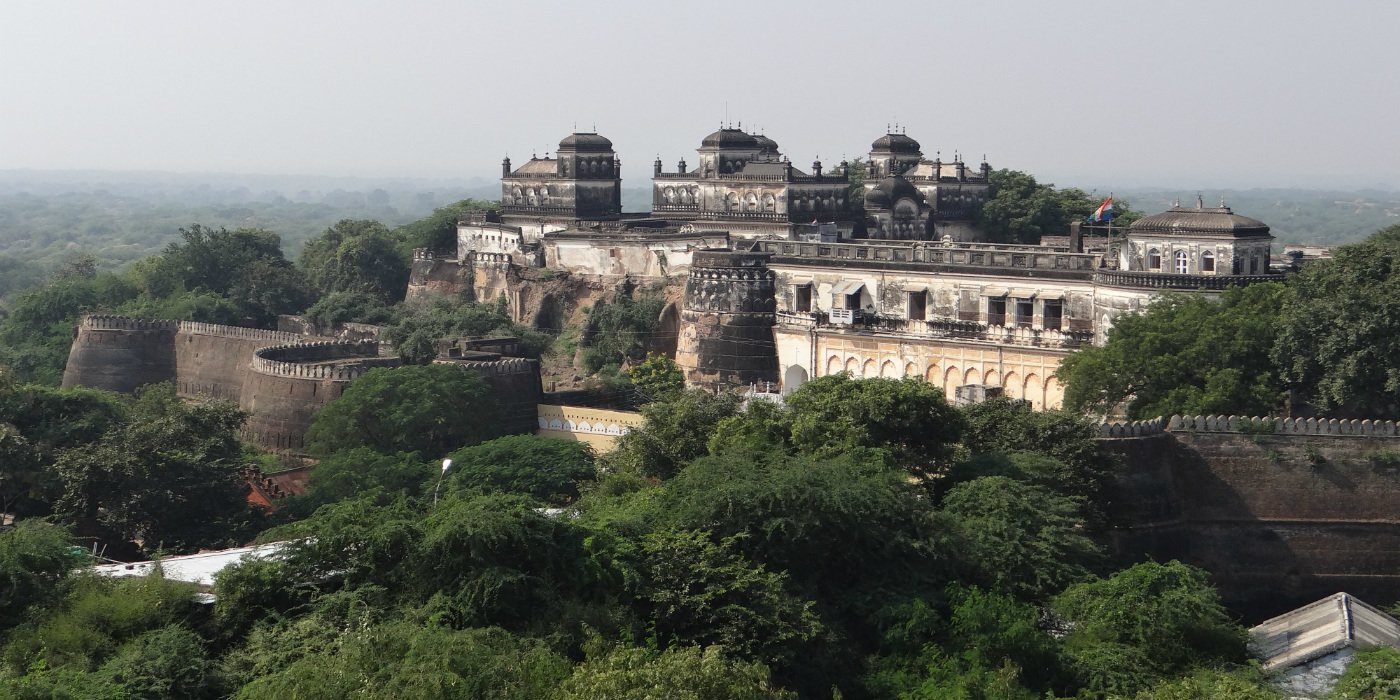 The 600-year-old Fort Rampura is located in the Chambal ravines of the Uttar Pradesh side of Bundelkhand and was the stronghold of the Rampura family for fourteen generations. Keshavendra Singh, the son of the present Raja, and his wife Padmini have opened up their historic home to travellers and offer four rooms as part of a homestay experience. While all four rooms are comfortable, do try to book 'Atiya', the large room on the fort terrace that offers 360-degree views of the surrounding countryside. There are many war forts in the region that can be explored easily from Rampura. An early morning walk through the ravines to the original family fort that lies in ruins and the family temple that is still located here is a great experience. So is the morning or evening boat ride on the much cleaner and wider stretch of the River Yamuna that flows nearby when you can watch local fisherman net their catch.
Read more: https://www.responsibletourismindia.com/stay/fort-rampura/273