Living in an old-Goan-style villa is among the many attractions of a holiday to the sun-sand-sea-and-susegad state of Goa. At Wildflower Villas you get to choose from seven very different, but all equally lovely villas. The seven villas, named after flowers like Periwinkle and Primrose, are set in an eight-acre property and each is surrounded by lush vegetation ensuring guests get unparalleled privacy.
The property is located on a hill and, though quite secluded, is not too far from the bright lights of Candolim and the attendant touristy delights like hip-and-happening restaurants and bars. But once inside the boundary of this property you are ushered into a quieter and much greener world. The large property is filled with plants and trees, a mix of wild tropical vegetation, landscaped gardens and kitchen gardens—all grown without pesticides.
The seven villas, a mix of one-bedroom and two-bedroom and single-storey and two-storey buildings, are all done up in soothing tropical colours and come with pillared large verandahs and sit-outs, beautiful four-poster beds and other antique furniture and doors that, when opened, seamlesly blend the bedroom and the verandah ensuring uninterrupted views from the bed. As each villa is built on terraces, you get unobstructed views, which, depending on villa, could be of just the gardens or of the green valley, the paddy fields, the Nerul River and the Aguada Bay further away.
While these villas are perfect old-style Portuguese Goan villas, none of them are old structures. These are custom-built to recreate the lost-Goa vibe and one of the advantages of not being a heritage structure is that modern luxuries have been easily included. This is especially the case when it comes to the bathrooms. The large and airy bathrooms give the verandahs here stiff competition for becoming your favourite 'feature'!
The in-house Mimosa restaurant serves up a mix of Goan, Indian and Continental dishes with an emphasis on local cuisine, especially seafood. The menu depends on what's growing in the garden and what's the catch of the day.
The boutique resort also arranges tours and trips. But do spend a day or two just lounging around—in the beautiful rooms, gardens or infinity pool. This is a great place to take a break from regular life.
Price: From Rs 8,000 (plus GST), per night per villa; includes breakfast.
Read More: http://wildflowergoa.com/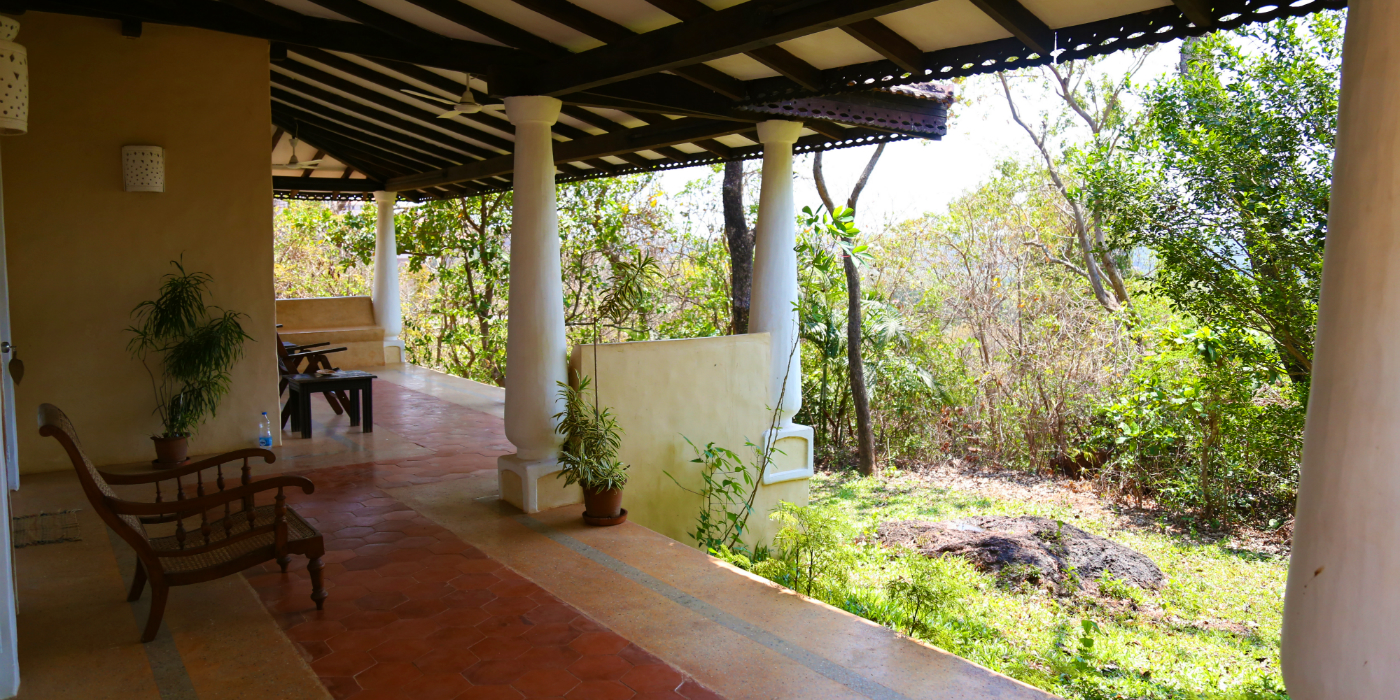 Slow Travel
Around 1,500 trees and plants were planted in the grounds of Wildflower Villas while developing the boutique property. As a result, the entire area is a veritable showcase for Goan flora and fauna. This evergreen environment attracts a large number of birds, butterflies and dragonflies. The trees that had fallen naturally over the years have been used to make some useful and creative objects of art at the resort. The resort also grows a number of fruits, vegetables, herbs and medicinal plants—all organic. Rainwater harvesting is undertaken and all hotel waste is recycled and composted. The bungalows were built using timber rescued from demolished houses.
---