The tiny hamlet of Sonaugi is located only a few kilometers away from Manali but it could just as well be a world away. Surrounded by lush Deodar forests on three sides and apple orchards on one lies Banjara Camps & Retreats' Sonaugi Homestead. The 'unhotel' is located on a steep-ish mountain slope and you can hear the rushing waters of the Beas down in the valley below.
The Homestead offers five rooms and is a building of local stone and wood built in the native Kath-Kuni construction style. It is rustic yet elegant and exudes warmth. The bedrooms are all spacious with living spaces. The Bukharis, however, ensure the rooms are cosy and warm even in the dead of Himachali winter. A special feature of the Homestead is the traditional 'Dhunna'—the heart of the property. A Dhunna was a hermitage with an ever-burning fireplace. At the homestead, the Dhunna with its huge fireplace serves many purposes. With its attached kitchen, this room/lounge is a sit down dining area; it is also the library; and in the winter months a refuge from the biting cold outside.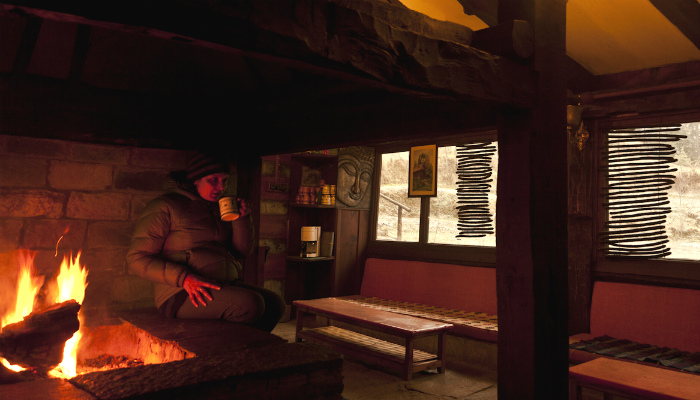 For travellers who want to disconnect from the urban world and stay away from televisions, phones and laptops, the Homestead is an ideal base. Here you will not find televisions or WiFi. The natural beauty around the Homestead is perfect for quiet explorations and long walks. There is a lovely trail through Cedar/Deodhar lined paths down to the Beas, or you could hike up through the trees to Janna village above the Homestead. Longer treks and more specific nature hikes are also easily organised as are drives to nearby destinations. Relaxing with a book by the fireplace is also a perfectly fine option!
Price: Rs 4,000 per room per night for just accommodation; Rs 1,500 for breakfast, lunch and dinner per person per day.
Read more: https://www.banjaracamps.com/camps-retreats-in-himalayan-valley-himachal/sonaugi-homestead-kullu-himachal-pradesh/201/default.aspx
Slow Travel
The Sonaugi Homestead features earth friendly spaces. It is a house built completely in the traditional kath-kuni style of construction with a traditional 'Dhunna'. The property grows much of the produce that get used as ingredients for guest meals. There are no televisions in the property, nor does it provide WiFi. The property discourages bottled mineral water and supplies RO purified drinking water free of cost. It does not use disposable (single use) plastic glasses, spoons and plates or polythene bags. Instead it uses organic clay tea cups, bio degradable plantain/areca palm leaf plates and wooden spoons and conventional reusable ceramic and glass crockery. It uses cloth bags to carry packed lunches. Organic waste is composted and paper, glass, metal and plastic bottles are given to scrap dealers linked to recycling units.
---