Banjara Camps & Retreats is among the pioneers of soft adventure travel to parts of the Himalayas that are still less frequented. The travel outfit runs five beautiful mountain lodges set in picturesque locations in Himachal Pradesh and organises customised and fixed departure jeep safaris and trekking tours across the Himalayan ranges in India, Nepal and Bhutan.
The Mountain Lodges—campsites, retreats and a homestay—are located in less-visited locations in the inner reaches of the Eastern Himalayas. All of them are in stunning locations. The flagship property in Sangla is set in an apple orchard on the banks of the River Baspa. The retreat at Sojha is located in the thickly forested Seraj Valley, which falls within the Great Himalayan National Park area. The Thanedar retreat is located amidst apple and cherry orchards on a mountain slope with clear views of the surrounding snowcapped peaks and the fast flowing River Sutlej far below. The Homestead at Sonaugi is just over an hour away from crowded Manali but the stone, wood and slate buidling's setting surrounded by towering Himalayan Deodars on three sides and apple orchards on one ensure that is a whole world away! The homestay at Langza is just one of 30 houses in this village, which is one of the highest in the world (at 14,500 ft) that can be reached by motarable road.
Apart from the Mountain Lodges, Banjara specialises in 'Journeys' that combine comfort along with adventure. So many of the 'Journeys' they offer cover remote and undisturbed parts with nature and culture focused excursions and stays in full-service camps, hotels or homestays that ensure travellers are well rested after a long day outdoors and charged up for the next day.
Their Himachal tour stands out as the journey keeps the Banjara lodges and retreats at its core, while ensuring travellers explore the beautiful locales surrounding them. This five-day journey, which covers Thanedar, Sojha and Sonaugi, includes such interesting experiences like a two-hour hike in a forest filled with Blue Pine, Silver Spur, Spruce, Oaks, Rhododendron and Taxus Himalayana, drives through high passes, hikes above the tree line through green meadows, walks to and alongside swift flowing rivers, traditional meals at local homes and many a cosy night by warm bonfires.
Their Journeys beyond Himachal are also special as they make it a point to give travellers a unique perspective even in tours that are popular and covered by numerous operators, like the Kinnaur-Spiti-Leh-Srinagar Safari, and they try to partner with like-minded hotels and resorts.
Price: The tariff for the Mountain Lodges range from Rs 2,450 to Rs 7,450 per room per night (excludes meals and tax). The tariff for the 'Journeys' depends on the trip. The five-day Hidden Treasures of the Himachal Himalayas costs Rs 27,000 (+GST) per person and includes accommodation, meals, local transport, guide and entry fees and activities as per the itinerary. The 18-day Kinnaur-Spiti-Leh-Srinagar Safari costs Rs 97,000 per person and includes accommodation, meals, local transport, guide and entry fees and activities as per the itinerary.
Read more: https://www.banjaracamps.com/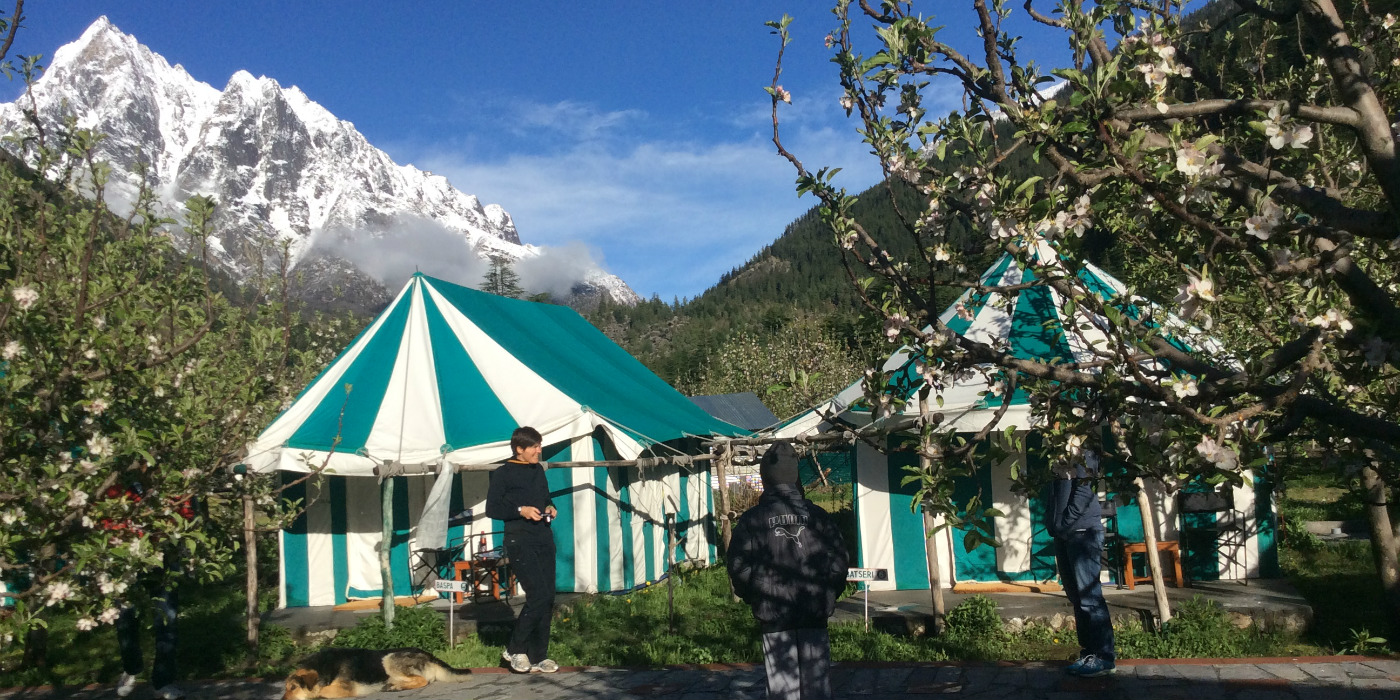 Slow Travel
Banjara Camps & Retreats set up mountain lodges in non-touristy parts of Himachal, thus bringing in tourists and tourist income to these communities. The values of the company are closely aligned to those that define sustainable tourism. The mountain lodges are composed of unobtrusive dwelling and service spaces that blend in with the natural landscape of the locales. They have tried to confirm to traditional architectural styles to the greatest extent possible. No trees or green cover have been destroyed in the construction process and development work. The stay experiences are focused on connecting with nature and so there are no TVs or Wi-Fi at any of the lodges. Instead on offer are a range of hiking and driving excursions to explore the natural surroundings and the culture and traditions of the local villages. The lodges discourage bottled mineral water and supply RO purified drinking water free of cost. Disposable (single use) plastic glasses, spoons and plates or polythene bags are not used. Instead organic clay tea cups, bio degradable plantain/areca palm leaf plates and wooden spoons, conventional reusable ceramic and glass crockery and cloth bags to carry packed lunches are used. Organic waste is composted and paper, glass, metal (aluminium foil) and plastic bottles are given to scrap dealers linked to recycling units. For the journeys (jeep safaris) that Banjara offers, they carefully select and partner with hotels that share their values.
---