In pretty and misty Coonoor amidst 1,800 acres of tea gardens lies beautiful Teanest that pays tribute to tea in every manner imaginable. This includes a seven-course tea themed meal with dishes like tea braised spaghetti aglio e olio and tea smoked chicken salad with pickled tealeaves!
Run by Nature Resorts, the main building at Teanest is a green-roofed colonial cottage with gables, high ceilings and lace curtains. Tea gardens surround it and from its large windows guests can enjoy views of mountains slopes that roll down to green valleys. The 1800s heritage mansion was once the home of British aristocrats and later an international tea school and was restored and refurbished by Nature Resorts to ensure the Raj-era look and feel are maintained.
The rooms here are named after famous teas—jasmine, chamomile, golden tips, silver tips, green, lemon, hibiscus and lemon grass. The rooms are mostly large and furnished with period antiques and many have attached living or dressing areas. Guests can stay warm by a crackling fire each evening, as a cool Nilgiris-mountain breeze is a regular feature year-round. On cold days or evenings, the lounge with its many arm chairs is a great spot to relax and take in the panoramic sweep of tea estates and craggy mountains. On warmer days the verandah is an ideal spot to enjoy your evening cuppa.
If you want even more seclusion, there's the Teanest Annexe about 700m from the main building. The building, painted an attractive red, was the erstwhile home of the estate manager. Today, it offers an intimate stay with just two large rooms—rosemary and basil. This building has its common areas—the dining area has large picture windows offering unhindered views of the tea garden and valley below.
Guests at the Annexe can also dine at the in-house restaurant, Earl Grey, in the main building. The inventive tea themed dishes are paired with specific teas like flowery orange pekoe organic tea smoked chicken salad with pickled tealeaves is paired with orange pekoe tea, while the tea braised paneer brochette is paired with organic rosemary tea. You can of course discuss with the chef in advance if you want to try out authentic local dishes or some other cuisines.
Teanest is a great place to explore the intricacies of the tea industry and plantation life. Do ask for their Tea Tour that includes an in-depth tea tasting session and a seven-course tea-inspired and tea-flavoured lunch. The hotel can also organise nature walks, treks and jeep rides (including a picnic lunch on a hill top), a market tour among the many experiences that can be enjoyed in and around Coonoor.
Pottering around the tea estate, enjoying your morning cup of tea on the sun-soaked porch while watching tea workers do the two-leaf-and-a-bud tea plucking, playing indoor games in the plantation lounge on rainy days or just relaxing by a toasty fire are all valid ways of enjoying a stay at Teanest.
Price: From Rs 3,500 per couple per night
Read more: https://www.natureresorts.in/teanest/ and https://www.natureresorts.in/teanest-annexe/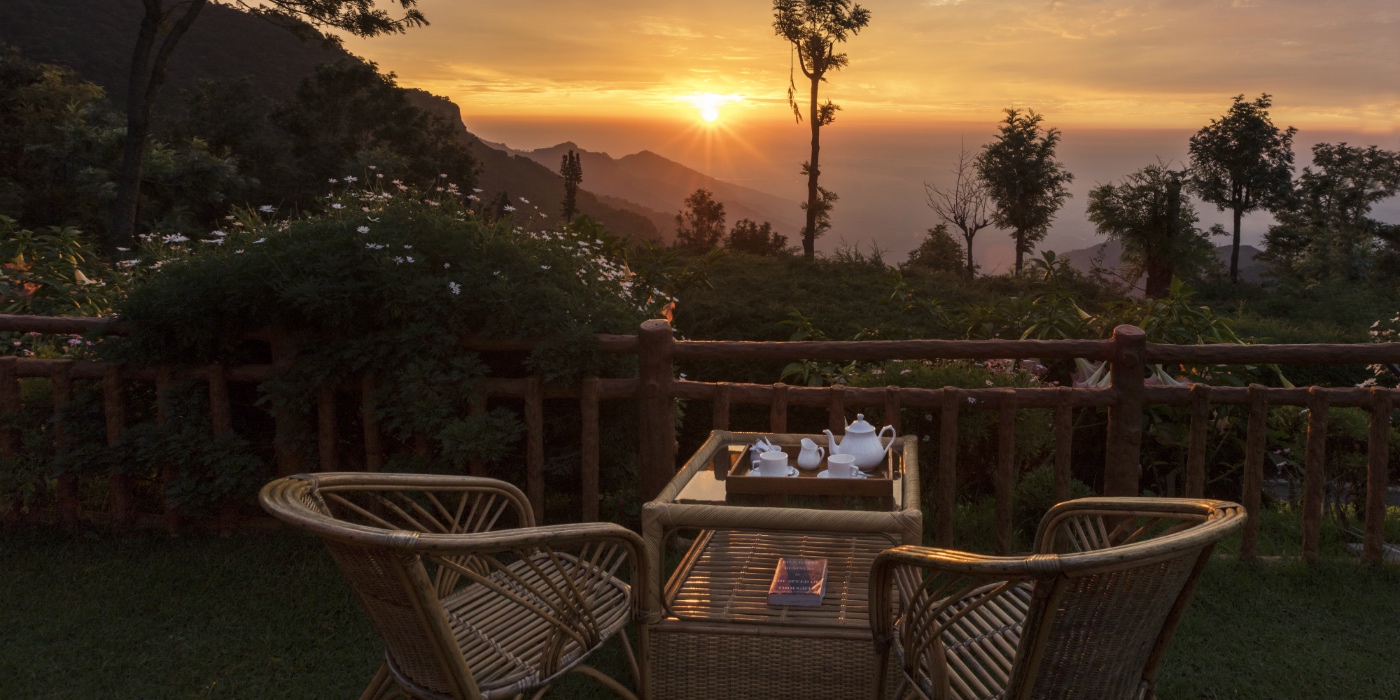 Slow Travel
Nature Resorts has installed foam flow faucets to reduce water consumption at Teanest. Degradable/bio-degradable waste is segregated, while plastic, paper, glass and cans are recycled. All shampoo, conditioner and lotion bottles are returned to the supplier to be sterilised, refilled and recycled. Staff is accommodated within the property. Energy-efficient CFL bulbs are used on the property. Many native species of trees have been planted within the resort, including fruit trees and plants that provide a natural habitat for birds and amphibians. The efficient usage of lights in public areas minimises disturbance to nocturnal wildlife. Locally sourced material was used during the restoration of the heritage structure in which Teanest is located.
---