In verdant Coorg, just 7km from district headquarters Madikeri, lies the Silver Brook Estate in Kadagadal. This is coffee country at its greenest and lushest. Set amidst the estate is the plantation homestay, run by a husband-wife duo—Revathi is a trained classical dancer, while Yogesh worked with Taj Hotels in Delhi for 22 years. Their aim is to provide hotel-like comforts with the warmth of home.
The homestay is nestled amidst vast coffee plantations, which also has a perennial stream flowing through it. The estate also grows pepper, cardamom, cinnamon and seasonal fruits and vegetables. The many flowering and fruit-bearing trees have made this estate a haven for birds and butterflies, with over 100 varieties of birds being sighted here.
The homestay is beautifully done, a reflection of Revathi's artistic aesthetics. Constructed in traditional style with tiled roof, pillared verandah and spacious common areas and ensuite bedrooms, the homestay ensures travellers get all the amenities they expect on a laidback vacation. Accommodation is in five rooms, two in the main house, two rooms as part of a single unit not too far from the main building and one independent room that ensures complete privacy.
A special mention must be made about the use of the famed colourful hand-crafted Athangudi tiles throughout the house, including the verandah, and the window frames and doors crafted from old wood recovered from demolished homes. These not only up the Responsible Tourism quotient of the homestay, they are also extremely easy on the eyes.
Coorg is excellent hiking country and walks among the coffee plantations and to nearby temples hidden among the vegetation are great ways to spend your days at Silver Brook.
However, you will find spending all your time here right on the Estate the most fruitful. After partaking of the hearty Coorgi meals, you will be forced to stroll around the Estate and enjoy the vegetation and birds. You can while away many an hour by the stream or in the hammock that Revathi and Yogesh have so thoughtfully provided. In short, this is a great place to just power down and relax.
Price: From Rs 4,950 per couple, includes breakfast and buffet dinner.
Read more: http://www.silverbrookestate.com/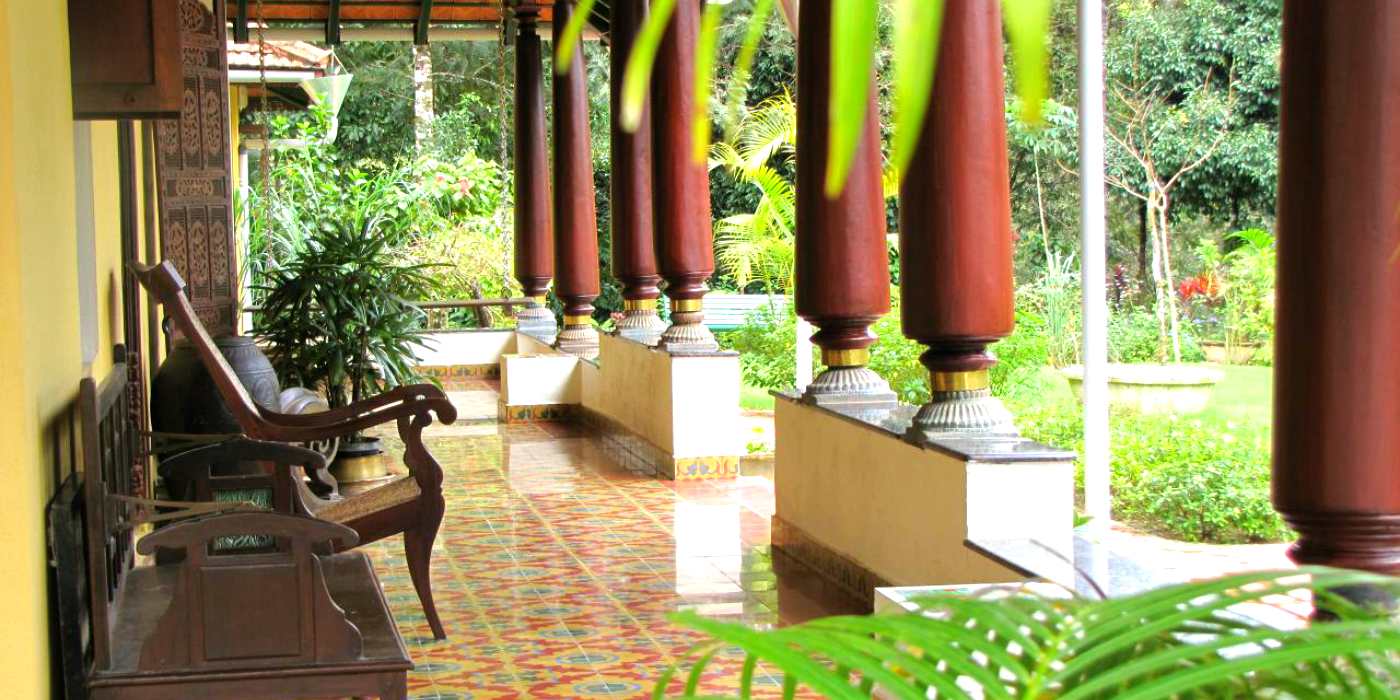 Slow Travel
Silver Brook Estate homestay follows ecologically sustainable practices like waste management, rain water harvesting, non-electric water heating system that uses waste wood from the estate and use of local South Indian traditional towels that need less water to wash. Old doors, windows and pillars from demolished houses have been re-used in the construction of the homestay. The homestay is in the process of getting solar power backup. Over 150 indigenous trees have been planted with special emphasis on those that attract birds and are essential for maintaining ecological balance.
---