The large, airy bungalow made of brick, tiles, stone and wood is camouflage architecture at its best—the earth brown structure seamlessly blends into its forest surroundings. Located just 7km from Kanha's Mukki Gate, which is the less developed and so less touristy part of the National Park, Salban is an intimate jungle homestay set in 11-acres of primarily farm land surrounded by old mixed forest, dominated by the trees that give the property its name—the Sal.
The two rooms on offer are large and comfortable, with high roofs and modern attached bathrooms. Guests can access the common areas, including the living and dining rooms and kitchen. An open-air, Mahua tree-shaded sit out is a great place for contemplation and the site for winter evening bonfires. A variety of fruits, vegetables and herbs are grown in the organic garden along with a wide variety of indigenous trees, resulting in rich bird life. You can indulge in bird watching right from the homestay's verandah. There is a lake nearby and the surrounding area is great for nature walks.
Salban is the year-round residence of Jhampan (Aniruddha) and Sheema Mookerjee, who are at hand to make the guests' stay comfortable. The food here deserves a special mention. The hosts are passionate cooks, a passion they have passed on to their son—a chef in Mumbai. The meals, made with vegetables, herbs and salad leaves from the farm, run the gamut of cuisines, from Indian and Asian to Continental. Do ask for Jhampan's stuffed roast chicken and treacle from mahua flowers. Guests are sure to be served Sheema's cakes and muffins during afternoon teas and safari breakfasts.
Price: Rs 7000 for twin sharing (includes all meals)
Read More: http://www.salbankanha.com/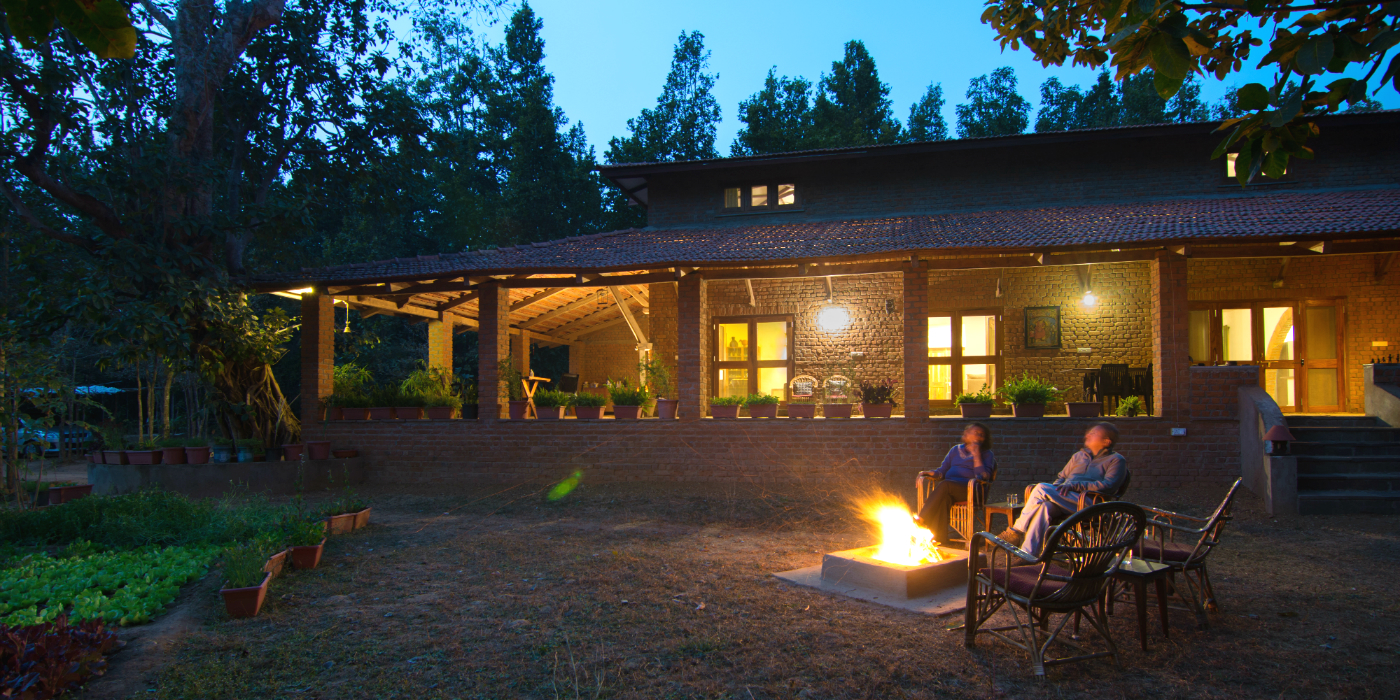 Slow Travel
Salban is as local as it gets. The architecture is inspired by the local village houses, and the building materials (bricks, tiles, wood and stone flooring) have all been sourced locally. The thick walls, high ceiling and use of mud mortar, ensure that the rooms are cool in summer and warm in winter, eliminating the need for air-conditioning. Food waste goes into the two compost pits, fulfilling the needs of the farm and garden. A pond collects the rain water and the overflow is used to irrigate the fruit trees. The homestay also introduces guests to local produce such as kodo and brown rice, mahua raisins and treacle, forest ripened jamun and mushrooms in season, and a variety of greens.
---