Hidden in 14 hectares of forested land between two Sal forested hills of Bandhavgarh is Pugdundee Safaris' King's Lodge, an intimate retreat for those who want an authentic jungle stay and wildlife experience but with a touch of luxury.
The Lodge is located in true tiger country and is a 10-minute drive from the Tala gate of the famous national park. And yet its vast forested landscape and the fact that it offers only 18 cottage rooms in total (8 of these are stilt cottage rooms) ensures King's Lodge is a secluded getaway where nature takes centrestage.
The rooms are not ostentatious but offer all the comforts guests would expect from a safari lodge. The grounds offer ample opportunities for nature walks and birding hikes. The watchtower or machaan in the property is also ideal for bird watching. In-house naturalists, many of them locals who know these forests intimately, accompany guests for all the nature and wildlife related outings, including the safaris into the national park. The Butterfly Farm at the property is also a great space for enthusiasts, who can spend many wonderful hours here. Guided cycling and walking tours beyond the property's grounds are also organised, as are visits to the nearby tribal villages where guests can see first hand the sustainable way of local life.
The dining experience is as great as the nature-related ones. Many local dishes feature on the menu apart from pan-Indian and international ones and many of the ingredients are grown in the property's organic kitchen garden or are sourced locally from villagers. The venues for the meals are as great as the food. The main dining hall with a fireplace overlooking the wild grasslands is just one of them. The 14-hectare grounds ensure many opportunities for alfresco dining. Bush dinners are also organised on request.
The in-house Ayurveda spa is sure to be useful after the many hours spent walking, cycling or in jeep safaris in the jungles.
Price: their Jungle Plan starts from Rs 28,500 and includes accommodation, 1 cycle of meals (1 breakfast, 1 lunch and 1 dinner) and beverages, 2 shared safaris in the national park, entry fees, guide charges and taxes.
Read more: https://www.kingslodge.in/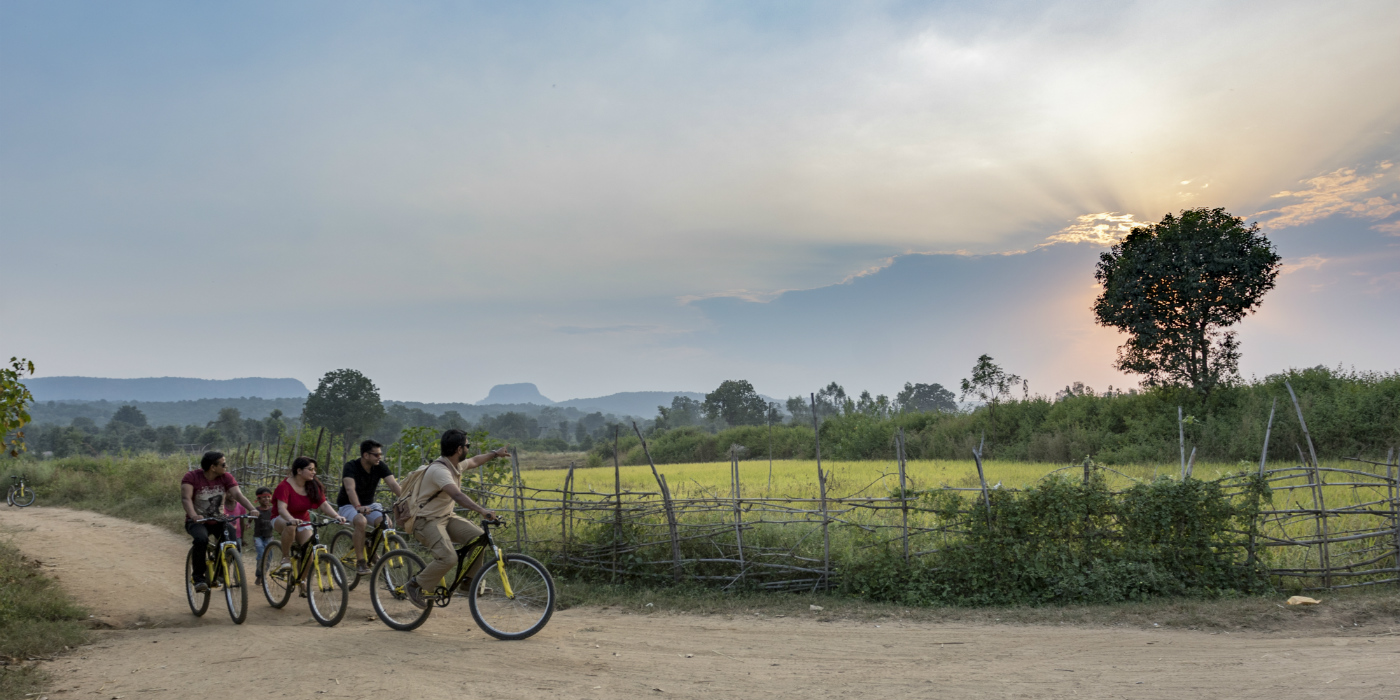 Slow Travel
Pugdundee Safaris' King's Lodge is set in 14 hectares of forested land. No trees were felled during construction and with just 18 cottage rooms, 95% of the land is forested. The local community is closely involved in the operations here as in all Pugdundee Safaris properties. Most of the staff is local. The produce is grown either in the organic kitchen garden or sourced locally. The lodge does not offer plastic mineral water bottles for guests; instead water is served in steel bottles. It follows water and energy conservation practices.
---