The jungle is right at your cottage's doorstep at Khem Villas, with animals ranging from deer and porcupines to tigers and crocodiles ensuring they make full use of the property's grounds whenever they feel like it. In fact, there is a strict no-wandering-at-night policy here and for good reason. The 25-acre property lies close to the Ranthambore National Park and less than one percent of the land has built structures; apart from the main building there are 13 tents and eight cottages. The rest is mostly forest and water bodies, all manmade, as this was mostly barren wasteland in the past.
The cottages and tents are the best stay options as you feel like you are right in the middle of the jungle, with generously proportioned sit-outs allowing for hours of animal and bird watching. If possible, opt for the cottages—the beautiful open-air bath is truly unique.
Price: from Rs 14,000 per night inclusive of all meals and taxes for a room
Read More: http://www.khemvillas.com/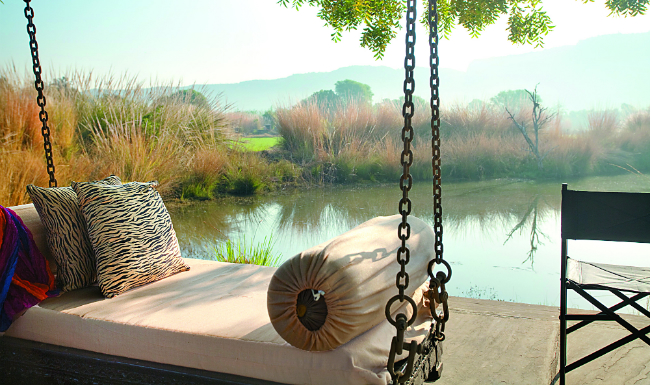 Slow Travel
All the structures at Khem Villas have been built using locally sourced materials. The camp offers only vegetarian cuisine, as a mark of respect to the animals, and all the vegetables are grown on the property and the diary from cows reared there. Over 95% of the staff at Khem Villas is local. Organic waste is composted and inorganic waste is either sold for recycling or sent to the municipal dump in Sawai Madhopur. All wastewater is naturally recycled using reed filters and then re-used. Even the water in their plunge pool, which is chlorine-free, is fed back into their pond. The property has six rain-fed watering holes. Funds from Khem Villas help support NGOs Tiger Watch, which is focused on tiger conservation and rehabilitation of poachers, and The Prakritik Society, which is involved in local education projects.
---