Just about an hour's drive from Jaipur is this beautifully restored haveli-fortress. The yellow structure with its courtyard, terraces and sit outs is the right mix of stately and cosy.
The building dates back to the 18th century when a local chieftain built the fort on land gifted by Maharaja Sawai Madho Singh I of Jaipur. Over the years it fell into ruin until the current owner acquired it and restored it with great care, without changing the original structure. The restoration took over eight years.
With just six ensuite bedrooms in the original heritage structure, Jaipura Garh offers a very intimate experience. Situated amidst fields, the property is home to peacocks who saunter about as if they are the true masters. The seating areas on the rampart are perfect for watching the sun rise or set while nursing a cup of chai or something stronger. The rooms are unique and lovingly decorated with antiques and curios. Five of the rooms are located on the ground floor around the courtyard and one on the first floor overlooking the main gate.
The courtyard is sure to become your favourite hangout spot, especially if you are travelling as a large family or group of friends. It is here that you will feast on authentic Rajasthani delicacies
There is much to do here, like village walks, camel cart rides, pottery making, visits to the local school, kite flying, participating in cooking classes and watching performances by local artists.
Jaipura Garh is managed by SaffronStays, an aggregator of unique properties across India.
Price: Rs 3,500 to Rs 7,500
Read More: https://www.saffronstays.com/view/jaipura-garh-1800s-built-6-bedroom-luxe-heritage-haveli-on-tonk-road-jaipur, http://www.jaipuragarh.com/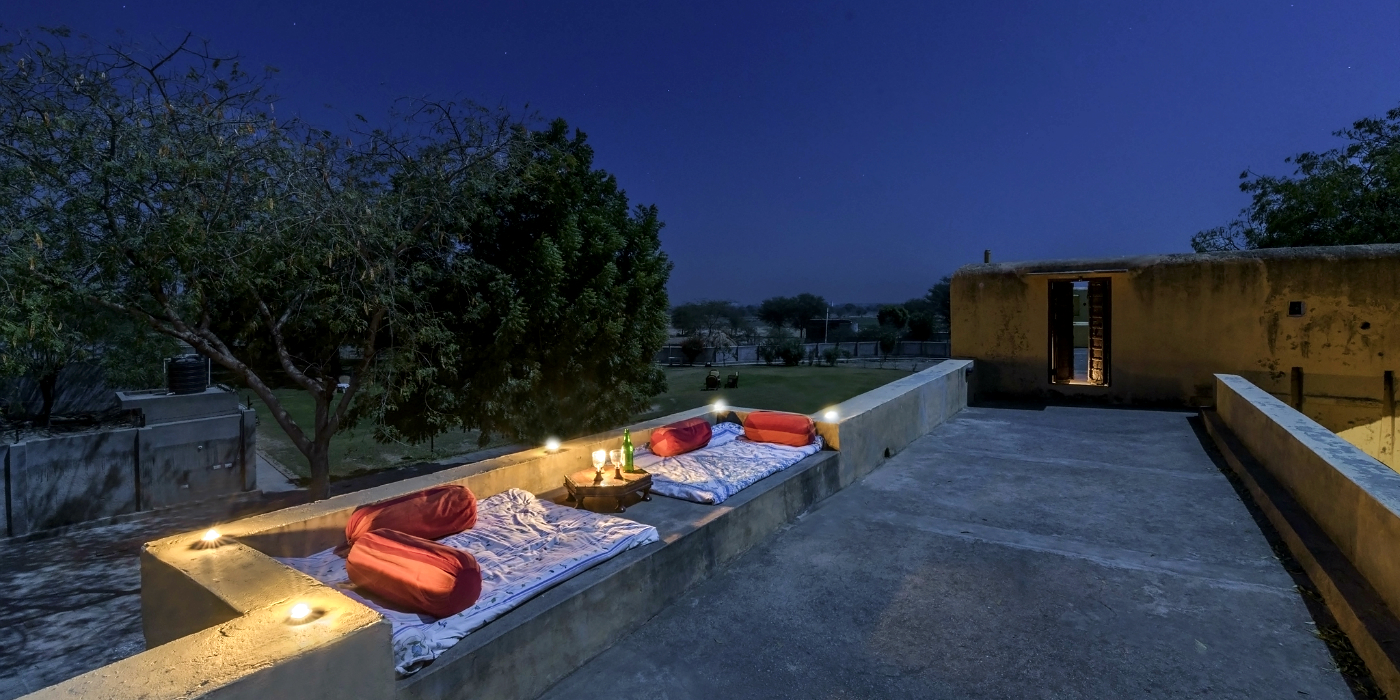 Slow Travel
The restoration of Jaipura Garh was done in such a way that the structure was left intact, except for re-plastering. Local labour was employed for the restoration and the employees working there now are also from the nearby villages. Most of the provisions like milk, curds, butter, ghee, flour and even some vegetable are sourced from the village on a daily basis at market prices, thus providing an additional source of income to the villagers. As open space on terraces was a constraint, electric geysers have been strategically installed to ensure immediate hot water is available and taps need not be left open for long for the hot water to flow. Dancers and musicians from the village where the property is located or from nearby villages are hired for performances. The outdoor landscaping was designed in such a way that rain water is harvested and drained into a 'Groundwater Recharge System'. Waste water from the bathrooms is drained into soakpits built within the premises. Strategically placed outlets in these pits ensures that water percolates deep into the ground.
---