Blink and you might miss it…that's how well the Diphlu River Lodge merges into the surrounding jungles. Located on the edges of the Kaziranga National Park, the eco-lodge is set on the banks of the Diphlu River. Guests stay in one of the 12 stilt-cottages built from locally sourced bamboo, wood and thatch in the traditional style of the Mishing tribe of Assam. The cottages are luxurious and fit for royalty—the Duke and Duchess of Cambridge, Prince William and Catherine Middleton, stayed here in 2016.
However, the biggest luxury is the stunning experience of being in the heart of the jungle—watching birds and animals having a drink of water from the River while you enjoy a delicious Assamese lunch on the deck of the restaurant, Machan. Then there are the safaris. The Kaziranga National Park is right at the Lodge's doorsteps and the wetlands are home to over 400 species of birds, like egrets, hornbills and storks, and many mammal and reptile species, like Assam Roofed Turtle, Asiatic Wild Water Buffalo, the Royal Bengal Tiger and, of course, the Indian One-horned Rhinoceros. The Lodge's in-house team of naturalists, mostly from local villages, will help you spot the jungle's real residents. While the days can be spent watching the wildlife, set the nights aside for looking at the stars—the Milky Way is clearly visible in the pristine pollution-free skies here.
Price: Winter package starts from Rs 14,000 per person per night and includes all meals and some activities like two safaris, guided bird watching, village visits and nature walks.

Read More: http://www.diphluriverlodge.com/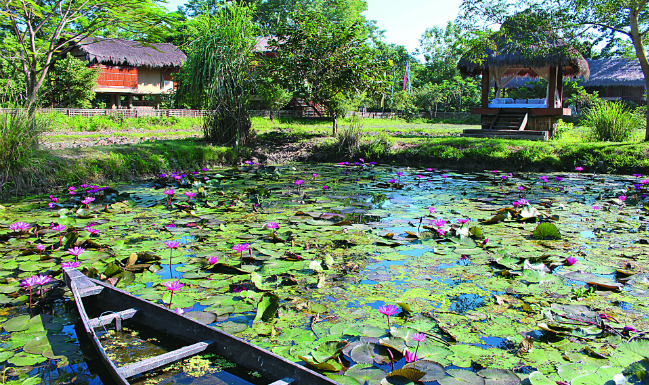 Slow Travel
The Kaziranga area is prone to flooding during the monsoons and when the waters of the Diphlu River rise, the Lodge, which is partly located on high ground, offers sanctuary and safe passage to the animals of the Park. The Lodge recruits most of its staff, including naturalists, from the surrounding villages and trains them in-house. No waste is disposed in the river—food waste is composted and grey water drains into a pond, which is then recycled and used for farming. The Lodge grows its own organic rice, vegetables and mustard. The food prepared at the Lodge is made from ingredients from the property or are sourced locally. It also operates a weaving centre focused on preserving Assam's textile heritage and most of the upholstery in the cottages is supplied by this centre.
---