Beautiful Thanedar is a land of fruit orchards, undulating mountains and valleys and with heart-stopping views of high peaks. This is where Satyanand Stokes first successfully cultivated apples in India and is among the prettiest places you can visit. On a mountain slope, amidst acres of apple and cherry orchards, is Banjara Orchard Retreat.
Run by Banjara Camps & Retreats, this mountain lodge is located just 80km from bustling and overgrown Shimla. From the rooms and grounds of the retreat guests can take in the stunning panorama of snow-capped mountain peaks. The scent of fruits is in the air and walking amongst the fruit trees in the lodge's grounds and beyond will be a favourite pastime. The retreat overlooks a gorge, about 6,000 ft below, and there flows the River Sutlej.
The lodge offers 10 rooms and suites, including two log cabins. All are comfortably furnished, making for a cosy mountain stay. The log cabins are extra special as they have attics—something children (and even adults) will truly enjoy.
Apart from the walks in the orchards—the region grows pear, cherry, almond, apple, peach plum, walnut and other fruits—guests can also visit the nearby villages and go trekking and hiking in the surrounding region. The region also has many local festivals and celebrations that you can witness and participate in.
Price: Rs 3,500 to Rs 7,000 per room only for stay; Rs 1,250 for breakfast, lunch and dinner per person per day
Read more: https://www.banjaracamps.com/camps-retreats-in-himalayan-valley-himachal/holidays-in-thanedar-himachal/29/default.aspx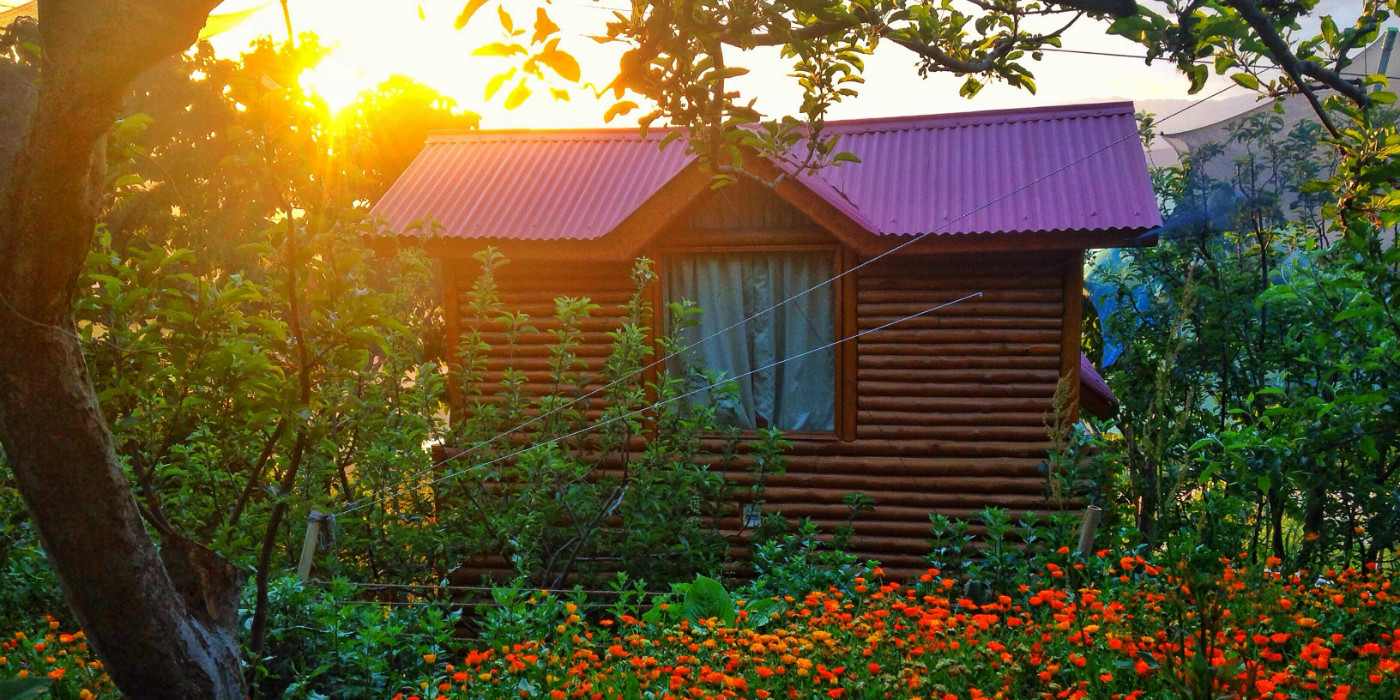 Slow Travel
The Banjara Orchard Retreat features earth friendly spaces—it is spread out over a flourishing apple orchard and is made up of unobtrusive, low rise structures. Extensive gardening and horticultural work has been done to make the setting even more verdant. Guests are encouraged to move out and explore the area, the dwelling units do not have TV and there is no Wi-Fi on the campus. They are offered a choice of careful curated driving and hiking explorations that focus on the natural beauty, landscapes, fauna and flora in the surrounding mountainside, as well as visits to local villages for an authentic experience of the culture and traditional lifestyles. Since the very beginning the retreat has discouraged bottled mineral water and supplies RO purified drinking water free of cost. The retreat has never used disposable plastic glasses, spoons and plates or polythene bags. Instead organic clay tea cups, bio degradable plantain/areca palm leaf plates and wooden spoons, conventional reusable ceramic and glass crockery and cloth bags to carry packed lunches are used. Organic waste is composted and paper, glass, metal, like aluminium foil, and plastic bottles are given to scrap dealers linked to recycling units.
---