The Local Beat is local, insider-led tourism at its best—the very antithesis of mass tourism. Launched by sons of the soil Mackinlay Antonio das Merces Barreto and Raul da Costa, The Local Beat is a "by appointment only" local adventures company full of happily unhurried loafs, picnics and pasois (leisure walks) into the old world charm of Goa in private groups.
The experiences are all carefully curated to offer a unique and less-touristy slice of Goan life. There could be a lunch in a grand old Goan home, you could participate in the Church feast in a village, go fishing in a creek, take part in a feni trail, learn to jive like a Goan while being serenaded by a live band—the possibilities are endless!
Food is definitely a highlight, with local and traditional cuisines being showcased. Like pezz (kanji or rice gruel) cooked over a wood fire and served with chepllin torran (raw mango) and harren (dried-salted fish), elaborate Saraswat Brahmin and Goan-Portuguese meals and savories, along with local refreshments like soor (toddy), neero (cashewnut juice) and the potent urrack and feni at a taverna and even chao (traditional tea) at a posro (local shop).
The tours are insipred by the founders' insider knowledge of Goa. Mack, for instance, recalls how as a child he would "bunk school (and sometimes catechism) to walk around the adjoining hills of Mala, down Fontainhas...cycle endlessly to the montes (hillocks) and zorrs (waterfalls) behind our home in Merces, loaf around the beaches back when they remained quieter, picnic with my folks around Goa, climb the dongors (hill) at my mom's village of St Estevam, the cashew plantations, accompany my dad to remote villages during Ganesh Chaturthi-Diwali-Eid, help my neighbour at the padeira (bakery) and of course the tavern when the time was right, fish at the once-large lake besides our home to grudgingly supervise coconut plucking at our plantation, accompany heroic uncles on hunting trips, clamber trucks for a visit to the mines."
So guests get to walk, talk, eat and drink like a local. The tours, however, stay clear of the more touristy beaches and take guests to the hinterlands to not just experience the natural beauty and the state's history and heritage, but also have an immersive experience of local culture through taking part in local games and enjoying intimate concerts put together by local musicians and, of course, feasting on local food and drink.
Mack promises that the focus is on sights and stories of the lesser known Goa by natives; you will not find them in blogs or books.
Price: Average price per person is Rs 3,500 in a group of 5 and includes hotel pick and drop, local refreshments, sights and stories with a local expert, local entertainment and food.
Read More: https://www.facebook.com/thelocalbeatgoa/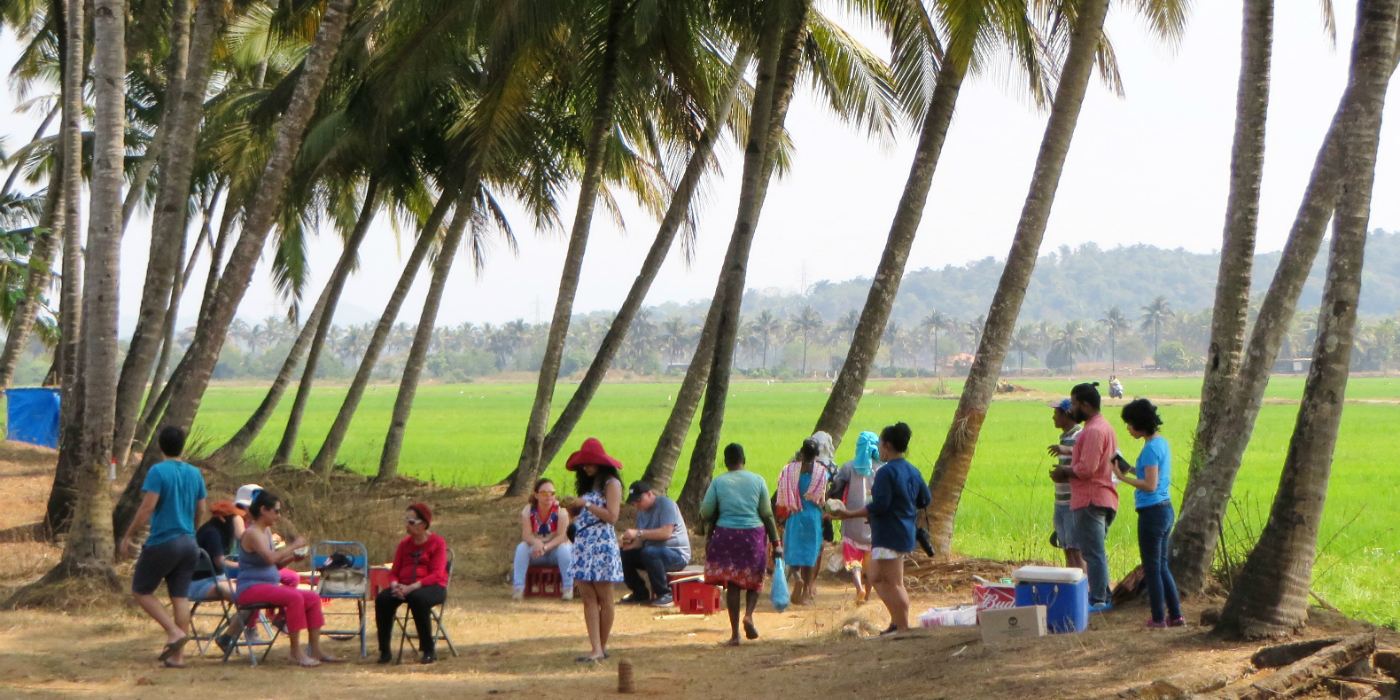 Slow Travel
The Local Beat organises walks and experiences only for small private groups so as to not adversely affect the daily lives of locals. The team pre cleans a lot of the places that they go to and, in fact, locals have started pitching in. They do not permit tagging of places (on social media) by guests, respecting local sentiments of not wanting hordes around. Most of the people who work with The Local Beat are locals, with musicians and performers to even the local priest helping out. Local traditions, cuisines, music and games are at the core of the loafs, walks and picnics organised by The Local Beat. Local traditional utensils, sourced from traditional artisans, are used instead of plastic.
---