It was love at first sight for photographer and writer Serena Chopra when she chanced upon an abandoned cottage in Binsar while holidaying there in 1989. The Mary Budden Estate cottage had not been lived in since the 19th century and Serena acquired it and lovingly restored the heritage cottage to its former glory. It was turned into a luxury homestay in 2011 and travellers too are sure to fall in love with this beautiful property and its equally stunning surroundings.
Mary Budden Estate is a homage to its last known inhabitant, Ms Mary Budden, who made this her home in the 19th century. Spread across five acres with only six bedrooms, the estate is safely ensconced inside the mystical oak and rhododendron forests of Binsar Wildlife Sanctuary. It is one of only five privately owned estates within the sanctuary and to ensure it creates as low an impact as possible on the environment is run entirely on solar power and harvested rainwater and is a plastic-free homestay.
Accommodation is in two cottages, the Mary Budden Cottage and the Rhododendron Cottage. These two cottages are the embodiment of mountain-chic, with bedrooms rooms that have large ensuite bathrooms, living and dining areas, and all filled with comfy furniture and furnishings. Many of the rooms have fireplaces or bukharis. The Mary Budden Cottage is the heritage structure, while the Rhododendron Cottage is a modern addition. However, it has been built in the same style but has larger living room and a library and the bedrooms have picture windows.
Binsar is walking country and the Estate has mapped out a number of interesting walks, with varying levels of difficulty. The sanctuary boasts of over 250 species of birds and so is a paradise for bird watchers. The Estate organise a picnic lunch during the day-long hikes at a lovely spot in the forest, where guests can enjoy a beautiful view of the snow peaks. Cooking lesson with the chef at the Mary Budden cottage kitchen patio is a highlight of a stay here. The staff also organise performances during the evening bonfire. Every Monday morning, prayers are held at the Shiva temple on the property and guests are welcome to join. A walk down to nearby Dalar village to visit a village home or to visit the primary school, which has less than 10 students and who love to meet and chat up guests, are great opportunities for guests to learn about local life. A sundowner at leopard hill is also a memorable experience.
The Estate also organises regular retreats around various themes like Yoga, food, star gazing, and photography.
Price: Rs 18,000 per night, on double occupancy; inclusive of all meals, soft beverages and taxes.
Read more: http://www.marybuddenestate.in/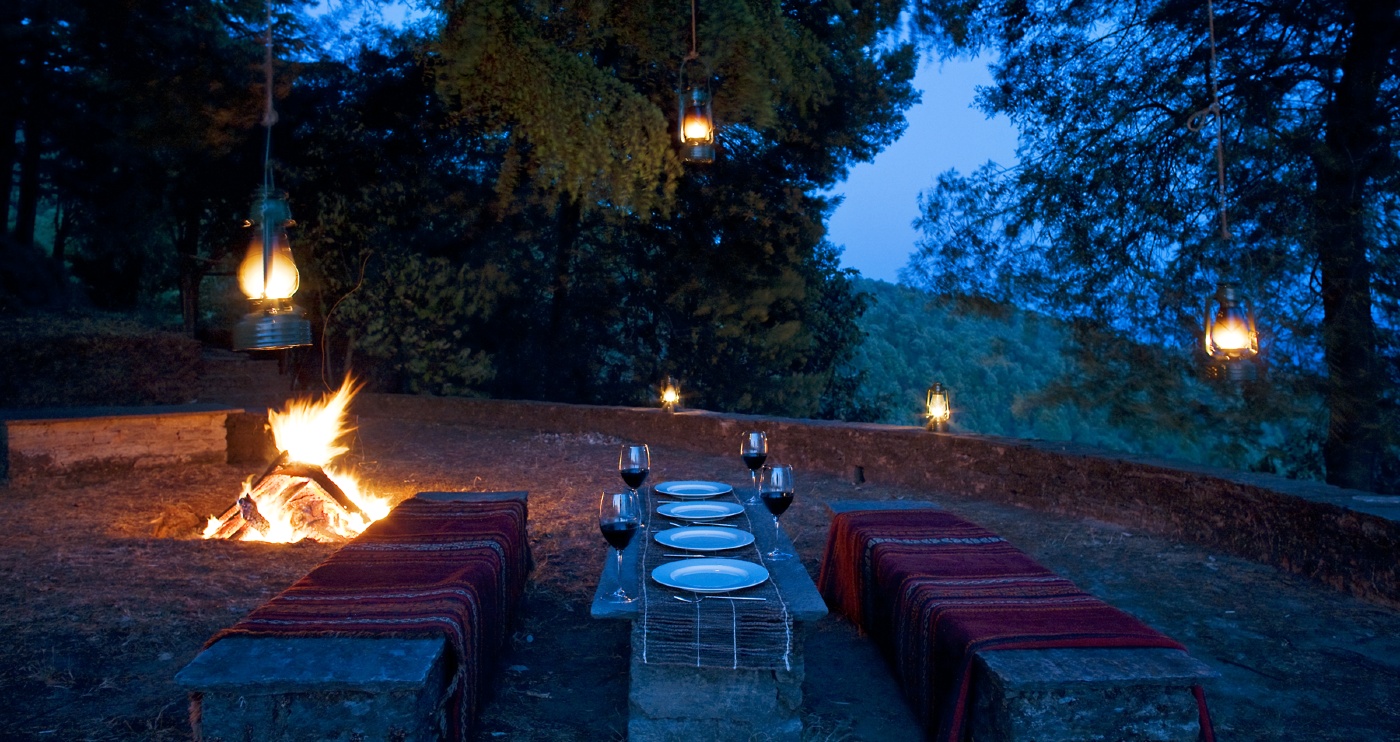 Slow Travel
All electricity needs at Mary Budden Estate are fulfilled via solar energy. The Estate uses harvested rainwater for the entire year. It grows 80% of the grains, vegetables and fruits in-house, organically. All employees come from local villages within a 5km radius of the estate.
---