Imagine living in your very own stone cottage in a lush private forest—waking up to birdcall and having an early morning cup of black tea on the verandah while looking out onto the hundreds of rosewood, jackfruit, almond, mango and orange trees that make up this wild garden. This can become your reality, for a few days, in Indhrivanam in Kerala's Thekkady.
Owned and run by a British-Danish couple, Indhrivanam, which means a 'sense of forest' in Malayalam, is set on a 1.6 acre property that is more forest than private garden. Apart from the main building, where the hosts stay and where the vegan breakfast is served, there is just one cottage.
This secluded building set amidst numerous trees is made primarily of handchipped stone with a terracotta tile roof, just like the main building. The verandah is great for nature-watching and the attached bathroom with its dry toilets is a work of art! You will also find such amenities as a king size bed, electric kettle, clean drinking water, torches, umbrellas and even a walking stick. There is also WiFi—something even the most responsible traveller can't seem to do without on vacation.
The 1.6 acre land is almost completely under tree cover. Under the canopy, coffee (Arabica, Robusta and Liberica) is grown, but the priority is to create a space where fauna and flora can flourish. Around 60 different bird species, including the Malabar grey hornbill, and mammals like slender loris, wild boar, giant squirrel, porcupine and mouse deer have been regularly spotted here.
The only meal served here is the vegan breakfast, except on days that feature one of Kerala's notorious strikes. The breakfast is typically homemade bread with various homemade nut butters, relishes and a very tasty cashew cream cheese. There will also be fresh fruit and may be homemade scruffins (a small cake that is a cross between a scone, rock cake and a muffin). If required, an Indian breakfast, like adai with sambar and chutney, or vegan Indian omelettes are provided. Coffee, tea, lime juice, and, on good days, cakes are available for free throughout the day in the main building. There are numerous restaurants, from the authentic and cheap tiny local restaurants to the fancy and expensive ones located in 5-star-hotels, so guests will not have a problem finding enough to eat.
The hosts take their cues from the guests in terms of how much interaction is expected. They are happy to give guests a guided local walk or take them to one of the special restaurants where the hosts sometimes eat but where tourists never go, but are also happy to just advise.
This 'homestay' is not for everyone, especially those who want hotel-like service and planned activities to fill their day. But, if you want seclusion right in the heart of nature with detached-but-attentive service in a responsibly run homestay-B&B, then Indhrivanam is for you.
Price: From Rs 5,300 per couple per night, includes vegan breakfast.
Read more: https://indhrivanam.com/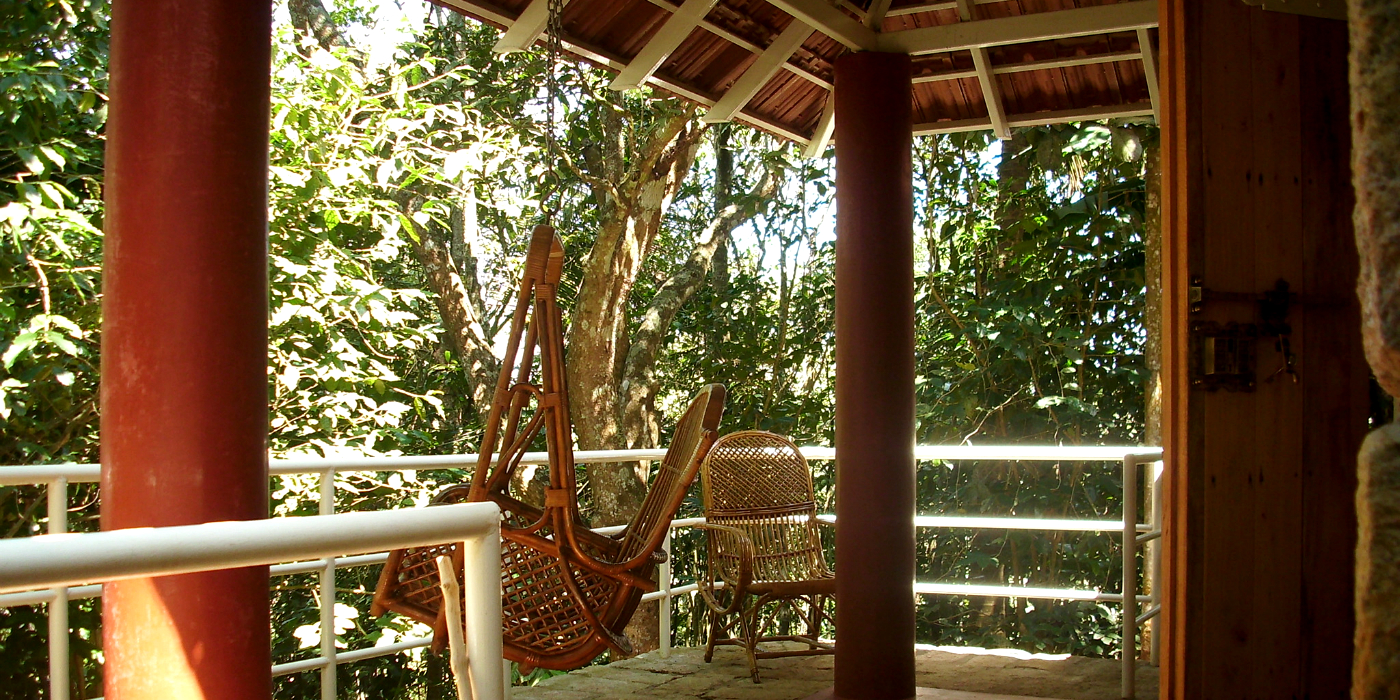 Slow Travel
Indhrivanam uses dry toilets, which means water is not wasted on flushing. All other biodegradable products are also composted. The property ensures minimum use of plastic and other non-compostable products. It relies solely on rainwater collection. All waste water is reused (for watering plants or feeding compost piles). The buildings on the property are constructed from natural products like stone and terracotta tiles. It is estimated that 95% of the products used in the construction are recyclable (for instance the use of HDPE pipes rather than PVC pipes). Indhrivanam is 100% vegan. The owners also donate part of their profit each month to an animal sanctuary in India.
---