Made of stone, wood and mud, the Hearth Hostel is a backpacker hostel like no other. It is housed in an almost-century-old building in central Leh right next to the Polo ground.
The building was restored and adapted in 2017, but much of the structure and layout has been retained. If fact, some of the more 'modern' elements like cement plaster that had been used during an earlier repair work was removed and replaced with more sustainable mud plaster this time around. The outer layer of the building is made of locally sourced markalak (fuller's earth), which in the cold arid desert works as a tough insulating outer layer.
To reduce excess usage the owners have converted only the top floor rooms to be used as the hostel. The lower floors and the garden have been restored to its original form. This allowed the team to retain the original floor plan and not add new architectural elements to the old built form. A toilet block has been added adjacent to the old structure and is connected by a wooden bridge.
The property also houses a 170-year-old Maitreya Buddha in the courtyard, flanked by three old stupas dating from the Namgyal dynasty.
The rooms have been converted into comfortable dorms with bunk beds that all come with clean and crispt linen, including quilts and blankets to keep travellers warm during Leh's cold nights and winters. There is a women-only dorm, plus other such backpacker friendly facilities like lockers, WiFi, laundry facility, kitchenette, workspace and clockroom service.
A few rooms have been set apart for community events and workshops that are held regularly at the hostel. These events range in type from barbeque evenings to film screenings and art exhibitions.
There are a number of nooks for guests to power down after a day's sight seeing and exploring—the dorm rooms are silent zones. The best spot may be the courtyard, which has a garden and an old apricot tree that showers white blossoms every spring and fresh apricots every summer!
The hostel also serves nutritious homemade breakfast with ingredients sourced straight from the farm. So travellers can start their day with home made barley bread, eggs, baked beans and veggies, home made jam, butter and curd and seabuck thorn berry juice! Lunch and dinner are also available at additional cost.
The hostel also helps arrange tours and lists a few trips on its site. It also organises heritage walks through Leh's Old Town on weekdays and cooking classes in the hostel for interested guests.
The hostel also runs a farm stay project in Matho village, 26 km west of Leh, and guests can book a farm stay package to experience true rural Ladakhi life.
Price: From Rs 600 for a dorm bed
Read more: https://www.thehearth.in/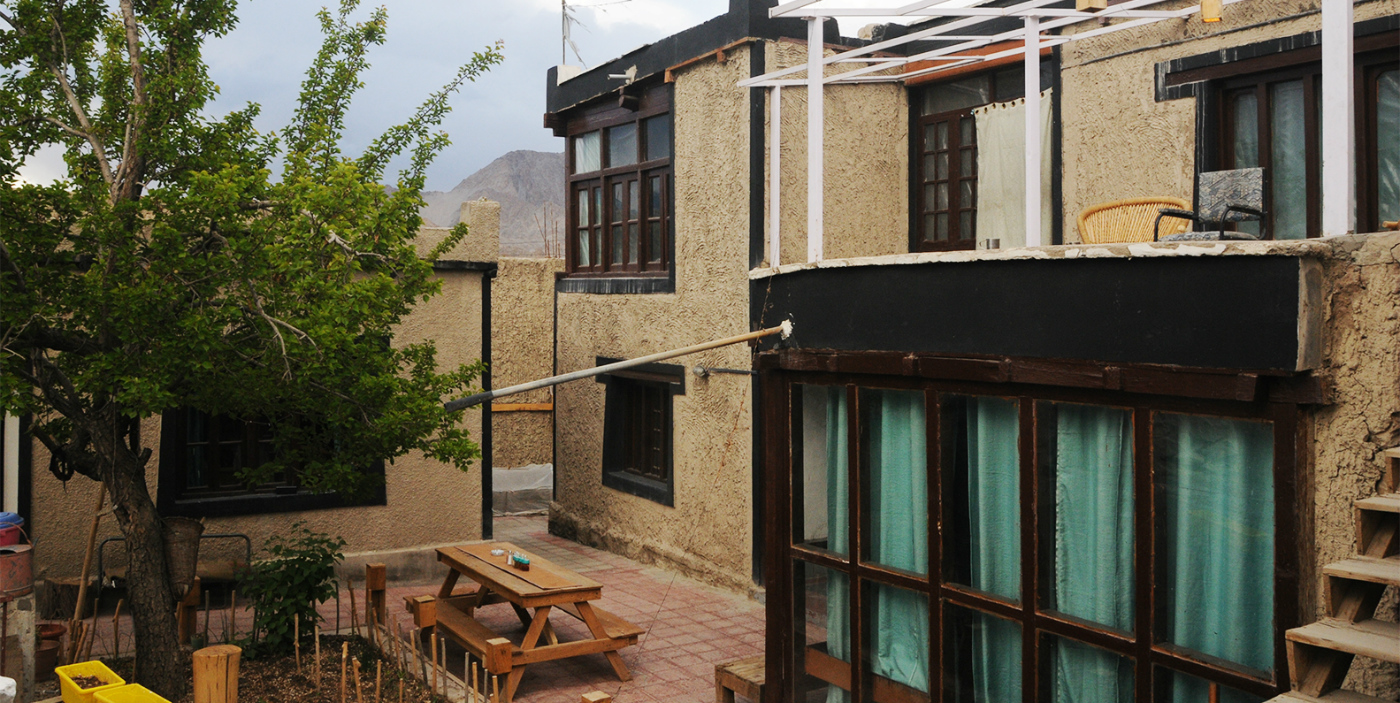 Slow Travel
The Hearth Hostel is a restored almost-century-old home in Leh and has been renovated using traditional architectural practices, like mud plastering. This method helps reduce fuel consumption for heating. Also, all the South-facing rooms have a glass façade to increase the thermal intake of the building and assure a temperature difference of 6 to 8 degrees without supplementary fuel consumption for heating. Recycled and reclaimed wood has been used for the interiors and for restoration. The hostel provides hot water with a solar water heater and the power backup is supported by solar photovoltaic cells. Guests make use of the charcoal-based water purifier system for their drinking water. Waste is segregated and used water is treated and let back into the ground.
---