Dandeli, located in North Karnataka and close to the state of Goa on the Western Ghats, is a land of thick forests, swift flowing rivers and ancient temples. Here in the village of Gund, located within the Kali Tiger Reserve is a simple but comfortable homestay run by the Hegde family.
Amara Homestay is for those who are keen birders and nature enthusiasts as the land and forests here are teeming with wild animals and birds. It is also for the adventurous, who want to go river rafting, trekking or overnight camping. It is also for those interested in the arts. The elder couple, Mangala and Ramachandra are practitioners of the traditional Yakshagana art and dance form. Their son Ajit is a Hindustani classical vocal singer and his wife Archana is a painter and her Warli art work can be seen on the outer walls of the cottages at the homestay. All four of them, along with Ajit's grandmother run the homestay.
The Hegdes, whose family has lived here for over a century, are farmers and started the homestay to supplement their income. The homestay offers four rooms, as individual cottages, and tent accommodation. Since the village is within the Reseve, the homestay is surrounded by forests and fields. The homestay offers nature walks, bird watching hikes and trekking and also helps organise activities like river rafting, jungle safaris and other sightseeing activities.
The home-cooked vegetarian meals prepared with fresh produce from the homestay's farms or from the farms of neighbours is an added treat.
Price: Rs 1,600 per person; includes all meals and some activities like nature walk, bird watching, camping and trekking.
Read more: http://www.dandeliamara.com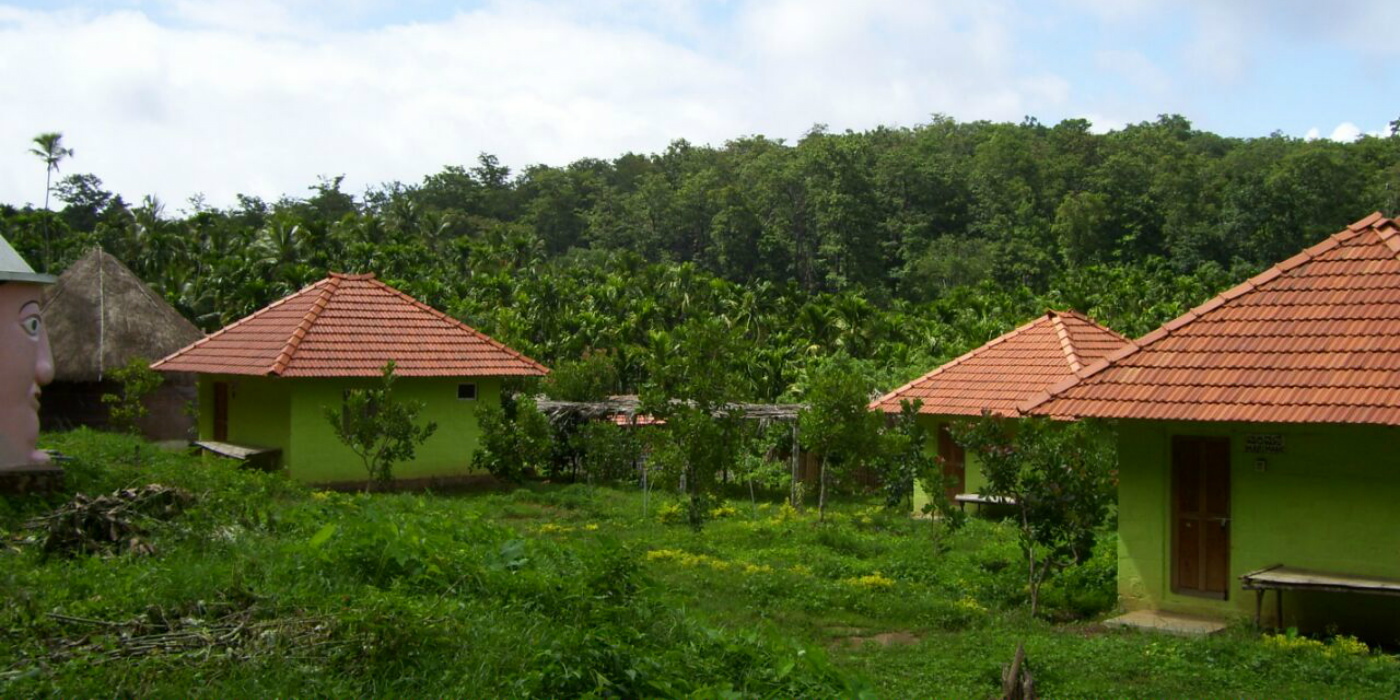 Slow Travel
The family-run Amara Homestay follows eco tourism principles, especially as it is located within a tiger reserve. It showcases the local ecology, culture and cuisine. The homestay is almost entirely plastic-free. Food waste goes to the manure pond, which is in turn used for the family's arecanut plantation as fertiliser. The main source of water is a natural stream that flows through the farm. The waste water is recycled and reused in the farm. Guests are not offered bottled water; instead the filtered natural stream water is used. As the homestay is situated within a tiger reserve, the family grows its own vegetables, paddy and milk. Or it borrows home-grown produce from neighbours. This is the only homestay in the village and the locals have set up an eco-shop to sell locally grown and locally made products such as Jackfruit papad and local honey to homestay guests. The homestay employs locals as guides for trekking and other adventure activities.
---