The Chilika Lake in Odisha is rightly famous for its rich bio-diversity and for it being an important habitat for birds, especially of the migratory variety. Over 100 villages are spread across the banks of the massive lake—it is Asia's largest brackish water lagoon. Among them is Mangalajodi, in the northeastern part of the lake. Over the last couple of decades this village of mostly fishermen and their families has become one of the better conserved wetland areas not just in the Chilika habitat but also in the country.
From October until February/March (some birds arrive and leave later) these marshy wetlands filled with water lilies play host to a wide variety of birds—around 150 migratory species and 40 resident species—including Cormorants, Storks, Ibises, Gulls, Terns, Warblers and Trushes. While the thousands of birds here go about feeding or flying in formation nonchalantly now, it was not always the case. Almost all villagers of Mangalajodi were once upon a time engaged in poaching. However, in the mid-1990s conservationists at Wild Orissa started working with the fisherfolk and poachers here and after considerable effort and educational initiatives were able to bring about a change of heart and practices. Community-run conservation initiatives were set up and the poachers became protectors, actively patrolling the waters to keep their erstwhile prey safe.
As part of the larger conservation initiative, Mangalajodi Ecotourism was launched in 2010 to create local employment and provide economic incentives through ecotourism services. It offers simple cottage and dormitory accommodation and local meals. More importantly, it offers unique guided bird watching tours from hand sailing country boats. The poachers of a few years ago are now birding guides!
Price: Rs 3,799 per person for a one-day, one-night cottage package. Includes vegetarian meals (non-vegetarian dishes are available at extra cost) and a guided boating trip. Day packages are available at Rs 1,899 per person.
Read More: http://www.mangalajodiecotourism.com/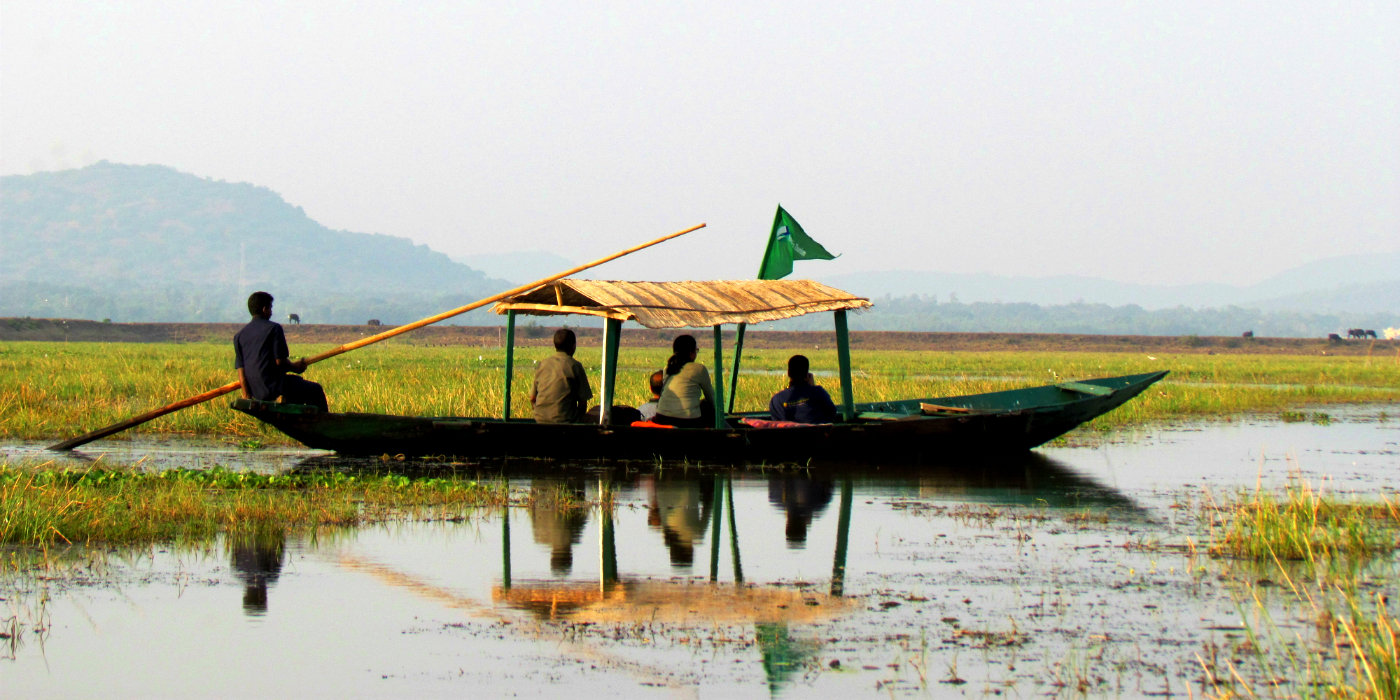 Slow Travel
Mangalajodi Ecotourism is community-led conservation and ecotourism at its best. Local villagers manage and run the initiative ensuring they benefit the most from the protection of bird species that travel to Mangalajodi or live here. Locally made hand sailing country boats are used for the bird watching tours and ethical bird watching is practiced, which means not approaching nests or using recorded birdcalls. The eco-resort is traditional, simple and shorn of luxuries like television or air-conditioners.
---