In Himachal Pradesh's Naggar is a small travel outfit called Himalayan Brothers Adventure (HBA) that offers fun-filled adventures for anyone interested in exploring the mountains that they so love. They offer road trips and treks in Kullu, Chamba, Lahaul and Spiti, Kangra and Ladakh as well as a cosy stay in their quaint homestay in Naggar.
Brighu Acharya, a certified mountaineer, keen traveller and skilled trekker, started HBA in 2008 as he wanted travel in the mountains to be something that everyone—from children to older folk—could enjoy. So their treks and trips are always customised according to the group. The itinerary is based on whether it is for a family with young kids looking for a little bit of adventure and something easier on the kids, for a group of young adventure enthusiasts who want to challenge themselves, for older trekkers who want to pace themselves, or for a honeymooning couple looking for something romantic away from the usual crowds. They ensure that the travellers get comfortable with the outdoors and are able to find their own pace so that they develop a love for trekking and keep coming back.
Their short hikes around Manali in Kullu Valley and Kasol in Parvati Valley are between three and seven days long. This is a perfect amount of time to immerse yourself in the mountains and take in some absolutely gorgeous scenery. HBA provides experienced guides who are local boys trained by the outfit, along with porters, helpers, cooks, camping gear and food and water.
Their day treks are to places around Naggar and Manali like Bijli Mahadev, heritage walks in traditional villages, Jogini Waterfall and Rani Sui Lake among others. The short multi-day treks are to destinations like Phuta Sor, Chanderkhani Pass, Khirganga Hot spring, Brighu Lake, Hampta Pass, Mantalai Trek, Magic Valley and Sar Pass. HBA also organises much longer trekking expeditions to Deo Tibba, Hanuman Tibba, Friendship Peak, Pin Parvati and even Annapurna Base Camp and Everest Base Camp.
It also organises road trips, primarily in Himachal but also further afield in Ladakh. These are an exciting mix of culture and adventure travel. In addition to the famous stops on the route, HBA adds off-the-beaten track touches to make every trip a memorable one. Travellers can choose from one of the many curated itineraries offered by the outfit or could get a completely customised one.
For those who want to enjoy the mountains but also relax and focus more on experiencing village life and local food, HBA offers a truly warm and welcoming homestay in naggar. The homestay built in the local style with stone and wood is set in the midst of apple orchards and vegetable gardens and offers stunning views of the snow-capped Dhauladhar peaks. The homestay, located 20km from Manali, offers double rooms, a loft studio with kitchenette, bunk beds and swiss tents. The homestay offers travellers a chance to enjoy (and help cook) home-cooked meals, work in the farms and apple orchards, participate in workshops on traditional cooking, weaving and spinning, go on walks in the forest hunting for local mushrooms and ferns and keep themselves warm in the nights in front of the tandoor or bonfire.
Price: Rs 1,500 to Rs 3,000 per night for homestay. The tariff for treks depends on duration and type of trek and typically costs between Rs1,500 and Rs 5,500
Read more: www.himbrothers.com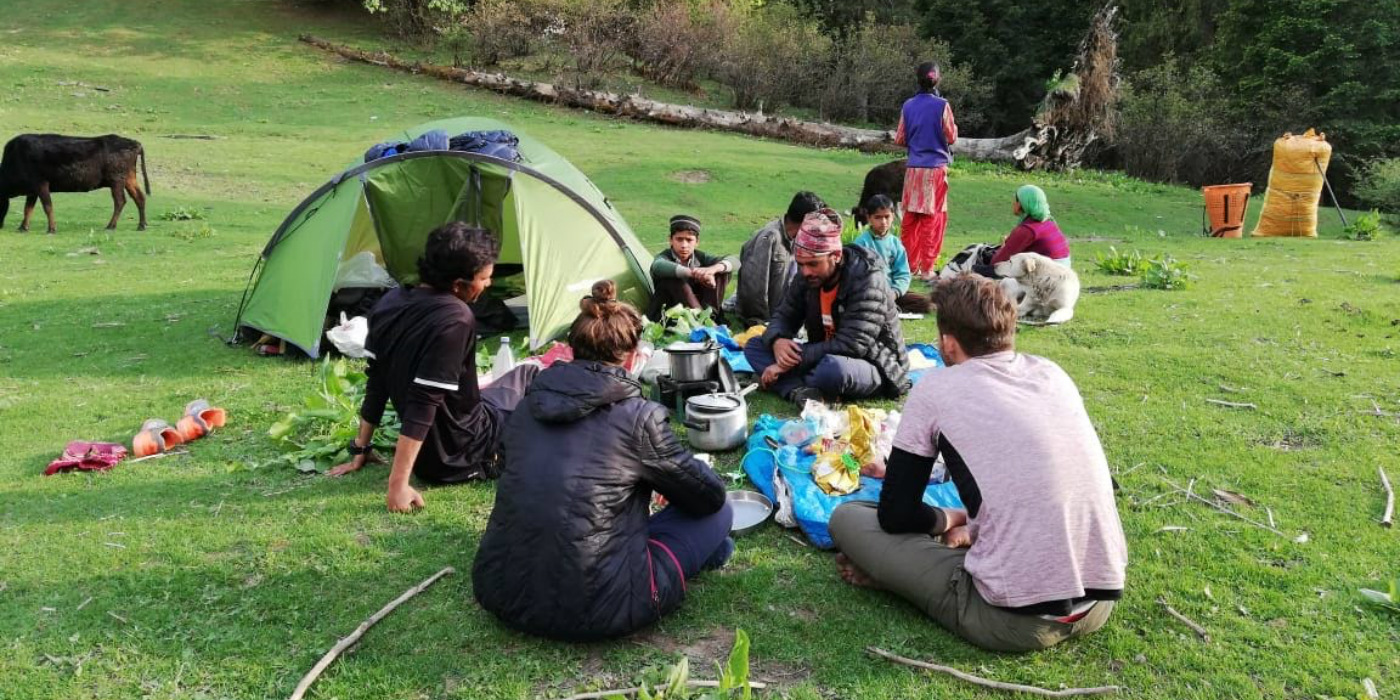 Slow Travel
The Himalayan Brothers Adventure makes sure that their treks and trips are sensitive to the environment and they leave no traces on the mountains during a trip. They have built a homestay in the local style, made primarily with natural materials like local wood and stone. The homestay offers home-cooked meals that are made primarily with seasonal produce from the homestay's farm. In recent years it has been involving local youth in the community, by training them for treks and expeditions and getting them involved in keeping the village clean and green and free of plastics. The outfit also promotes local crafts of spinning, weaving and wood working through workshops.
---