6 April 2020 Deepa Krishnan founded Magic Tours of India in 2006 to offer immersive and guided tours, including bazaar walks, heritage walks, art walks, food walks, home-cooking classes, textile trails and craft trails. The responsible tour company started with tours of Mumbai and has scaled up over the years to other locations. It recently launched operations in its 29th location—Orchha. The Covid-19 pandemic has affected Magic Tours of India, just like it has impacted the tourism industry overall. Her many years of experience in the field, her close links with communities across the country and her direct interactions with international travel companies and tourists mean Deepa is well-placed to gauge both the short term and long term ripples the pandemic has caused. In this interview she shares how she is dealing with the challenge and offers suggestions for travel companies and the government on what needs to be done.
Q. How are you making use of this lockdown period?
Deepa: This is what I have done so far:
- Reassured customers, processed paperwork for refunds on cancelled tours.
- Took stock of existing receivables/payables situation and planned working capital resources for the long haul ahead.
- Reassured employees that no one is being fired.
- Worked on community help efforts like helping run a food kitchen in Dharavi for labourers, launching a crowd-sourced funding for cash transfers to 250 families for three months, supporting a well digging project in one of the rural villages where we conduct tours.
- Launched new tours – we just launched Orchha Magic, our 29th city tours website, with heritage walk, nature walk, cycling tour, and home cooking tour. We have launched new tours in Jaipur, Delhi, Bangalore, Mumbai and will continue to do more.
We are now starting to talk to vendors, contract freelancers, etc, to figure out payment schedules and how to keep everyone alive. This is a long process and will take a month or so.
We are also catching up with a lot of the tours that we have been wanting to launch for several years now and not had the time to get around to it. Most of them are craft and textile tours, food tours, cycling tours, nature walks, educational tours that inspire, etc. This is what we have always been doing and we continue to do that. I believe the future is in immersive travel.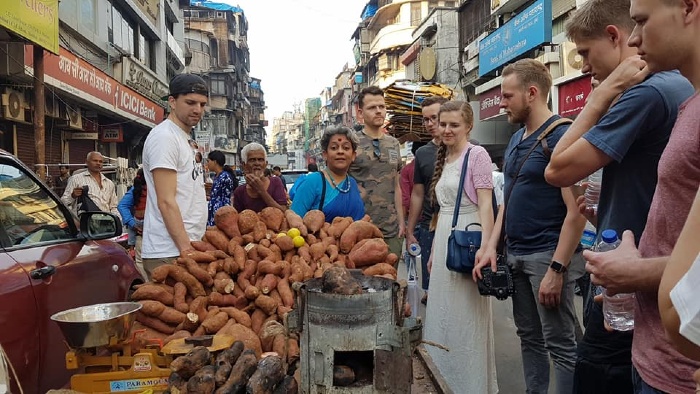 Deepa Krishnan leading a tour in Mumbai's Zaveri Bazaar (above) in the days before the Covid-19 pandemic
Q. What tough decisions have you had to take due to the crisis?
Deepa: In a services industry like tourism, downsizing really boils down to cutting employee headcounts and reducing office overheads. We had two choices - downsize to a small core group of two or three people and pay them well; or keep everyone but at a very basic reduced pay. I chose the second option, because in these troubled times, I felt I should support my entire team as much as I can. Amazingly, a couple of people in the team stepped up and said, I don't need payments, you give my share to someone else. These relationships are what keep us strong.

We cut all other expenses except the basics, gave up the Mumbai and Delhi offices. The Mumbai office was a much-beloved place that we had just built into an events space, but every penny saved means I can continue to keep all my staff for as long as possible. One of my overseas clients just fired their entire team and has temporarily closed their business for a year. It truly shocked me to hear that. I don't think I could bring myself do that. So here we are, on a hope and a prayer, and making our money stretch to cover as many of us as we can, for as long as we can. A day may come when we have no choice, but that day is not here yet.
Q. What is your plan for if the crisis goes on for months?
Deepa: I think things will get better no later than Jan 2021. Already about 25% of my major cancellations in March were postponements. People have modified their flight bookings for future dates. Similarly a report by research firm UBS says that cruise ships have seen a 9% increase in bookings in March compared to previous year, as people apply their credit vouchers to future dates. They are showing a preference for Asia and Alaska, rather than Europe. I think of the current crisis as a temporary dip, that will test our cash reserves, but it's nowhere near the end of the story. Everyone in tourism – whether owner or worker – is going to have to draw upon reserves. We will be making payments to guides and vendors for the work they have done already; although we will need to stagger it. But our intention is to keep all people going. We are lucky that most of our guides (freelancers) do have some savings of their own.
Q. Post-covid, what will travel and tourism in India look like and what should it look like?
Deepa: Post any traumatic event, a new normal emerges. For example, after the terror attacks in Mumbai, we had increased security measures at airports, and at hotels. The world moved on, normalising and taking this in its stride. The world will cope with this Covid crisis too. We take yellow fever shots and go to Africa to see game reserves, don't we? When vaccination becomes available, we will see inbound travel pick up again. If I were to guess, I'd say business rather than leisure travel will be the first to pick up in the inbound tourism business. Some behavioural changes will definitely come, for example, I think in our inbound tourism business, all tourist cars will come with sanitisers, drivers will visibly demonstrate handle/seat wipe-downs for customers as a practice, etc. Hotels dealing with foreign tourists will also take these things more seriously. I believe there will be more demand for less crowded destinations.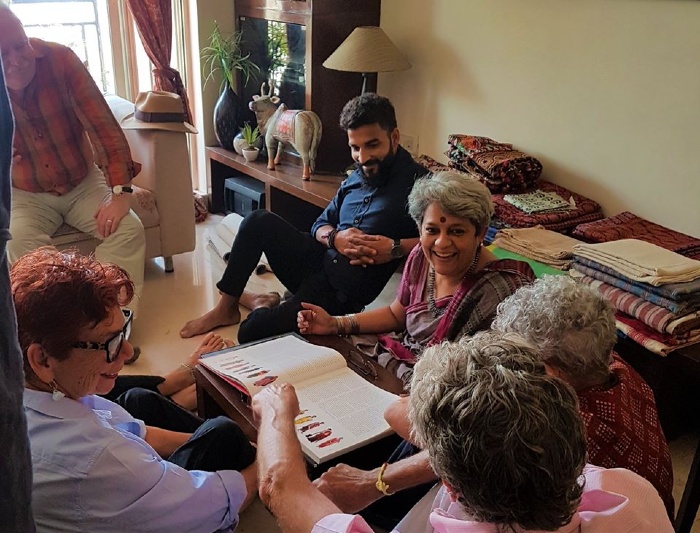 A glimpse of the Introduction to Textiles tour conducted by Deepa Krishan
What it should look like: Slow travel, immersive travel, community-led tours, these are on my wishlist. These have low eco footprint and bring benefits to large numbers of people.
India needs to also get its act together to be competitive in the market when it does emerge again. This needs government intervention.
Use the break from tourism to get all urgent repairs done to monuments, once the current lockdown ends. Government should make 5 star level toilets. Clean up the surrounds. Improve the entire tourist experience. Add ethically sourced shopping options. Pay particular attention to the safety aspects - many of Maharashtra's spectacular forts are dangerous to climb. This effort will provide employment on a large scale to the people who need it most. It will also make us more tourist ready and attractive as a destination when things open up. This is the time to create and put signage, son et lumieres, advertising campaigns, etc. If we use the time wisely, then we can usher in more happy tourist experiences that make our industry stronger. Simply building pay and use toilets on highways and in every area where tourists are present will have a great positive impact as well as generate employment and reduce diseases.