March 24, 2020 In normal times on the grounds of Neeleshwar Hermitage in North Kerala roam peacocks and peahens. Nowadays, you will not find them in the grounds but at the hotel's empty reception waiting for new guests who will not arrive as the hotel, like all hotels and homestays in India, is closed due to Covid-19.
'It was the best of times, it was the worst of times…'—this line that opens Charles Dickens Tale of Two Cities quite pithily sums up what many in the responsible tourism (RT) segment are feeling as the world reels under the Covid-19 pandemic. Those running responsible tourism companies are as a rule optimists and positive thinkers. So it should surprise no one that even as bookings have been cancelled and as the whole of India is under lockdown, our gallant RT practitioners are able to see the silver lining.
That is not to say they are being quixotic. Their optimism is strongly rooted in clear-eyed practical thinking.
"We have recalibrated our plans. We are expecting zero income from tourism activities this year and will be focusing on community. We had a contingency plan in place and have ensured money will not be an immediate concern. Now is the time to focus on destination and partnerships an make operations stronger," says Paras Loomba, Founder of Ladakh and the Greater Himalayan Region focused impact tourism company Global Himalayan Expedition (GHE).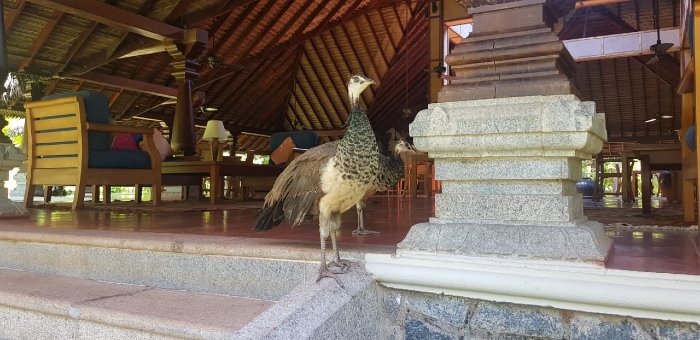 A peacock looking out for guests at Ab Chapri Retreat's Neeleshwar Hermitage in Kerala
This is not to say that companies will not face any pain; far from it. "This is a hugely tough time for tourism, which was already suffering for the last several years. We hope the situation does not continue too much longer as it will be hard to survive," says Altaf Chapri, Co-founder and Managing Director of responsible hospitality venture Ab Chapri Retreats that runs Neeleshwar Hermitage in Kerala and Sukoon Houseboat in Kashmir.
"We have cancelled our fully booked tours even before India was on lockdown for the safety of our travellers. This is a season for maximum inbound tourists and we have cancelled 70% tours and rest are being rescheduled...For a startup this is tough but the situation is demanding this change and we do not want to risk anything especially at this critical situation," says Rashmi Chadha, Founder of women-focused travel startup Wovoyage.
The response to the pandemic-created crisis has been mostly similar across companies. Most have focused on three stakeholders—customers, employees and community.
Being transparent with customers
RT travel operators and hotels and homestays have seen all their immediate bookings 'cancelled'. In many cases, most are holding on to the deposit, as the understanding is the guests will reschedule and take the trip or come to stay when things clear up and everyone can travel again.
However, the companies are ensuring the communication lines are open and customers know what is happening with their money or trip/stay. Vaibhav Kala, Founder of adventure travel company Aquaterra Adventures, had published a blog post on the company website detailing the steps they had taken. Among other points mentioned, is this: "For those of you who have booked a trip that has been cancelled or affected due to regional restrictions, travel bans, advisories etc, please know that we are not invoking any cancellation charge despite having spent much on securing these arrangements. Your deposits are being held in safe custody. Yes, we cannot offer refunds as due to the scale and enormity of the expeditions we operate each year, it is just impossible and would only lead to a shutdown. So please consider your funds safe and undiminished. Services of the held amount can be availed at any time in the future." He is also encouraging well-wishers and those interested, to make a "post-corona booking" now to support travel companies.
The companies are also being highly active on social media as this is the best way to connect with their past and future clients and are also reaching out to all past guests over email.
Supporting employees
Companies are not laying off their employees, though actual tourism operations have come to a standstill. While some do not foresee pay cuts, others worry that if the lockdown lasts for a long duration, such tough decisions will have to be taken.
"We have kept our team in loop of all decisions we are taking and how the crises will impact business. Hence, we have advised them to defer any non-essential personal expenditure. We have assured them their jobs are secured; however, they might have to take temporary pay cuts in case the crisis stretches," says Maria Victor, Founder of Goa-based experiential tour company Make It Happen.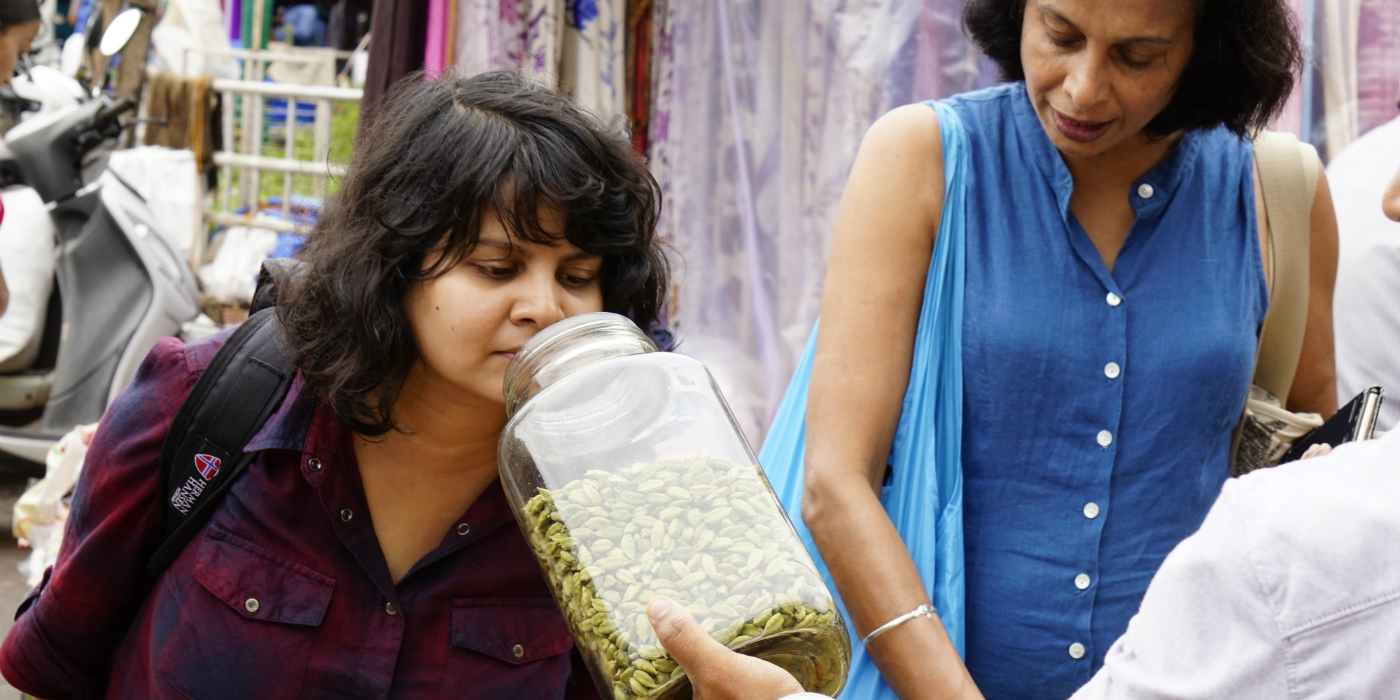 Maria Victor (above), Founder of Goa-based Make It Happen, during one of her tours pre-crisis
All the companies have put their teams to work on projects or assignments that are more future looking and planning-oriented, apart from tasks that involve responding to immediate customer queries. The Make It Happen team is focusing on research work and learning new skills.
"We are keeping our staff motivated and have started yoga and meditation programmes; we have also started long walks/cycling and reading programmes and are utilising all the facilities of our resort for all our staff," says Ab Chapri's Altaf.
Training and upskilling the team is a common theme. "At this point since there is no work coming in, we will be investing in people. Doing training sessions online and creating an ecosystem for people to share ideas," says Harshvardhan Tanwar, Founder of Mumbai-based experiential travel and walking tours company No Footprints.
At many homestays, tourism is a supplementary source of income especially for those that are part of farms and estates, like Kerehaklu Plantation and Eco Retreat, a 275-acre coffee plantation in Karnataka's Chikmagalur. However, staff well-being is an area of concern. "We have had to close down our four cabins for an indefinite period to follow government guidelines. We are checking people's temperature and symptoms and giving all staff the freedom to come forward if they are unsure about anything," says Pranoy Thipaiah, who runs ythe estate and homestay with his family.
Focusing on community and destination
Companies like GHE have always had a diversified income stream. With tourism taking a hit, the venture is focusing on the communities it works with.
"We are also exploring other ways the community can earn income, like setting up greenhouses. We are focusing on community and destination and looking at projects that help in these areas. So we are setting up solar water heaters for all our partner homestays. Each household will contribute a part of the cost, with our CSR partners and us contributing the rest. Similarly, we plan to take up sanitation projects. We are already talking to companies that are looking to do CSR activities in areas like these. We also intend to tap global grants in the area of community development or livelihoods," says Paras of GHE.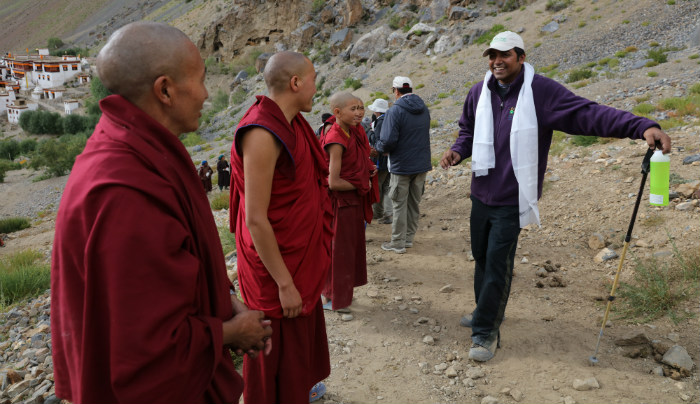 Paras Loomba (above), Founder of Global Himalayan Expedition, during one of his expeditions to Ladakh
Others are using social media to increase awareness of the destination they represent. Experiential travel and walking tours companies like The Local Beat and Make It Happen are putting up fun posts about Goa that travellers can explore after the lockdowns and quarantines. The latter has also started a social media quiz on Goa.
Future planning
Remember, what we said about the RT practitioners being an optimistic lot? No wonder then that they are spending a lot of time planning and strategising for the future when the travellers are back. Many are also taking up long-pending projects that had been on the back burner.
Ab Chapri is working on improving their digital assets like website and picture gallery, as well as working on new brochures. Delhi-based experiential travel company The Folk Tales is restructuring their website content and are also revisiting their marketing, sales and accounts processes to make them more streamlined for the future.
Others are working on new tours and partnerships. "We have been working on proposals for tie-ups and collaborations with prospects and will be ready to execute them within a 15 day window," says Mackinlay 'Mack' Antonio das Merces Barreto, Co-founder of Goa-based experiential tour company The Local Beat.
Harshvardhan of No Footprints says he and his team are working on new tour ideas. "Once we are ready with product content and ideas and once things normalise, we will be doing recces (for the new ideas). This will keep us ready for when the tourism industry resumes normal operations," he says.
Paras says they have had other travel startups reach out with partnership ideas and intend to pursue these to expand to other regions. GHE is also organising by-invite webinars for participants from its past expedition with screenings of films and documentaries or sessions on the Himalayas. The company is also brainstorming ways to put up star gazing links online so those sheltering-at-home can gaze at the clear night skies of Ladakh and other Himalayan regions.
The RT practitioners and their employees, a hardy and determined lot, are ensuring they remain occupied and are doing work that bears fruit in the future. They, like Neeleshwar's peacocks, are waiting with bated breath for when the travellers return.
(Photo credit for main image: Vignesh Moorthy on Unsplash)
(We at Outlook Responsible Tourism are creating a series of articles linked to the Covid-19 crisis that aim to give voice to RT practitioners in these trying times and also to act as a peer-to-peer learning and sharing resource. Do reach out to us with ideas, suggestions and details of what you are doing to overcome this period of crisis. Mail us at responsibletourism@outlookindia.com)