Tourism is about partnerships and complex chains of supply. In other words, it's about people and communities. So, anyone who hopes to build a successful, sustainable model must invest in both natural and social capital, which is not about doling out incentives alone. It's about sharing fundamental values with everyone around you and working towards a common goal.
Breaking ground
• As we know, a lot hinges on the location of a tourism project. Whether it's a community-based initiative, or a small, independent accommodation, experts say it's a good idea to concentrate on developing rural tourism in villages within the catchment area of major destinations; ideally, in a 20-30km radius.
• Tourism mapping, especially in the early stages, is crucial. Figuring out what the
main attractions and other additional activities could be in each village is the first step. Often a community is blind to its own assets and everyday charm, and it takes them for granted until travellers begin to value them. Identifying these strengths and reminding locals that all they need to do is take pride in what they already have, that they are not expected to do anything 'extra' to attract guests, can make it easier for them to decide if they want be a host community to begin with.
• If they are open to hosting travellers, they should be motivated and mobilised, and the best way to do that is to show them how the benefits will be shared among them, how duties will be rotated, how the entire village can profit from it, and so on.
Creating a favourable ecosystem for all
• Although it may take a lot more effort and time, it's crucial to involve the entire village or neighbourhood, and not just a handful of families. Depending on their skills, different parts of the community can contribute in different ways.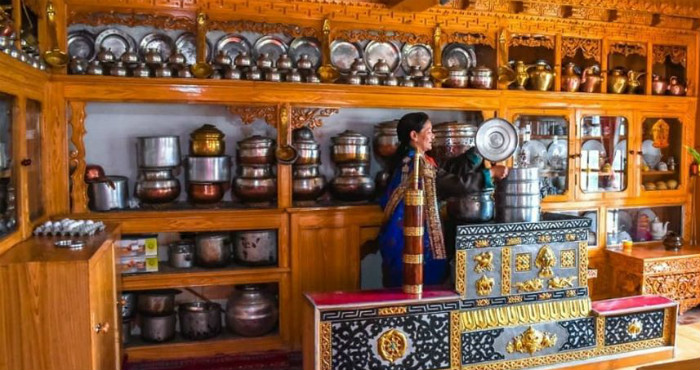 The Himalayan Institute of Alternatives, Ladakh (HIAL) set up Himalayan Farmstays so villagers have an alternative livelihood and to minimise unskilled migration from traditional villages. instead of offering a few homestays in many villages, the organisation is focused only on Phyang Village, close to Leh, to start with.
• While some practitioners continue to support the idea of working closely with local panchayats and tapping into the NGO network, others report that they have had bad experiences with say, village headmen. So, they choose to work with young people from the community instead, and encourage them to invest some money or use their property for a project—that way, they see it as a business and take ownership of it. Involving the youth also has its challenges, of course, since many have urban aspirations. But having some skin in the game forces them to at least briefly consider a future in the village.
• Some experts say it's best to draw up written agreements, whenever possible. This could be a good exercise in identifying local value and common pressure points, but it would work only if a community is ready for it, and doesn't view documents with suspicion or distaste.
• Another recommendation is to create more spaces and opportunities for meaningful interactions between the young and old, to encourage knowledge sharing and foster local pride.
Custom designs
• Before travellers arrive, they should be gently reminded that they aren't visiting a museum. If a weaver or a metal craftsman is working on a particular day, he/she can expect to see them. To avoid disappointment, some of the larger responsible operators have online or other systems, which allow them to (roughly) keep a tab on the kind of activities that happen in each house or area at a specific time of the year. They also crosscheck over the phone, if need be, before taking a tourist there. The idea is not to disrupt life or encourage 'demonstrations', no matter who's visiting. Not respecting the privacy of the village will be counterproductive in the long run. At the same time, treating a traveller as an outsider won't help; so create an environment that supports organic interactions with all the villagers and not just the trained guides.
• Many experts also discourage tipping as a policy, and instead attempt to create more transparent systems that allow stakeholders in the community to know exactly where the money is going and how it's distributed.
(Main photo by Yogendra Singh from Pexels)

(A version of this write-up appeared in the IRTA 2018 report)