Manisha Pande is Managing Director of Village Ways, a rural and community focused experiential travel company offering unique multi-day, primarily walking, tour itineraries in various parts of India, Nepal and Bhutan. Village Ways works in partnership with local villagers to promote low-impact tourism that runs alongside, but does not displace, traditional livelihoods. With the help of funding through Village Ways, in each village, a local tourism enterprise is created, ownership of which is in the hands of villagers. The village guesthouse is at the core of the village enterprise and is community run. Local community members get additional employment by becoming hosts, guides, cooks and porters. Edited excerpts from an interview on running a community-friendly operation:
Q. How to identify an area for a community-based project?
Manisha: a) Focus on areas that are relatively less popular, but have tourism potential.
b) Study the existing tourism activities in and around the area. c) Consider the level
of enthusiasm of the host community, their need for alternative livelihoods, and do an impact analysis.
d) Keep in mind aspects of marketing, such as target audience and create suitable holiday products for them.
Q. Usually, what are the most important areas in terms of training for the community?
Manisha: For communities that are open to exploring tourism as an alternative source of livelihood, the most important areas for formal training are language, hygiene and sanitation, safety measures, housekeeping and accounting. The mobilisation work includes awareness about negative aspects of tourism, encouraging the participation of women and raising awareness about the environment.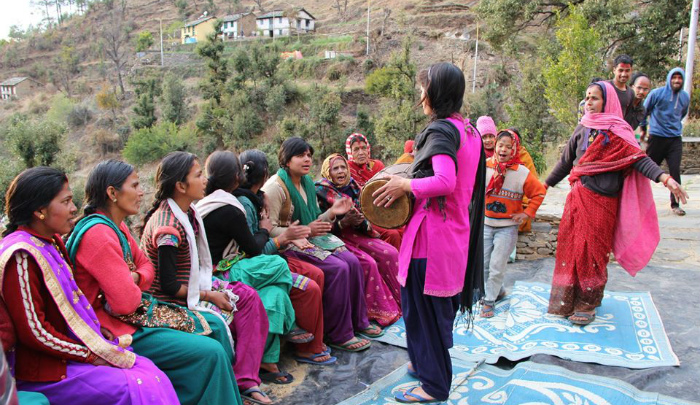 (Photo Credit: Village Ways)
Q. What are the main challenges? How do you overcome them?
Manisha: There are many challenges every day, but the most common are:
Overdependence on tourism:We try to ensure that the involvement of local people in running the enterprises is wider, and thus, there is no concentration of income in one or a handful of households. We encourage the village committees to adopt a rotation system to manage tourism enterprises, to ensure each member gets some benefit. If the income remains supplementary, the communities will continue their traditional practices (usually, farming).
Marketing remains a challenge:For unusual holiday products,
the marketing has to be creative and well planned, particularly when you take responsibility of its impact. You're also responsible for delivering a good holiday experience to guests, while ensuring that they are respectful towards the culture and traditions of the local communities.
Skilling may facilitate migration: With skill development, locals, especially guides, may get
better work opportunities, and that might undermine the very aim of stopping out-migration. There is no specific solution to this, except to try and educate people of the benefits of living in their own areas or offering more permanent livelihood options. For example, in one of the four villages we work in, we appointed a village guide to work with us as a trainer. This helped us retain him in the village. We've also observed that sometimes people return to their villages. In a way, that is a good learning for the community. We also have a policy to train new members, and this ensures new people participate.
Q. How do attract the right tourist?
Manisha: Follow a few basic 'responsible' principles to run the businesses and work on products designed for travellers who are open to trying different kinds of experiences. Pre-holiday communication describing the experience honestly, focusing on information on local culture and traditions, also helps separate the grain from the chaff.
It's very important that guests are drawn towards the experience itself, and not just the social aspects of it. The latter should be a bonus. Of course, if he or she contributes to the local community and its economy, it will always be appreciated.
(PHOTO CREDIT: VILLAGE WAYS)
Q. What about safety?
Manisha: Concerns about safety are natural. One way to reassure guests is to ensure that all arrangements — from the moment they arrive in the country to when they leave — are either looked after by one company or through trusted partner agencies. There have been instances where travellers have booked a hotel online that they couldn't find on their arrival. A one-point contact can therefore, make all the difference. Also, can there be a better and safer way to visit an area than when you're being hosted by the local communities? The stress here should be on collective responsibility and involvement of the locals. If the benefits are shared widely, each stakeholder will take the responsibility, and the safety aspects will be looked after. Clarity about dealing with potential medical emergencies, insurance, working mobile phones and so on, can also make travellers feel safe.
Q. How to control mass tourism in rural areas?
Manisha: One way to do it is to develop different types of tourism products in different areas to suit different markets. Tourists have individual preferences, so this kind of diversification could prevent the concentration of tourism in a few places.
Another solution is to limit the capacity of each destination for hosting guests. For this to happen though, the government and private stakeholders have to co-operate and join forces.
Generally, in places that have strong market draws, such as spiritual centres, national parks, beaches, places of historical importance and so on, it can be a challenge to prevent mass tourism; government regulations and monitoring can be the only practical solution.
Research and analysis on why these places are popular can also help in developing alternatives to reduce the pressure on key tourist destinations.
(A version of this interview first appeared in the IRTA 2018 report)