As the world battles Covid-19 and the economic ripples it has left in its wake, the tourism industry, like all others, must ready itself to face new realities. The current crisis is likely to lead to increasing interest in more local and slow tourism, and developing vibrant rural and cultural tourism destinations can serve the dual purpose of meeting this demand while at the same time reinvigorating the rural economy. This is even more important at a time when many migrant labourers are coming back to villages and job and income uncertainty are very real issues. We have seen that when local arts and crafts that are part of the community DNA are promoted and celebrated and become income generators, the whole community thrives as meaningful employment is created locally.
The Banglanatak dot com experience illustrates this very well. Banglanatak started out as a social enterprise working in rural India on various developmental issues since 2000, but soon realised that local cultural assets can be harnessed for economic, social, and environmental well being. Subsequent experimentation and piloting of "culture and development" models for almost a decade led to our "Art for Life" (AFL) programme, whose goal was to significantly contribute to culture-based rural entrepreneurship, and economic and social empowerment of previously marginalised communities.
What we did not realise during the genesis of this model was that it essentially integrated local skills, resources and capacities of these rural communities into fascinating cultural offerings that visitors were attracted to and wanted to experience. Products such as village festivals and cultural collaborations (both local and international), that were built into the programme strategy primarily for creating exposure and awareness, soon led to a unique experience of 'cultural tourism'. Organically, the villages started becoming destinations, in turn strengthening the local creative enterprises. This soon led, starting in around 2009, to the development of another of our verticals, namely community-led cultural tourism, within the larger framework of sustainable and inclusive development.
West Bengal, a state full of exotic natural wealth, is also home to an immense cultural wealth across the state immersed in its built heritage, folk forms, handicrafts, festivals, theatre, and fine arts. However, its tourism has primarily focused on the traditionally best known destinations: hill stations, beaches, and the Sunderbans. But so much that has still not been featured on its unique offerings started opening up to us!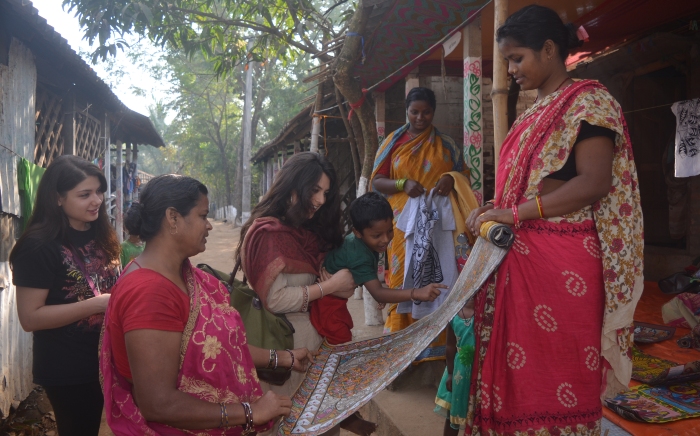 The Smithsonian team visit at Pingla in 2019
For us, the initiative of cultural tourism as a subset of our culture and development programme soon included a vast array of folk art forms from across the state. While working on capacitating and developing these communities, aiming to professionalise their traditional skills for sustainable livelihood, we were ourselves awed and enthralled by the natural richness, expertise, and creativity of these artist communities! It was also alarming to see how alienated and poor most of them were, confined to the day-to-day struggle of survival in their villages. Their art forms were devalued and dying, and so were the creators who worked as labourers to make ends meet.
After a decade-long journey with them, today Bengal has 18 active and independent community owned cultural tourism hubs covering 25,000 artistes and 30 art forms, including Patachitra (Pingla of West Midnapore), Madur (Sabang in West Midnapore), Wooden Mask (Kushmandi in Dakshin Dinajpur), Dokra (Bikna in Bankura), Wooden Doll (Natungram in Bardhaman), Chau and Jhumur (Bamnia in Purulia), Chau Mask (Charida in Purulia) Baul (Tepantar in East Bardhaman), Kantha (Nanoor in Birbhum), and Bhawaiya (Salkumar in Alipurduar), to name a few. The offerings include village festivals, exchange and collaboration with the rural artists, art residencies, heritage education and research, community museums, along with homestays and accommodation run by local stakeholders, mainly the youth.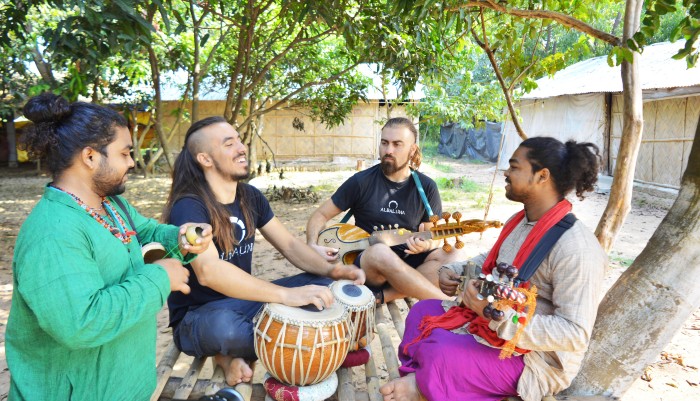 Artists from Portugal jamming with Bauls at Tepantar
Over the last seven to eight years, around 60,000 tourists, on average, have visited each village festival. More than 95% of these visitors were local (including from nearby cities in Bengal, like Kolkata and Durgapur) and about 1% were international. On an average, 35% of the tourists are daytime visitors from Kolkata and around, 60% stay for between two and three days, and 5% stay beyond seven days and even up to 10 days. During the festivals, there are craft and art stalls selling products, demonstrations and performances by folk artists, workshops with the traditional artists on painting, songs, natural colours, dance, and music. Those who stay for a longer duration usually do so to collaborate with local artists or are interested in cultural research. The festivals also attract photographers and writers. Even though international tourism has played a significant role in developing these cultural hubs, it has mostly been a tool for exchange and collaboration, establishing direct linkages between artists and audiences, and at the same time, adding to rebranding of the villages as destinations of unique experience and entertainment. The income of the artist communities have increased about three to ten times.
Some highlights:
1. The Patachitra village of Naya (West Midnapore) has been reborn into a vibrant hub of Bengal scroll painters and is a regular tourist destination. Today, more than 250 Patachitra artists are active, and are not only empowered to cater to incoming tourists with their colourful repertoire of products and story-telling performances but have also travelled the world for exhibition and art residencies. Their annual festival, Pot Maya, is in the 11th edition this year and is scheduled for 20-22 November 2020.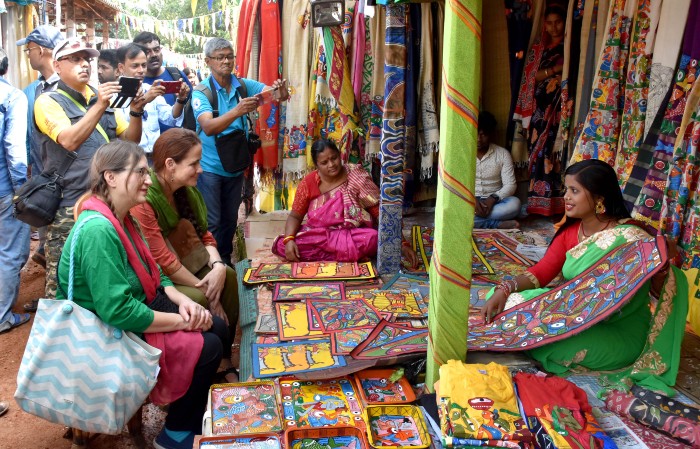 The annual POT Maya festival at he Patachitra village of Naya in West Midnapore
2. The Chau Dancers of Purulia made us spellbound when we first encountered them in 2004. This form in its true spirit and vigour is not something that the urban audience had seen. Delving deeper into the art form led us to unfolding knowledge on their dance steps which were becoming extinct, the folk stories of various dance dramas, their tribal representation of Hindu mythologies, the use of specific types of masks and costumes, and their abilities of acrobatic movements. Interventions included capacity building, documentation, training, and exposure. Today there is a village resource centre, and a hub of Chau dance groups and artists in Bamnia.
3. Charida in Purulia, the village of mask makers for Chhau dance, was essentially a sub-industry of this tribal dance form. No one thought of them as skilled artists solely by virtue of their unique craftsmanship. Our AFL interventions empowered the artists who themselves took it upon them to develop the place into a mask-makers' Hub. Today it is a highly sought-after tourist destination. All the porches of these artisans' houses are workshops of mask making from where they also sell. The entire village street looks stunning with these masks of bright colours hung in and outside every workshop with benches outside for anyone to sit and watch the artisans at work and buy masks. In the last three years, the average annual sales from the village was to the tune of Rs 3 crore.
Purulia has evolved to become a mainstream tourism destination, and has attracted more visitors than the Dooars in 2019. It is an acclaimed festival destination during the Chau Festival in December and the Dol/Holi festival in March, which integrate local folk performances and culture into the experiential tourism package. This year is the 9th edition of the Chau Festival (scheduled for 22-31 December 2020 in Bamnia) and 15th edition of Folk Holi (scheduled for 27-29 March 2021 in Nimdih).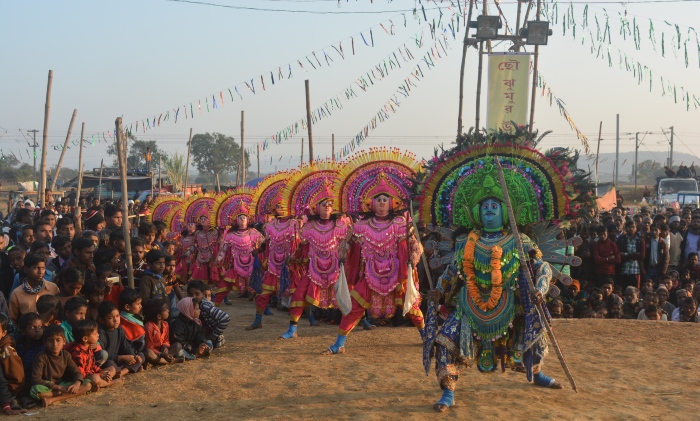 The Chau Jhumur Festival at Bamnia
4. The Bengal Bauls who were overshadowed by branded and often urban artists led a life of hopelessness when we had first met them. Organising them into a collective that would work towards safeguarding common heritage was not easy. However, through capacity building and continuous musical collaborations and exchanges, their local recognition, pride and identity strengthened resulting in many of them being established singers and artists today. The annual Festival of the Bauls has received several accolades for its free flowing music, openness of musical exchange, simplicity and universal friendships. In 2020 they will celebrate the 11th edition of the festival, scheduled for 27-29 November in Tepantar.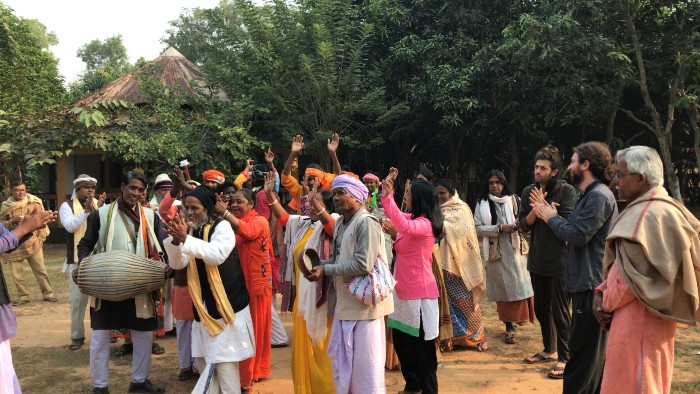 The Bauls performing at the festival in Tepantar
5. In the kantha work cluster in Nanoor (Birbhum), Muslim women embroiders, once confined to their homes with no possibility of economic independence, have today become small entrepreneurs. About 100 women entrepreneurs provide work to about 600 women in the villages. One can visit their homes, see how they work, interact with them and also purchase or order products. The changemaker of this village is Tajkira, a woman social entrepreneur whose inspiration and confidence led to collective good and development. She not only worked to improve her own craft and business skills with the training opportunities she received from us, but with her natural flair for entrepreneurship she motivated other village women to join her. In order to sustain their collective business, she generated direct sources of income for them by building a network of buyers and clienteles from different exposure visits and national and international exhibitions. Under her leadership, other women entrepreneurs started emerging, gradually expanding the work of the women's collective. They understood that 'togetherness', 'collaboration', and lifting each other up are the ways to rise above their marginalisation.
These village tourism destinations strengthened the local economies and the vitality of the villages by prioritising the 'local'. Strengthening artists, art and village (our motto) resulted in meaningful employment, dignity of work, and the creation of a collective community identity and pride. The positivity in collective and inclusive efforts was reflected in overall village level development: women's mobility and decision making power improved, children started going to schools and education became important, sanitation and infrastructure improved through community led action in partnership with local government. Most of the villages produced community champions from within who took charge!
Familiarity with the basic tenets of responsible tourism as endorsed by UNWTO, developed in the course of our previous work with cultural tourism destinations, also helped us align our framework of culture and development better. On one hand we focused on safeguarding cultural heritage and promoting cultural diversity, and on the other hand we emphasised human rights and ethical codes of community based tourism.
Today, as we struggle with Covid-19 and the immense uncertainties of its aftermath, the principles we have upheld for a decade, as given in UNWTO's Instruments, have become fundamental to the industry itself, namely:
- mutual understanding, and respect towards socio-cultural authenticity of host communities;
- harmony with the attributes, traditions, practices and customs of the host regions;
- promoting inter-cultural understanding and tolerance;
- ensuring viable, long-term economic benefits, that are fairly distributed and shared, including stable employment and income-earning opportunities contributing to poverty alleviation;
- facilitating traditional cultural products, crafts and folklore for those to survive and flourish, rather than causing them to degenerate and become standardized;
- prioritising local manpower and resources including local governance;
- creating more inclusive partnerships between tourism and culture stakeholders that contribute to SDG (Sustainable Development Goals) implementation.
With a people-centred approach, a level playing field for productive employment irrespective of gender, and community cohesion providing a sense of security, we find that these communities are more resilient in many ways, and this gives us confidence that the existing local cultural and human assets will go a long way. One thing is quite clear: Cultural Tourism has to focus on providing a true authentic experience and benefiting local communities, rather than the current trend of treating community as touristic products wrapped in a glossy package.